10 Common Kilimanjaro Questions Answered
When the opportunity first arose for me to hike Mt. Kilimanjaro, my immediate response was "Hell yeah, that's badass!", and my secondary one was, "Wait, can I really hike one of the World's highest mountains for 8 days?".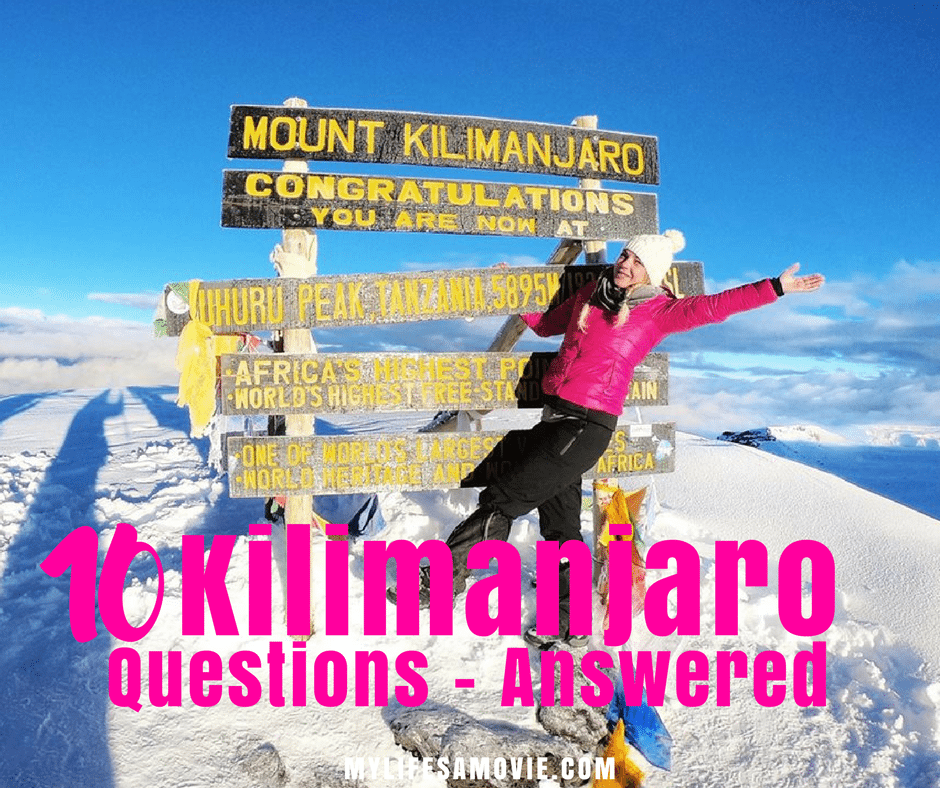 So many questions bubbled inside my adventure-lusting mind, especially since the trip was only a few weeks away, and I definitely wasn't prepared for it. Or so I thought.
Turns out that after talking to the founders of the women-only trekking company I was going with – Whoa Travel – I was more prepared than I thought, since they had full faith I'd have no problem at all doing the hike! That's because their itinerary makes the trip do-able for almost any age and level of fitness. They take special care in making sure we hike slowly and take the adequate amount of time to acclimate.
…I should also mention that traveling solo full time put me in pretty good shape (who knew having to carry my own bags all the time would be beneficial for carrying a day pack up Kilimanjaro?!), and also gave me an insanely strong mentality, which is ultimately what led to me being first to summit.
But enough about me — here's some general questions I had, and that I've been asked about doing the Kilimanjaro trek to get you started with your bucketlist trip planning!
I
f you end up booking your Kilimanjaro adventure with Whoa Travel, get $100 off using my code 'MyLifesATravelMovie'!
1. Is Hiking Kilimanjaro Hard?
Depends on your definition of "hard". Before the trek started, I honestly cringed at the thought of 5-10 hour hikes…but that's because I'm not a hiking-enthusiast. I am however a bucketlist-enthusiast, which made the whole trip a lot easier.
There will be days of long hiking, steep inclines (which is a DREAM compared to going downhill the last two days), sporadic weather changes, and elevation gains. It's definitely not "easy", but I also wouldn't say it was the hardest thing in the world.
2. Do You Need to Train for it/How?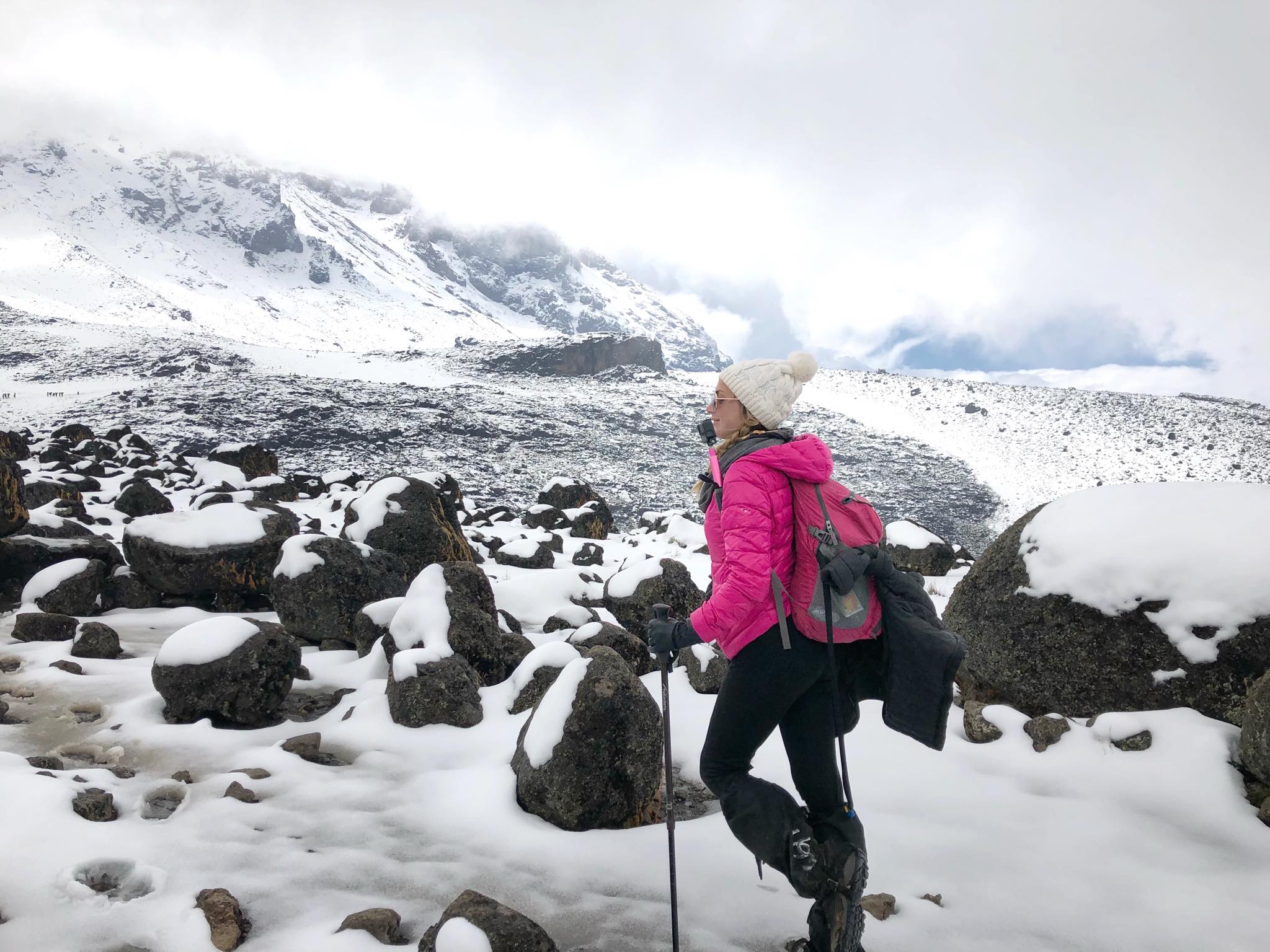 As I mentioned before, I didn't particularly do anything special to train for Kilimanjaro, but my life as a full time solo traveler was what trained me to do the hike like a champ, so I'll refer to what I do with that for training for anyone back home.
For example, I always carry about a 10-15 pound backpack with my drone, cameras, laptop, chargers etc., plus another 8-10 pound purse with my personal belongings, and then my rolling suitcase. I walk EVERYWHERE, and climb anything with a good view.
If you want to train at home for Kilimanjaro, start doing weekend hikes (or even just walks) wearing a 10 pound-ish backpack, which will help strengthen your leg and back muscles. Do yoga to work on your breathing and try to actually learn what they mean by finding your rhythm. This will help you when you reach high altitudes when your breathing quickens to keep up with the lack of oxygen.
I've heard of someone running with a mask on to train for "low oxygen environments", but I would not recommend that (she also said afterwards her trek was the hardest thing ever in her life which I also disagree with). You will be professionally acclimated on the mountain, so don't try to force it back home unless you have some small but high mountains to practice on.
3. Can Anyone Hike Kilimanjaro?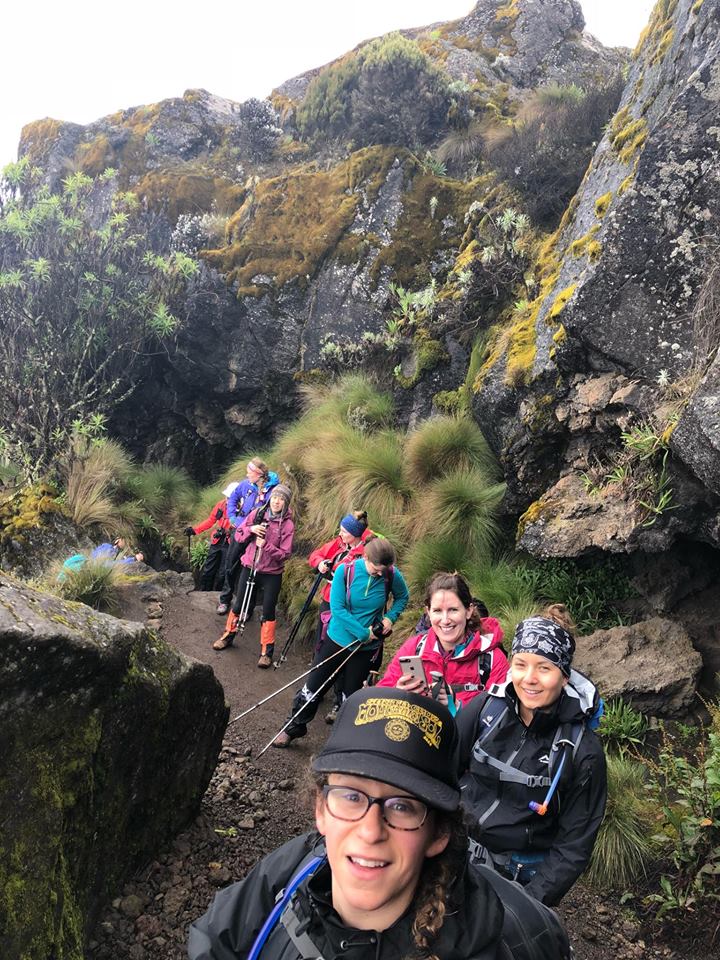 Considering that most people take one look at me and assume I can't hike a mountain, yet was first to summit AND step off the mountain, I'd say yes if you're in good health, but probably with a few exceptions. We only had 2 out of 22 women in our group not make it to the summit, and one was because she wasn't comfortable hiking in snow in high altitudes (snow is rare there, lucky us), and the other was an older (mega-badass) woman who still did the entire 7 day trek, just not the summit.
Most of us were not super experienced hikers, and many had never hiked anything so extreme before. I would say though that everyone was in pretty good shape with no health problems. If you have medical conditions relating to your heart, lungs, or mental health, you may not want to risk doing the trek, because the altitude definitely can take a toll on your body and mind.
If you've never gone on a long hike before, I wouldn't recommend jumping straight to Mt. Kilimanjaro for your first one. It's definitely not easy, and although you have amazing porters to help carry your tent and some belongings, you still need to be self-sufficient enough and comfortable enough to live outside for a week, and do constant strenuous exercise. You also need to not be able to complain about any of the above, as it is not the guides or GALs jobs to babysit anyone, and you don't want to ruin the mood of the group!
If you feel like you aren't in the best shape, you can still start training now and be ready for the hike in 6 months-1 year. You mostly need to be able to do long hikes with inclines (and declines), and be capable of potentially climbing rock walls and steps. I'd also suggest doing a couple camping trips if you aren't already experienced in that comfort zone!
4. How Long Does it Take to Summit Kilimanjaro/What are the Routes?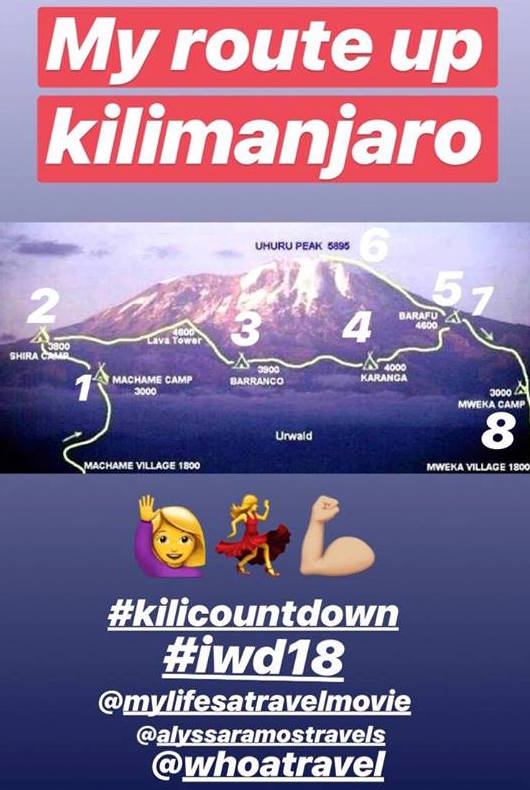 The most popular route, and the one I did with Whoa Travel was the Machame Route. It took a total of 7 days (you summit on the 6th day), and goes through about four different climate/environment zones! The reason why it takes so long is because the trek is specifically designed to make you acclimate properly before summiting to 5,895 meters (17,685 feet).
The actual summit day itself takes a while. You start at midnight, and hope to reach the top by sunrise, which takes about 7 hours (you don't really notice since you're climbing in the dark). Totally worth it.
There's another route that's longer that most guides wouldn't recommend doing because it's more exhausting, and there's also the option to do the trek in 6 days which also usually isn't recommended. The people I saw who did the 6 day option all looked sick after summit, likely because they went too fast and didn't spend enough time acclimating.
You can see Whoa Travel's daily breakdown here: Whoa Travel Kilimanjaro Machame Route
And also my personal experience and daily break down here:
5. Which Company Should I Go With?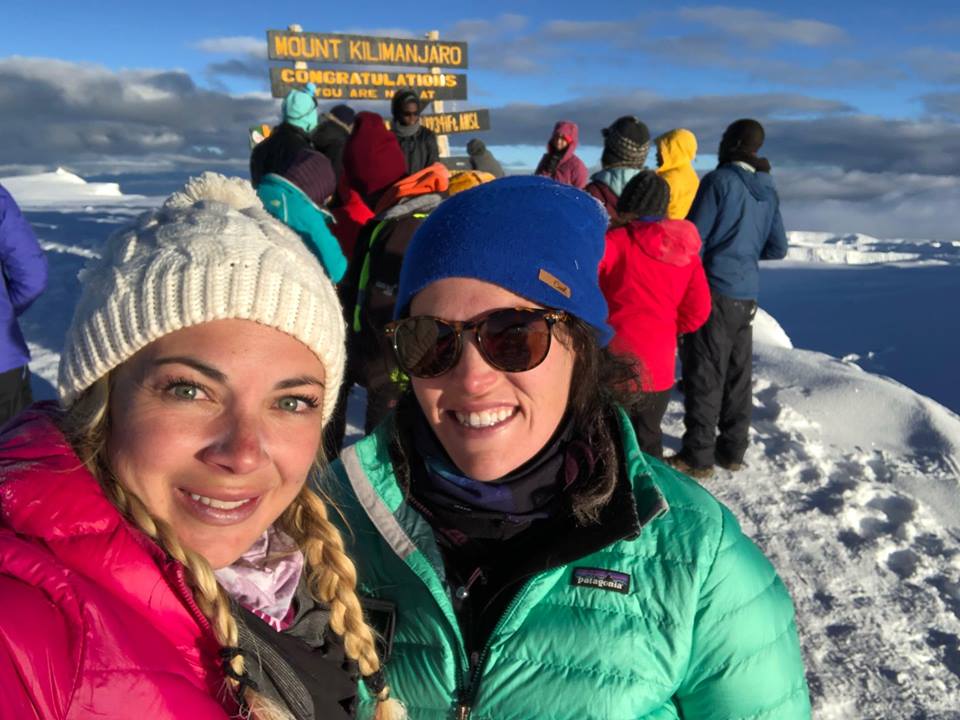 Whoa Travel was the company I went with and I couldn't be more impressed and happy with how well the trek went. Starting with the encouragement I got from the girls running the company, to the perfectly and precisely planned itinerary, everything was just literally, WHOA.
Whoa Travel coordinates the group, and uses a local company that's also KPAP (Kilimanjaro Porters Association Project) certified for their guides and porters (Whoa is certified under the U.S. companies!). No matter what company you end up going with, make sure they are KPAP certified, because that ensures that the porters get treated fairly. Many porters don't get paid or fed by companies not in KPAP, which is basically human torture since they're carrying all of your stuff up and down the mountain.
Anyway. More on that in a full post. But yes, Whoa Travel is freaking awesome, they made the trek so fun and do-able, and the guides they had were fantastic (Shout out to President Abu and "Mr. Hollywood" Jeffrey/Mgana). They are a women-only company (SO GLAD I did an all girls trip, I would not personally want to be in a mixed group for that particular adventure!), but if you're a guy and want to do it, they can still help you book your trip with their local guides' company, Trek 2 Kili.
6. What Should I Pack?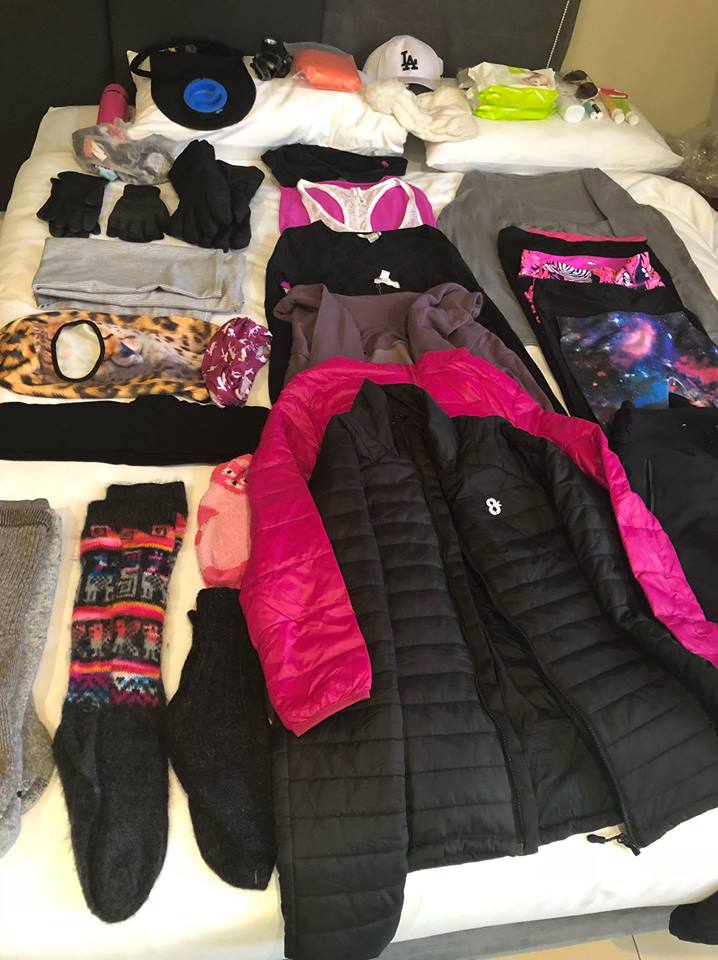 Don't start freaking out about packing just yet! You're going to be given a mandatory packing list that will be checked once you arrive in Moshi before your trip! Whoa Travel gives you the exact types and amounts of items to bring, and you must have all of them, plus not go overboard, since you're also given a weight limit!
I'll have my full packing list available on here, but for the most part, things I wore/used every day were a lot of layers, packable puff jacket, hats, sunglasses, so much sunscreen, poncho, hiking boots, smart wool socks, water bladder, and my camera.
Most importantly, pack a great attitude because that's what's going to get you to the top of that mountain!
7. What's Usually Included?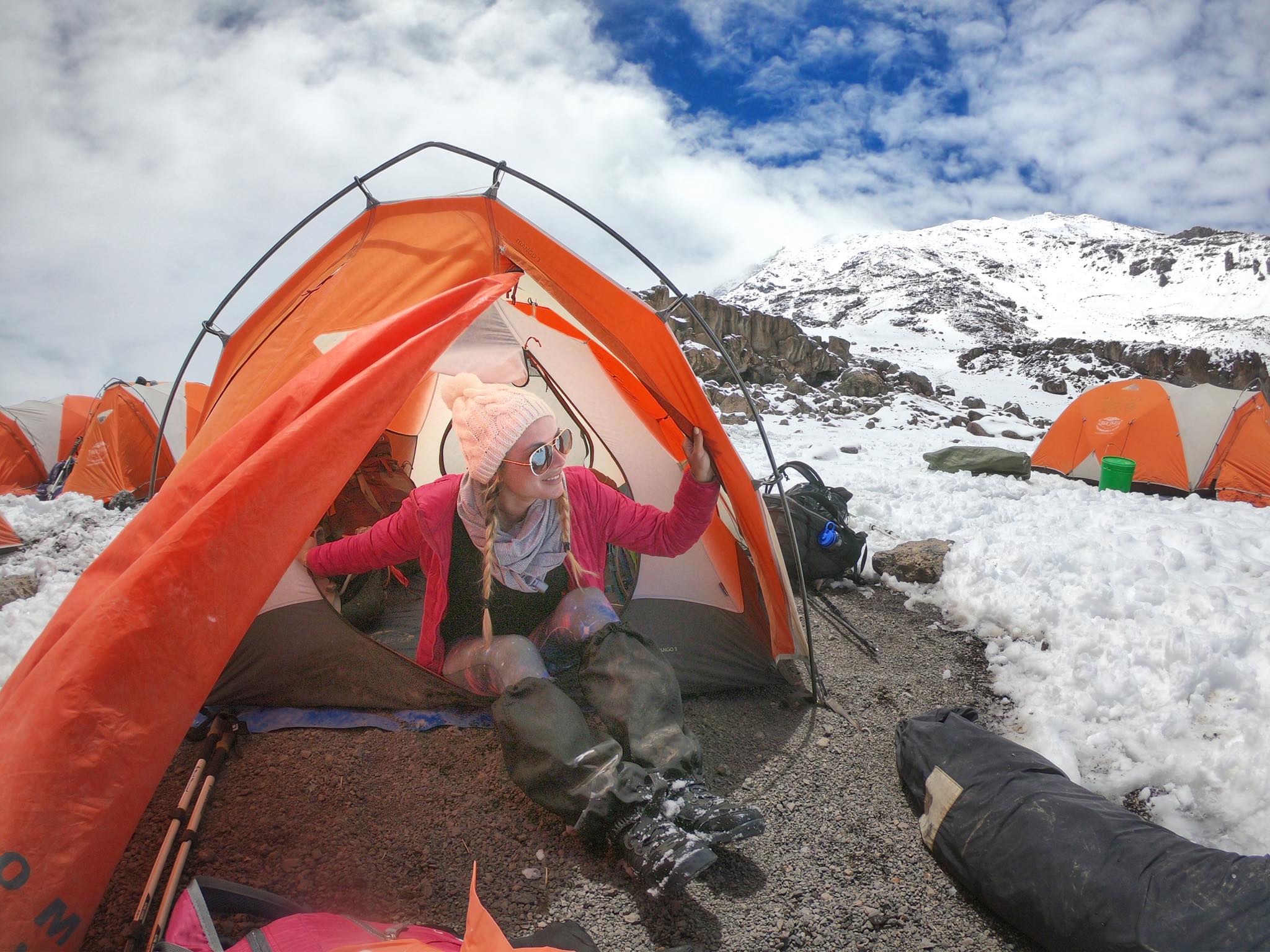 Major treks like Kilimanjaro usually are all-inclusive because they really need to make sure you are taken care of. We were basically force fed, even when we weren't hungry from the altitude, so that we had energy.
That being said, my Whoa Travel trek included three delicious, healthy meals per day, water, tent, TOILETS (YES we had our OWN clean portable toilets at our camps), guides, two GALs (girl adventure leaders), porters, tips for the guides and porters, two nights hotel stay before and after the trek, transportation to and from the airport and mountain, and two volunteer activities before and after the trek.
8. Will I Get Altitude Sickness?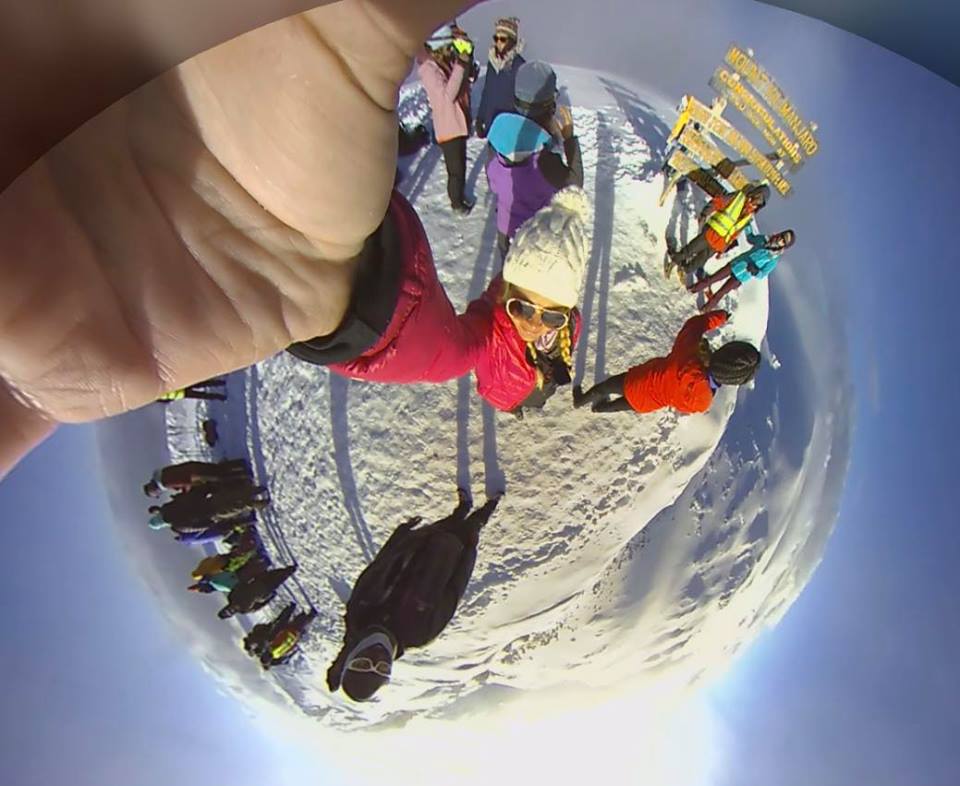 At some point you will probably experience at least one symptom of altitude sickness, but as long as you're on top of it, you shouldn't be too bad. The most I got was a headache at the basecamp after summiting.
All of us took Diamox which is recommended by the GALs and guides, and you can buy it locally in Moshi for super cheap if you can't find it or forget to get it back home. You'll want the 250mg tablets, and you'll take 125mg twice a day preventatively.
Side affects of Diamox aren't bad — you may get tingles in your fingers and/or toes (I got them in my fingers which just to me indicated it was working), and it increases your need to pee a lot, which also isn't a bad thing because that means you get more breaks and it forces you to drink more water!
Those side effects are WAY better than the symptoms of altitude sickness though…which is severe headache, nausea, vomiting, and trouble breathing. We saw mostly older men struggling with this…likely because they weren't taking the trek as slowly as they should have and also probably didn't take the Diamox.
8.5 Do I Need any Vaccines or Other Meds?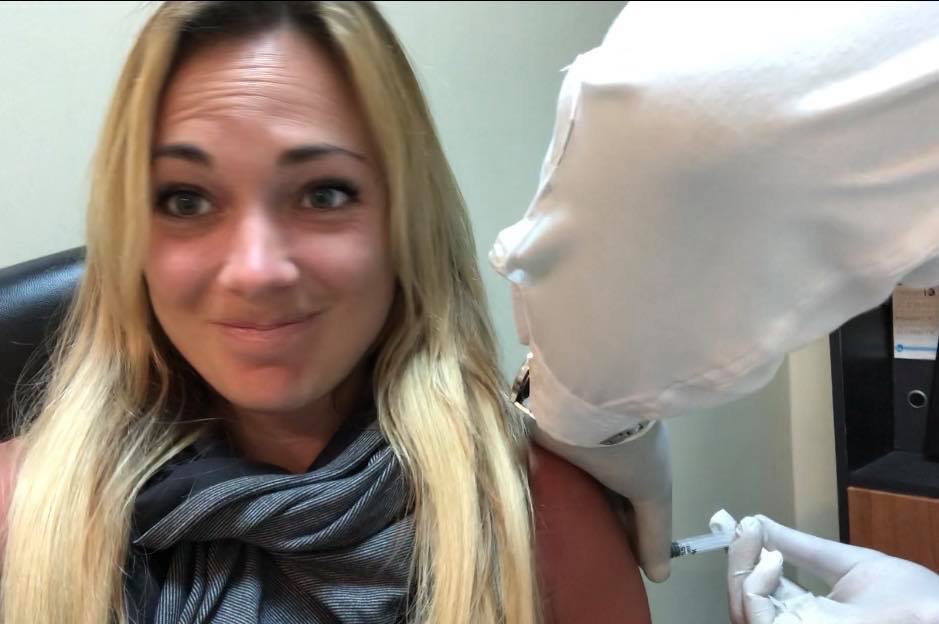 I forgot about this one so I'm shoving it in here since we're already talking about meds! I remembered this because someone JUST asked me if they need the Yellow Fever Immunization, and I said "Only if you're coming from a Yellow Fever Epidemic Zone" and they said their tour company said it was required.
SO! Long story short — I came from Kenya (a Yellow Fever Zone) and didn't have my shot…so I had to get it at the border as I arrived in Moshi! I thought I could get away with not having one, but I couldn't and luckily they let me get it at the airport for only $50 (USD, cash only). If you want to be extra sure, just get the shot back home if you can, otherwise try to get it on arrival.
For Malaria…I've traveled in all of the highest Malaria areas and never got Malaria and never took the meds for it. I hear they have some horrible side effects, so instead I just am always cautious and responsible enough to douse myself in bug spray.
There are mosquitos on ground level in Moshi, but not on actual Kilimanjaro. If you do decide to take the Malaria pills (Malarone), you will be asked to stop taking them once the trek starts. This is because not only are there no mosquitos on Kili, but the Malarone can mess with the Diamox…and of course, you don't want to be tripping on Kili.
9. Will There Be Bathrooms/Showers?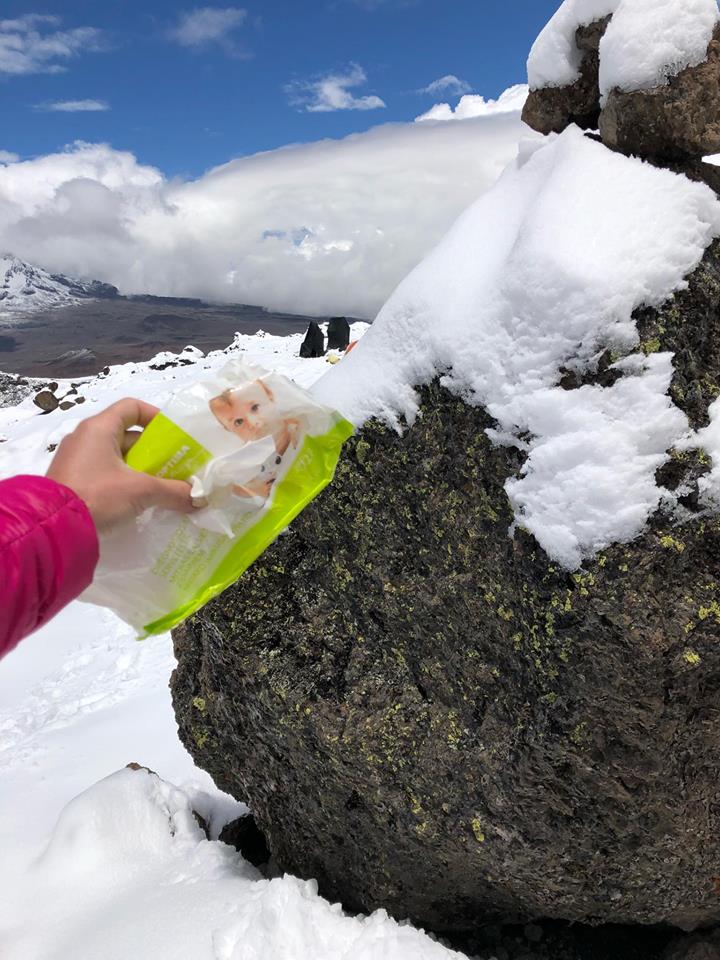 Oops, I guess I already got excited about this one, and I'll go ahead and say it again! Whoa Travel provides your very own private portable toilet tent which is always clean!!! Probably one of the most impressive things about this company/trek, since I know what it's like to do a multi-day hike without one!
When you're not at camp, you'll have breaks to "send a text message or email" AKA go squat behind a rock or bush. Everyone does it so don't feel embarrassed or shy. Plus it's kind of pleasant doing it in nature rather than a camp bathroom (aside from our porta potties). You'll bring wipes and a bag to dispose of them in in your day pack to use as you hike.
No showers, but the amazing porters will bring you warm water and soap for washing before meals! I also just took "baby wipe baths" when I wasn't too cold to take my clothes off.
10. What if I don't Have Anyone to Go With Me?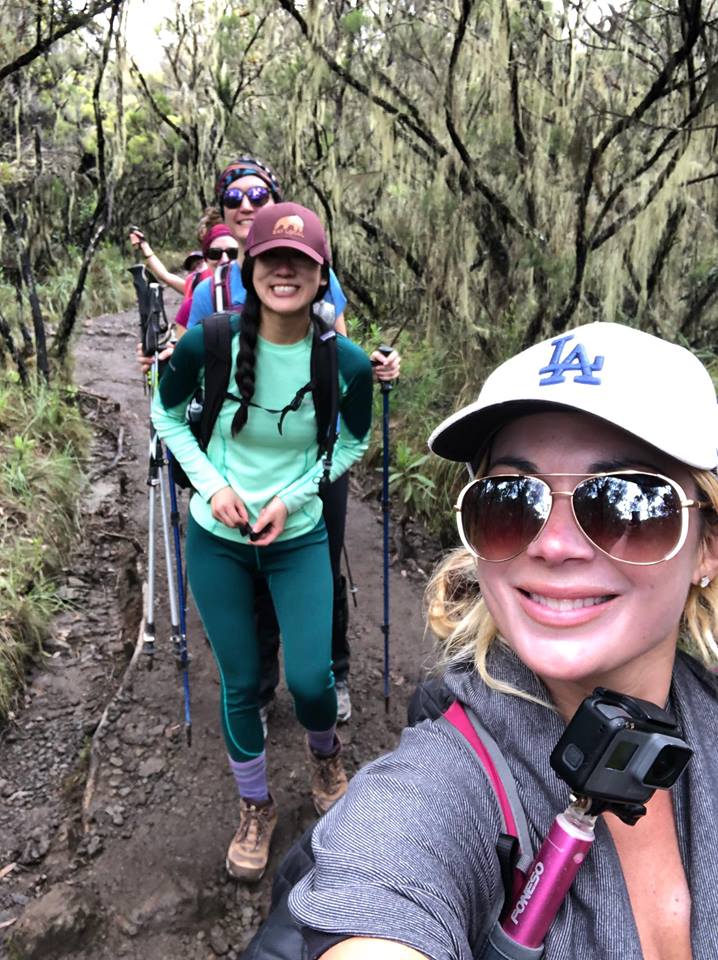 Good! You'll make new friends! Out of the 22 women in my group, there were only two sets of previous friends, the rest all came solo! If you haven't traveled solo before, puh-lease just peruse my site a little more, because I've traveled to over 80 countries mostly solo, and I'm absolutely obsessed with it!
I made so many awesome new friends and connections, and really enjoyed having all of the energy, motivation, and inspiration from the entire group the whole time!
Ready to Book Your Bucketlist Kilimanjaro Trek?! Here's a list of Whoa treks coming up, and if you want $100 off, use my code 'MyLifesATravelMovie'!