12 Day Croatia Roadtrip Itinerary
Renting a car and doing a Croatia roadtrip was one of the best ideas I had all month (I have a lot of really good ideas, according to me). Not only are car rentals insanely cheap in Croatia, but it's literally the only way for you to really explore lesser-known awesome areas, and have the time to stop and discover more.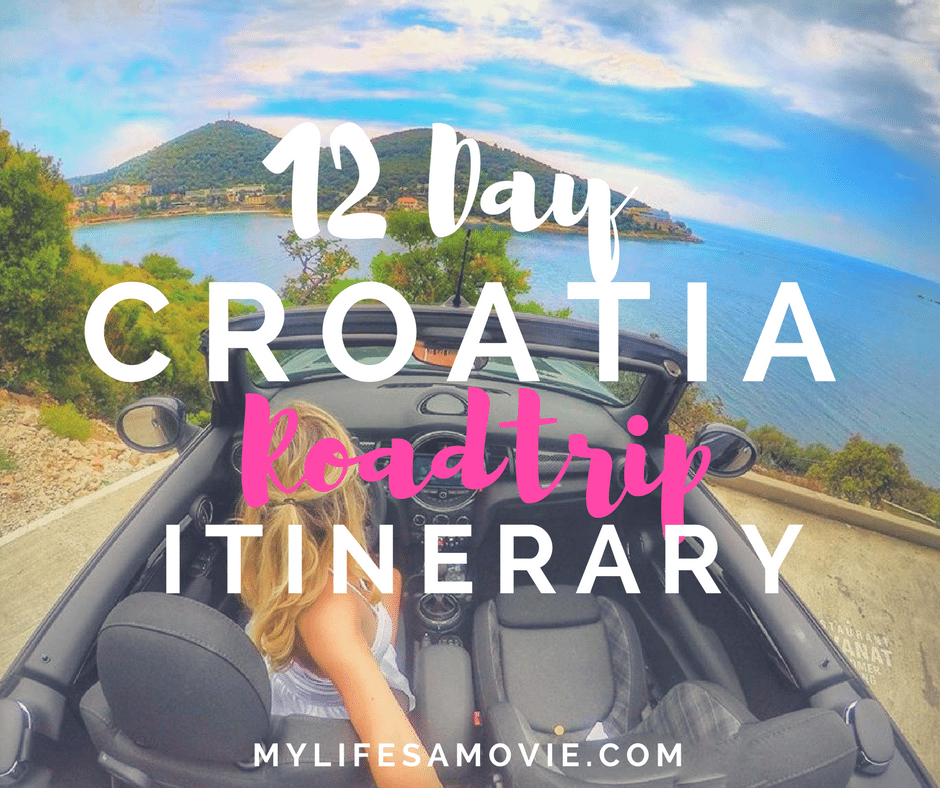 I know renting a car can sound scary…trust me, the thought of driving in another country absolutely terrified me at first! But also trust me when I say that the feeling of freedom, and the ability to go see unique things and not have to rely on someone else for transportation, is absolutely genius.
Before I start, I should probably mention that this Croatia roadtrip itinerary also includes stops in neighboring countries! So I'll include what you need in order to cross borders as well!
Important Information
How to Rent a Car in Croatia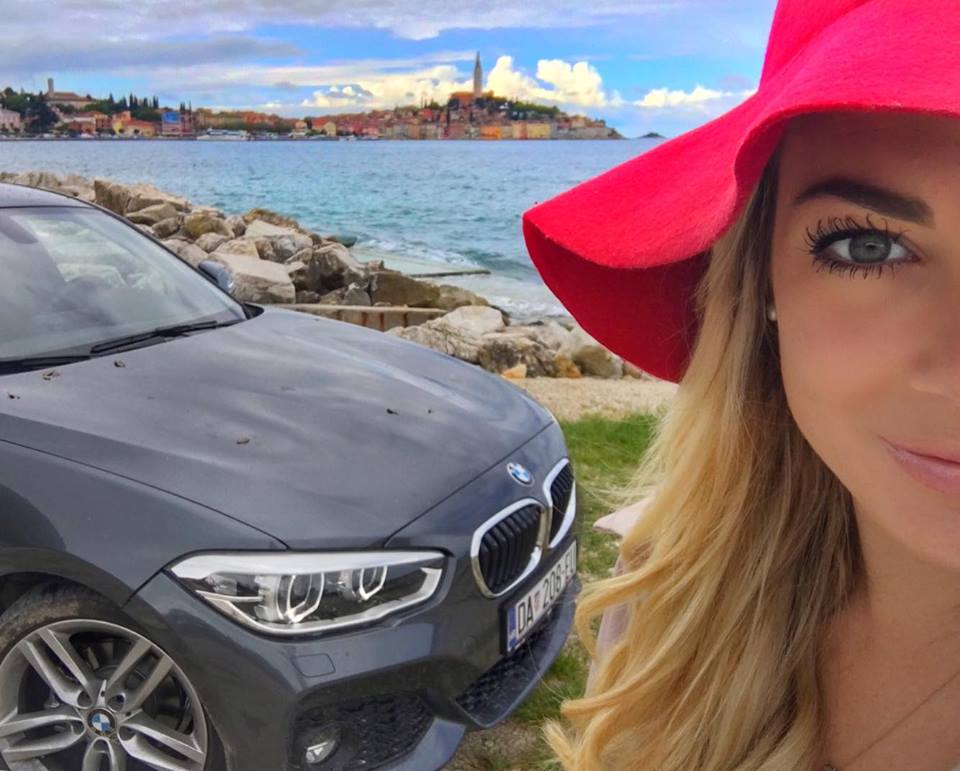 After comparing prices online, I found that Sixt Croatia had the cheapest prices for the best quality of cars. Most cars are under $20 per day (may change in peak season), which means it's only around $200 to rent a car for the entire trip! It's best to reserve one online through their website, that way there's no risks or confusion when you arrive at the airport. Speaking of which, you can pick up your rental from the Sixt office at the Split airport, which is located on the Arrivals (second) floor. You'll then walk to the lot to get the car, and you'll be hitting the road in no time!
Right now you can also find summer specials and discounts on Sixt car rentals like this one: Summer Special | up to 15% off
Driving a car in Croatia isn't much different than driving in the US, except most of the cars use diesel instead of gasoline! Some of the cars even come with GPS which can help you A LOT, so I'd recommend considering that! You can also rent a Wifi hotspot which works anywhere, and will help you out a lot if you need to get GPS on your phone or look something up!
One thing I especially liked about renting a car for the entire 12 days I was in Croatia was that I never had to take my suitcase in or out of the car! I kind of used the trunk as my closet, and only took what I needed inside my hotels
How to Cross Borders in a Rental Car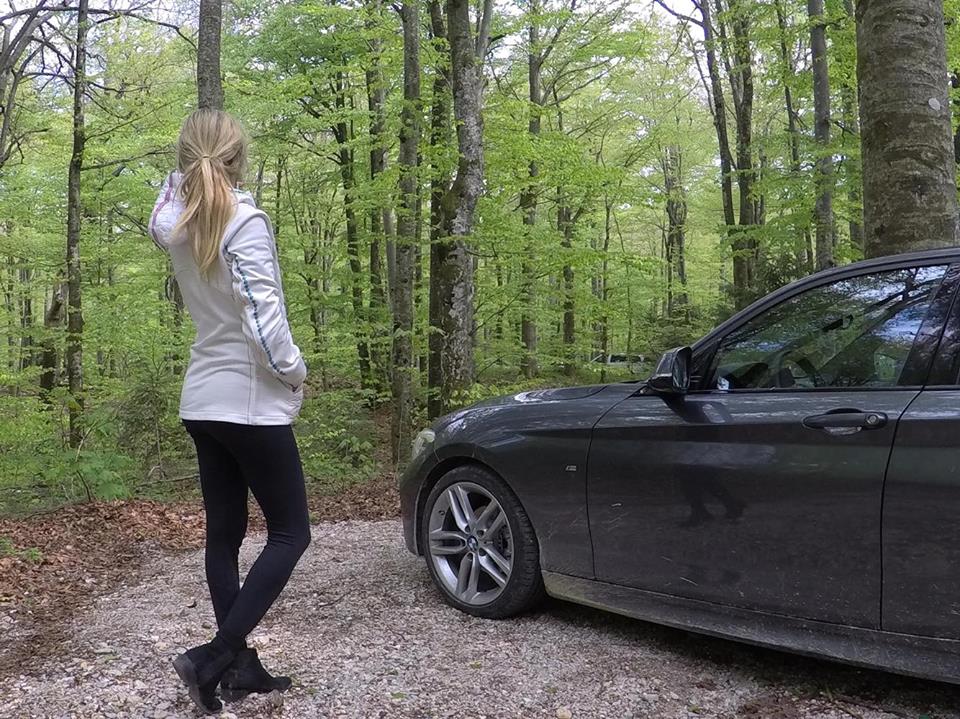 Initially I assumed for some reason that I would be able to just cross borders into other countries by showing my passport, but you actually need more than that in some circumstances. In Croatia, your rental car needs a "green card" in order to go to certain countries, like Bosnia (they only asked me for it in Bosnia actually).
To get the green card, you simply tell Sixt you want it when you arrive, and pay an additional 9 euros per day, or a maximum of 45 euros for the duration of your trip.
If you aren't planning on hopping any borders like I did, you won't need one. If you're worried about the small chunk of Bosnia you have to cross in order to get to Dubrovnik from Split, don't worry, you get a free pass for that border cross!
Figuring Out Where to Stay
During my roadtrip I tried to keep a budget of $50 or under in all of the places I stayed at each night. I did not book anything in advance, and instead searched for places the day-of in order to get last minute deals. Booking this way is a bit risky, especially if you go during high season (end of May – August), but I ended up getting some AWESOME deals, and kept my budget!
The way I find last minute deals is a bit hard to explain, so if you're interested, please watch the video tutorial that literally explains it in under 1 minute:
The places I have listed below are where I actually stayed, and I paid for all of them myself so you'll see my honest review!
Typically I use Booking.com, and if you end up using it, use this link to get $20 off your booking: $20 Off Hotels Coupon
Notes About This Itinerary:
– All driving times are FROM the last destination TO the next one
– Keep in mind that Croatia, Bosnia, and Slovenia all take different currencies, and only sometimes will Euros be accepted instead
– I only had to fill up my gas tank twice
– Use the car GPS while driving because it's safer (enter a general area) then use your phone for specific locations/addresses but BE CAREFUL
– Get a wifi hotspot with the car, they cost less than $10/day and they are portable so you'll have wifi the whole time you're there!
– Consider getting travel insurance before you go, as with any trip abroad!
– Always be sure you have enough cash! Tolls and most parking meters don't accept cards!
The Croatia Roadtrip Itinerary
Start: Split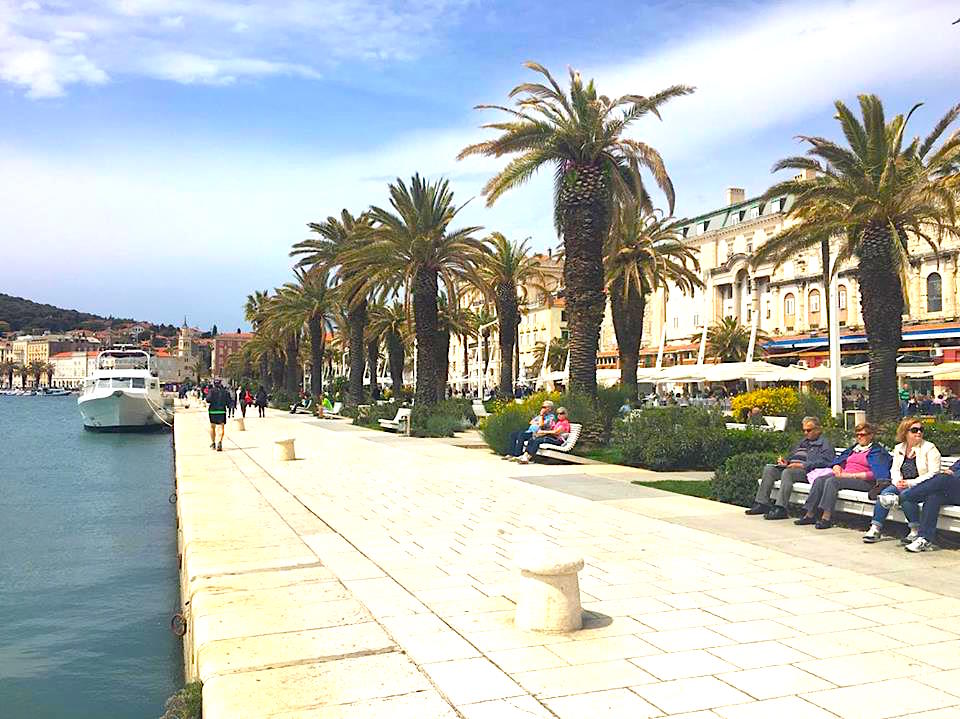 Split is probably a destination that's high on your list of places to visit in Croatia, and I don't blame you at all! But…I can probably also attest that it's also probably one of the only places you've heard of there too. Split is great! Lots of fun, cute little city, and it's a main hub to get to the islands, but I'd say save it for last, otherwise you might end up wanting to just island hop the whole time!
Instead, pick up your car from the Sixt rental office on the Departures floor of the airport, and head to Split for just the night. Enjoy a lovely late afternoon lunch or dinner at one of the many port-side cafes and restaurants, then go get some rest so you're ready for an early departure!
Where to stay: Apartments Zuvela
This place is a little farther from the main area of Split, which is why it's so much cheaper. It's more like a homestay with a cute private room and bath, free parking, and about 15 minutes walk to the main area of Split.
Day 1: Martin Brod Waterfall (Bosnia)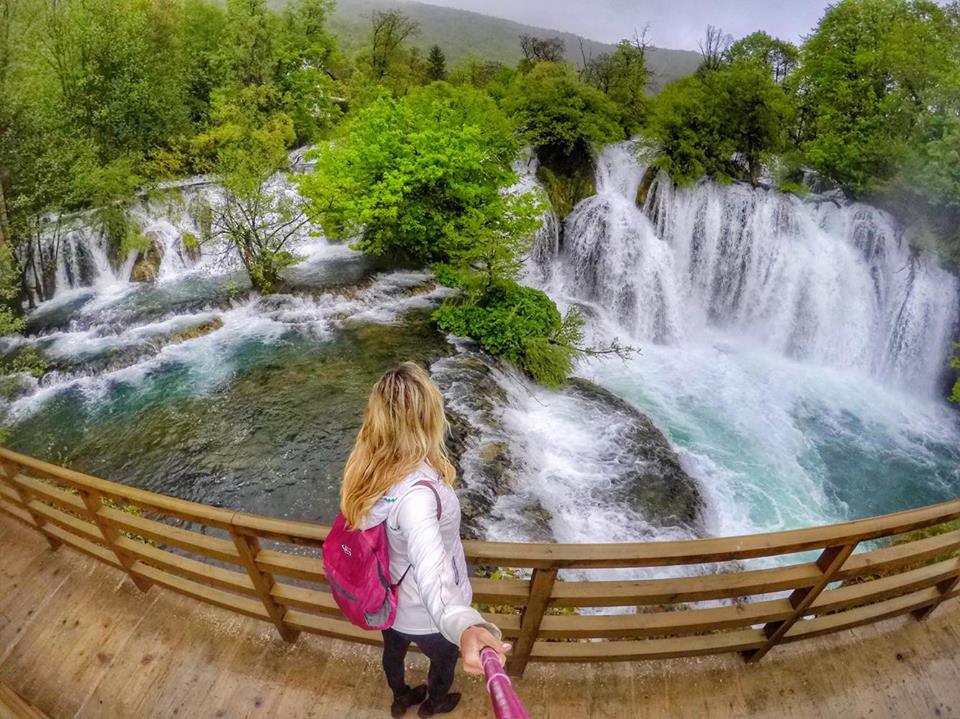 Driving Time: 3 Hours
GPS Input: Martin Brod or Una National Park
Cost: 1euro entrance fee (cash, can also pay in Bosnian Marka)
That's right, on day 2 of the Croatia road trip I've listed Bosnia! Why? Well, because there are cool waterfalls to see there on the way to one of the highlight destinations in Croatia; Plitvice Falls.
I found this area of Bosnia to be very pleasant albeit sad if you know the history of the war and what it did to that area (hint: you'll see a lot of abandoned, crumbling homes). The National Park Una is one of the most lush, untouched, un-tourist-infested places I've seen in all of my travels, and has two waterfalls that can almost rival Plitvice…almost.
The real perk is that hardly anyone goes to this hidden gem, so you can enjoy the park peacefully and get awesome waterfall photos with no one in them. Be sure to try some of the fruit brandy while you're there! My awesome AirBnB host gave me some home made cherry brandy that was DELICIOUS….and also some plum brandy that I almost died from tasting!
Oh and TIP: Since this area of Bosnia is not exactly touristy, the border control guards may ask where you're going. Be sure to tell them you're going to the National Park and they'll be delighted!
Where to Stay: Villa Buk, Bihac (AirBnB)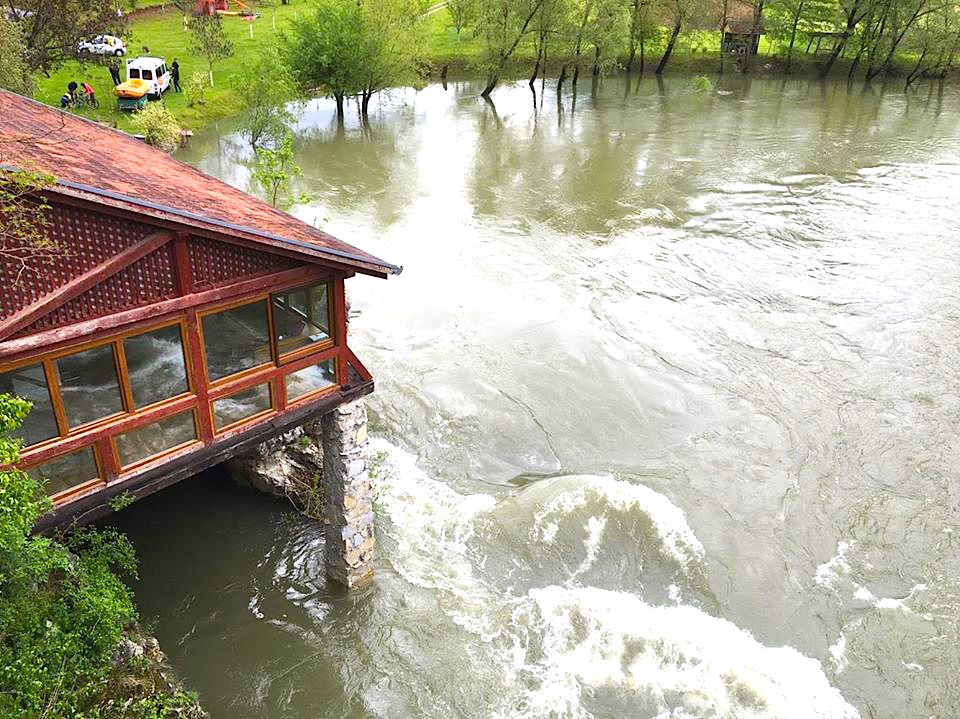 I would HIGHLY recommend this place, it's definitely somewhere I would 100% stay again! Excellent value for your money, awesome host, and a breathtaking location, right literally on top of the raging river! He also offers White Water Rafting tours that end right at the villa so you can run inside to the hot shower!
Day 2: Strbacki Waterfall (Bosnia)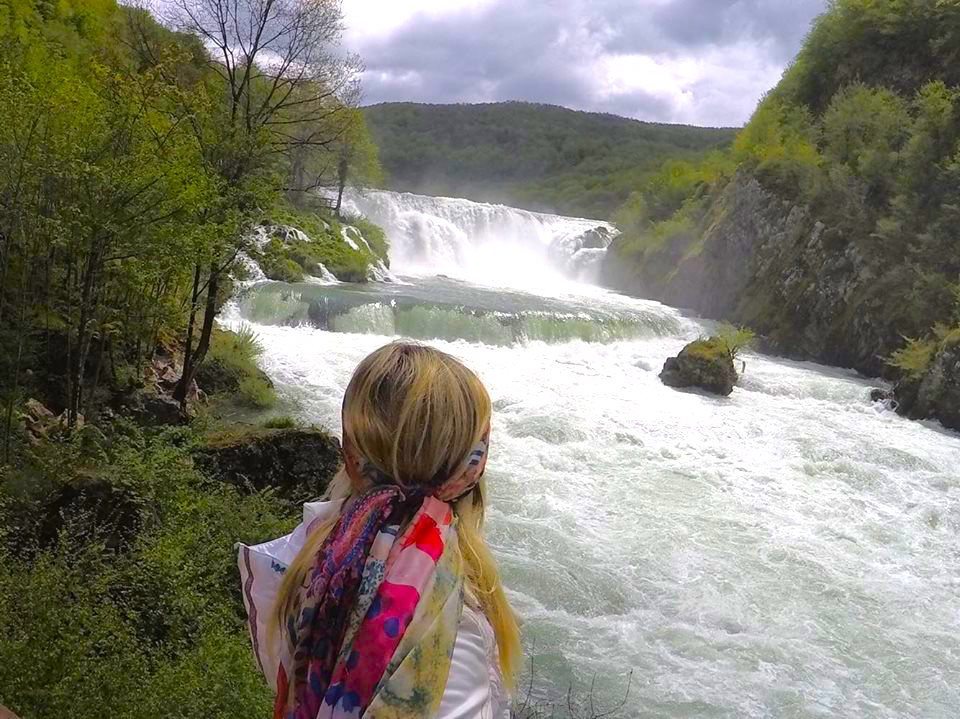 Driving Time: 30 minutes
GPS Input: Honestly, just follow the road signs
Cost: 6 euros entrance fee (cash, can also pay in Bosnian Marka)
Strbacki waterfall is supposed to be the biggest waterfall in Bosnia (or at least in Una National Park), and it normally looks like it has a tiered falling effect. Except…when I went, it had just rained a lot, so it mostly just looked like a massively spewing fire hose. The park that it's locating in and the walk to the viewpoints is very lovely though. I honestly spent more time taking photos of the "fairytale like mini-waterfalls and meadows" than the big waterfall.
If it wouldn't have been so cold and if I hadn't have been so hungry, I would have opted for the White Water Rafting…but I'll save that for another trip. Oh, and the roads to get to and from this waterfall are very uh…sketchy. They're mostly dirt and pebbles, and slightly terrifying because you see the rocks that have fallen from the mountain sides. Unfortunately Una National Park doesn't get as much funding as places like Plitvice so they can't afford to fix the roads yet. BUT, that's all the more reason why you should go there! Help them get more funding!
Where to Stay: Bungalows Korana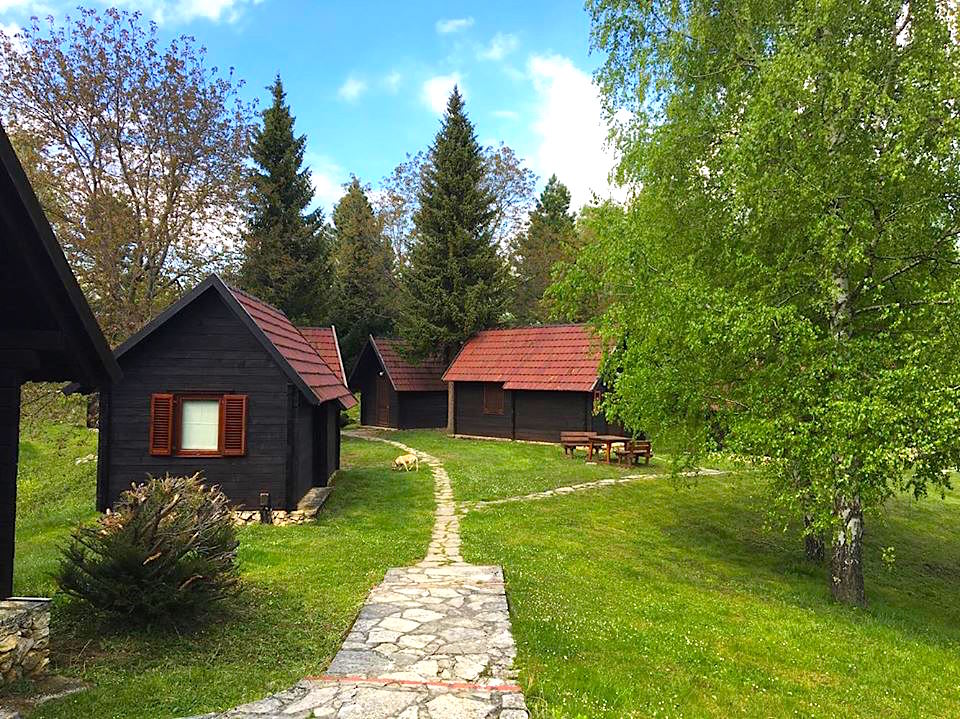 Literally the cheapest prices I found last minute by a landslide, and only a few minutes (driving) away from Plitvice National Park! Not to mention, INSANELY ADORABLE! You get your own little free standing cabin amidst a fairytale looking meadow, and although there's a communal bathroom, it's exceptional clean and fully functional.
Day 3: Plitvice National Park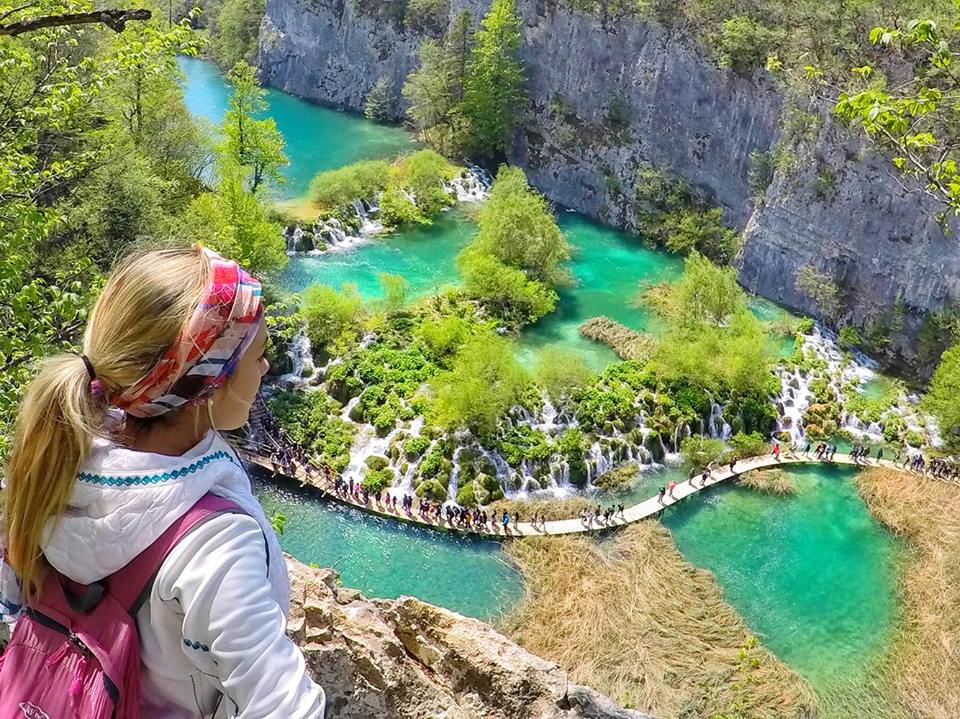 Driving Time: 1 hour
GPS Input: Plitvice National Park
Cost: $8 – 27 depending on season
Hopefully your day 3 lands on a weekday, and hopefully you don't mind getting up early! No matter what season it is, Plitvice National Park is going to be busy! It's super beautiful…but busy! There are two entrances:
Entrance 1: Is closer to the big waterfall, but is more likely to not have parking and have a long line to get in. I'd still suggest trying to get to that one but only if you find parking easily, and if the line isn't long yet.
Entrance 2: Park, but if there's a line for the tickets at the first shop/kiosk you see near the parking lot, KEEP WALKING to the actual entrance to the park, which is about 10 minutes down the street. You'll have to walk over a pedestrian bridge, then down a pathway, then down another one (follow the signs), until you finally get to a small ticket booth, but the lines there were much shorter and faster. As you can probably tell, it's a bit of a walk just to get there, and then even more of a walk to get to the waterfalls, so literally ONLY go this way if there is NO ROOM TO PARK at Entrance 1! (Ugh).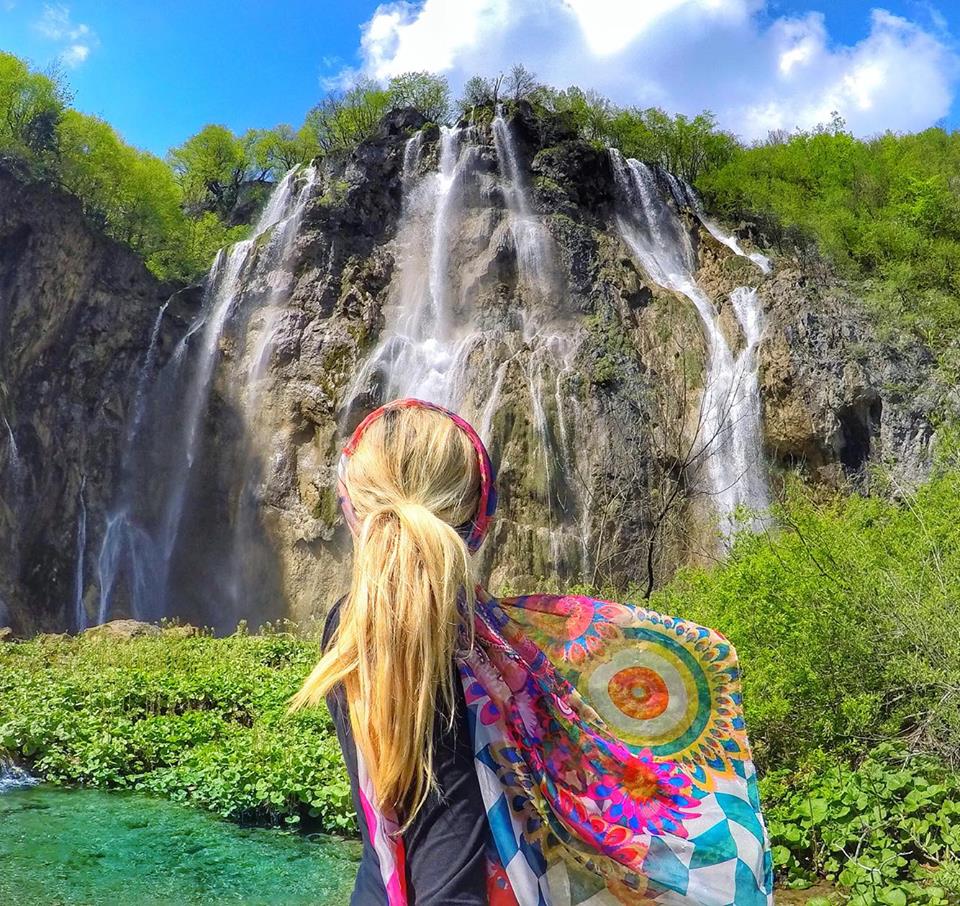 But speaking of the different seasons…here's how much it costs to get into Plitvice during high, medium, and low season:
Low Season:
Jan 1 – March 31 & Nov 1 – Dec 31: 55HRK (about $9)
Medium Season:
April 1 – June 30 & Sept 1 – Oct 31: 110 HRK (about $18)
High Season:
July 1 – Aug 31: 180 HRK (about $27)
Your ticket includes usage of the ferry boats on the river (BESIDES in Nov or Dec), but like everything else there, they usually have a line. You can take them from the Entrance 2 area to the Entrance 1 area where the main waterfalls are, or you can be ambitious and just walk the pathway along the lake.
To get those token aerial views of the falls, walk UP towards the main starting point of Entrance 1, and follow the pathway all the way to the left for the giant waterfall view, or to the right back towards Entrance 2 for a view of the wooden walkways and smaller falls that you probably walked along to get to the Big Waterfall (that's literally what it's called).
Where to Stay: You could opt to stay longer at the park (I was tired and over it after 4 hours) and stay the night in the area again, or keep driving so you're closer to the next destination like I did. I actually ended up taking a wrong turn, and ending up in Senj, and staying in a crap hotel, so I'm not going to mention it, but, I'd recommend staying somewhere closer to Rijeka.
Use this automatic deal finder on Booking to help find last minute deals in the area:
Day 4: Pećine Beach, Rijeka (Croatia)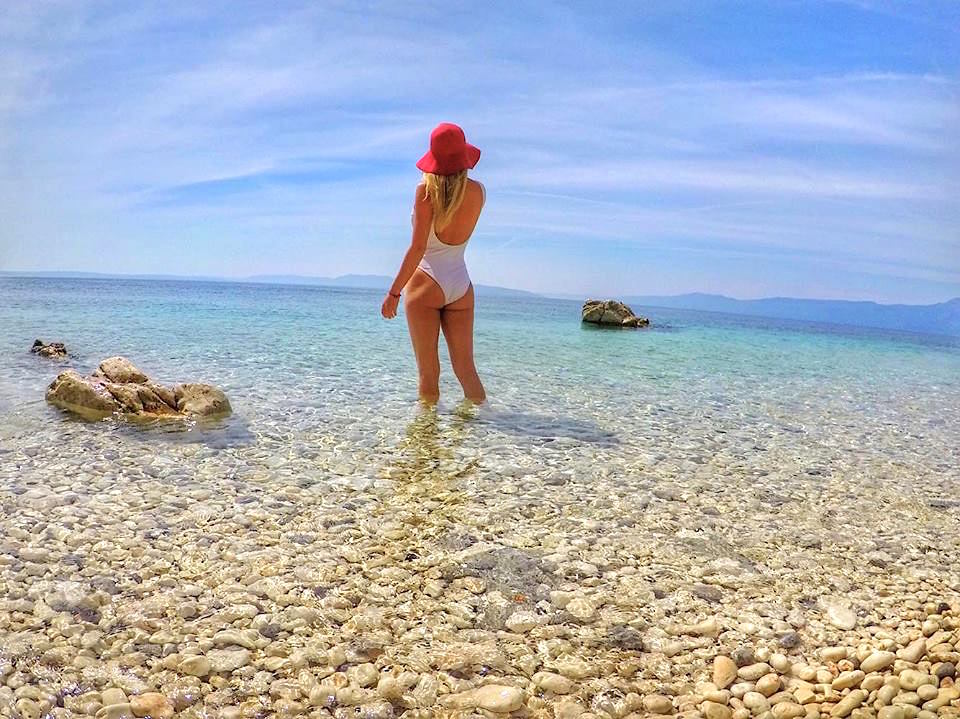 Driving Time: 2 hours
GPS Input: Pajol Bar Pecine or Pecine Beach
Cost: Freeeee
All I wanted to do after spending the first couple of days chasing waterfalls in forests, was lay on the beach in the sun. So, I looked up the best beaches in Croatia, and found one nearby called Pećine Beach, and went! My phone's GPS worked better than the car GPS for this one, and once you see your little blue dot starting to get closer to the beach, start looking for parking on the side of the street.
I went on a holiday and still found free parking on the side of the road! One you've parked, continue following your blue dot on your phone down a pathway which will eventually open up to a breathtaking view of the bright blue Adriatic Sea! You'll see a small pebble beach and a little bar/cafe hut, but if you walk around the pathway, there's more beach area as well.
Where to Stay: Hotel Istra (Smart Selection Hotels) in Opatija
I really wanted to stay on the beach which is why I chose this location. They ended up giving me a room upgrade since I was last minute and they had a bigger room available, and I also paid a little more for half-board. I HIGHLY recommend getting half board here…because that includes unlimited WINE and beer!
Day 5: Koper & Piran, Slovenia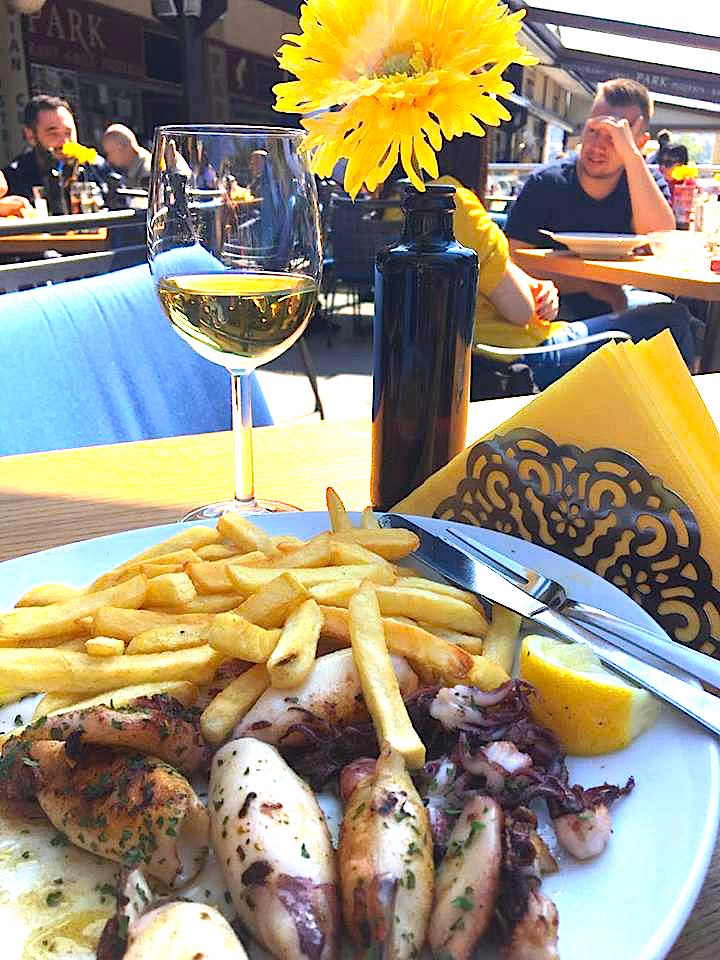 Driving Time: 2 hours
GPS Input: Koper
Cost: $10+ for parking
I did have to wait in a car line a little longer than expected to cross the border into Slovenia, but mostly because they had to go find the stamp for my US passport. They didn't ask for the green card here though.
Koper
Anyway, Koper used to be this area of Slovenia's main port, but now it's an adorable little tourist town where all the cruise ships stop. I actually had some REALLY good lunch there, and even bought a cute coat (the pink thing in some of my photos), but I wasn't insanely impressed with it. Especially after I got to Piran.
Piran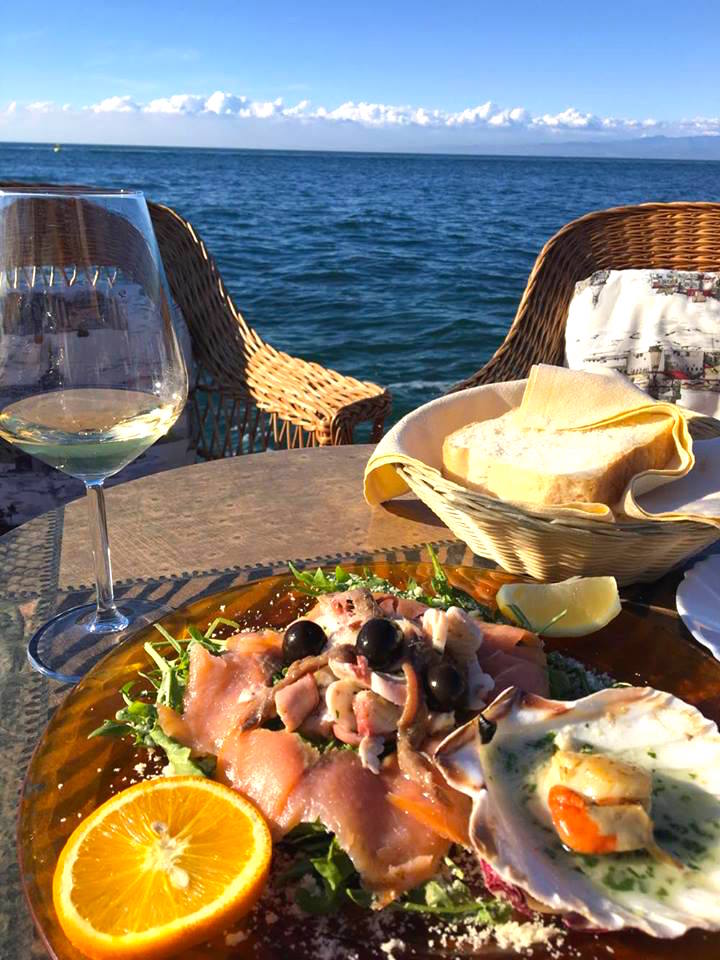 Now this little town I would 100% go back to and stay a week in! It was literally like something out of a fairytale book with all of its adorable cobblestone streets and narrow walkways! There's no car access (which slightly sucks because parking isn't cheap) which makes it even more quaint, and it's on the water so you get a seaside vibe as well. I had seafood and wine by the water near the staple church every day I was there!
Where to Stay: Portoroz Lower Ground Floor Apartment (AirBnB)
This was the best price I could find in this entire area, and it ended up being really nice. It was super modern and accommodating, and included free private parking, and surprisingly…English TV channels!
Day 6: Piran, Slovenia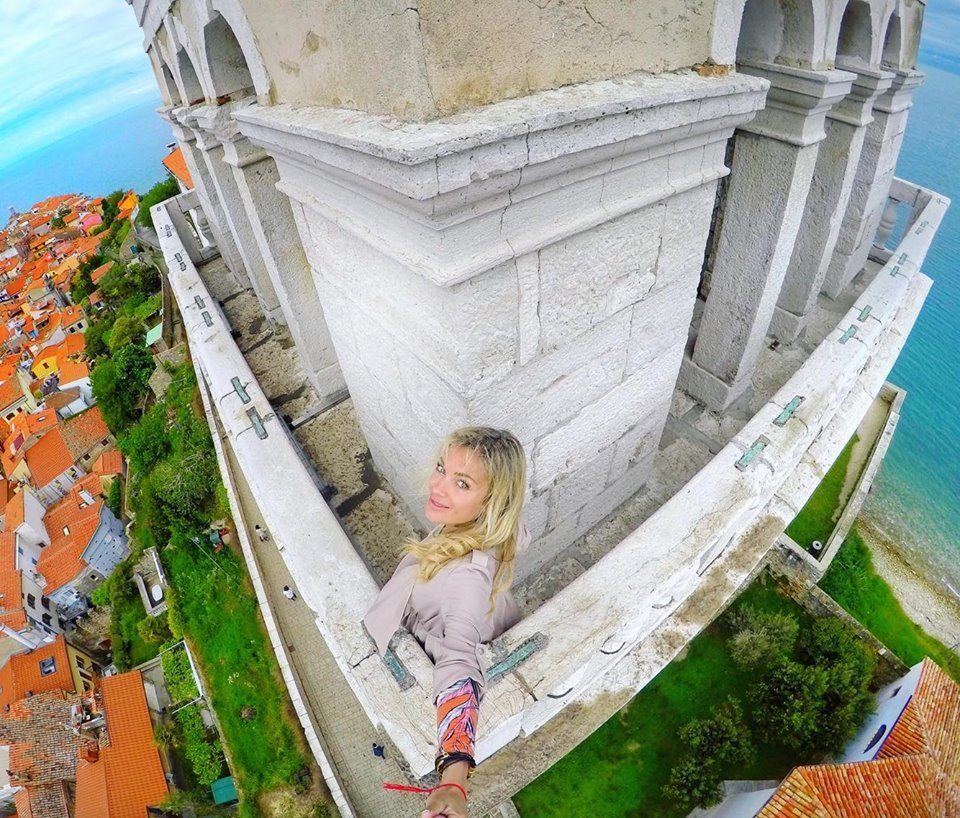 I loved this place so much that I decided to spend an extra day there! If you don't love it as much, feel free to explore another nearby town, or head to the next spot. On my second day (which would be this day) I went Scuba Diving, which…in all honesty, I would not recommend there at all. The guys at the shop were super nice, but it was super cold when I went, and I didn't really see much.
The rest of the day can be spent climbing the clock tower for an epic view of the city, walking up to the ancient City Walls, or just meandering around the many cobblestone streets. I loved having a long lazy lunch near the dive shop at the very tip of the mini peninsula, where they have comfy chairs over looking the Aegean Sea. On a clear day, you can even see Venice, Italy!
Where to Stay: Same place as the night before or move on to the next spot.
Day 7: Rovinj, Croatia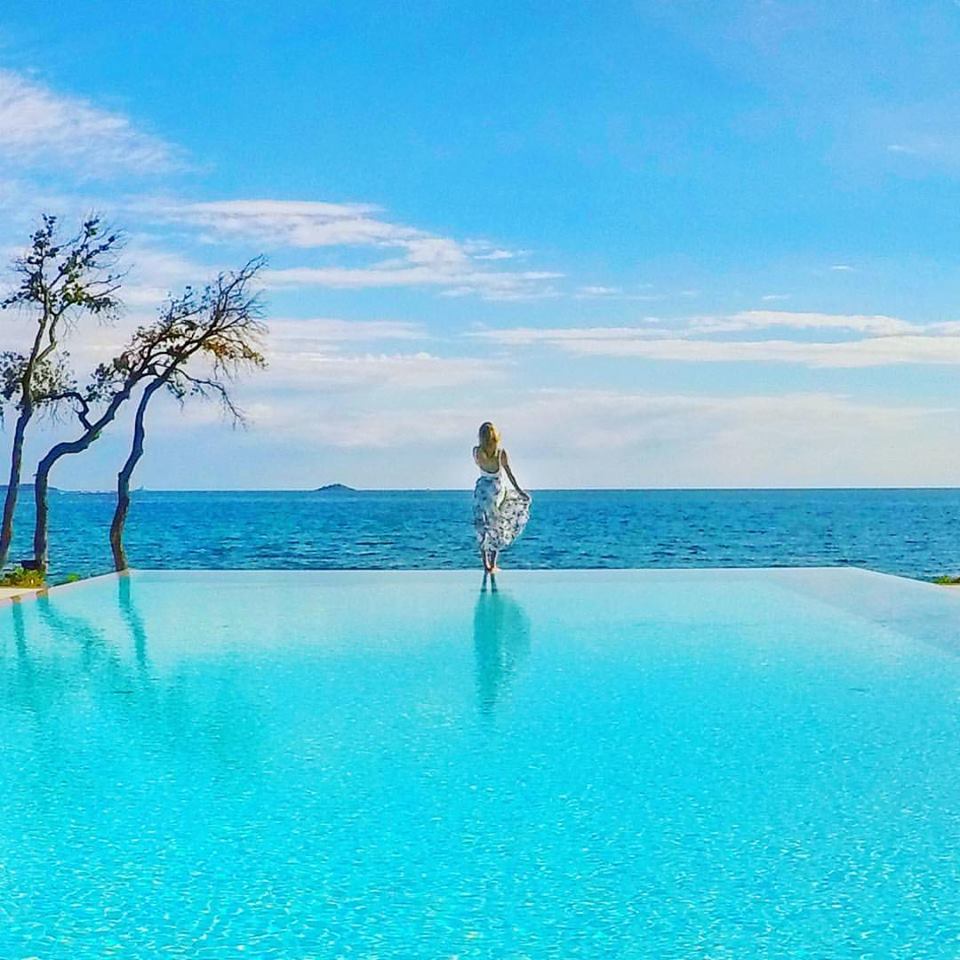 Driving Time: 2.5 hours
GPS Input: Rovinj (or hotel name if you go straight there)
Cost: $10+ for parking
To be honest, I was so insanely impressed with the last minute hotel I found just outside of Rovinj, that I ended up spending the rest of the day there rather than going into town. The name might sound questionable; Amarin Tourist Settlement, but I promise you it's one of the best bargains for your money! For about $60 a night (last minute deal) I had an epic one bedroom apartment, two infinity pools, beach, and half board (breakfast and dinner)!!!
So yeah. That's how I spent Day 7, but feel free to go into Rovinj to explore!
Where to Stay: Amarin Tourist Settlement
See above.
Day 8: Rovinj, Croatia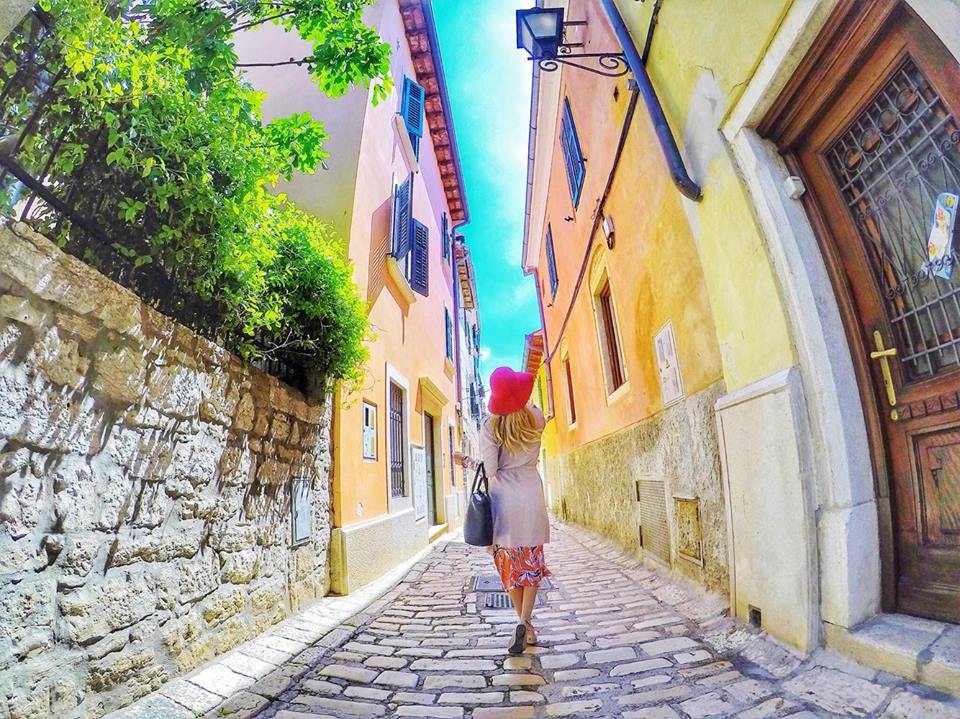 To sum it up best…Rovinj was probably one of my favorite places in Croatia. I know I said Piran was like a fairytale town, but Rovinj is like that times three. Well, plus Piran is in Slovenia, not Croatia. Anyway, there's even more cute seaside restaurants, plus art shops, markets, and more in every nook and cranny you turn. You can climb a bell tower here as well, and take a look inside the beautiful church.
Rovinj also has a VERY popular Instagram-photo spot, see if you can find it! It's on the way from the main street to the bell tower, and it's in a small walkway that goes down to the water. It belongs to a boutique clothing shop, and is simply just an adorable table and chairs set up at the end of the walkway that over looks the bay.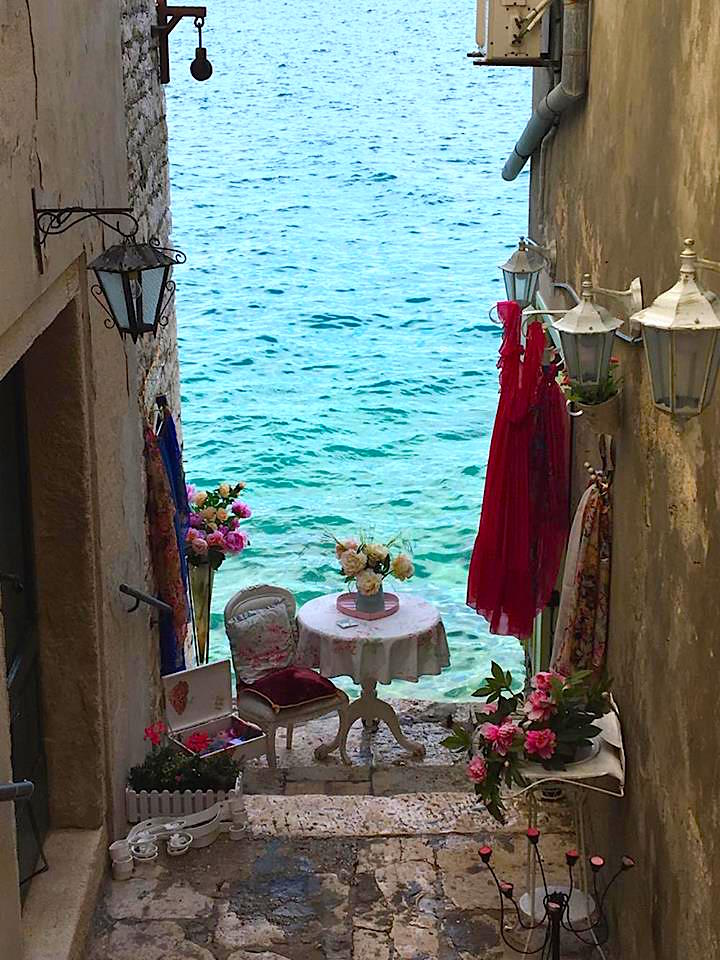 Where to Stay: If you're tired or have time, stay at Amarin again, or drive to the next location: Zadar. I stayed at an AirBnB in Zadar because it was much cheaper than the hotels that were left during my last minute booking process AND*** BECAUSE I REALLY NEEDED TO USE A WASHING MACHINE! The host was really nice, so if you're looking for a place, hers is: Zadar Sweet Studio
Day 9: Zadar, Croatia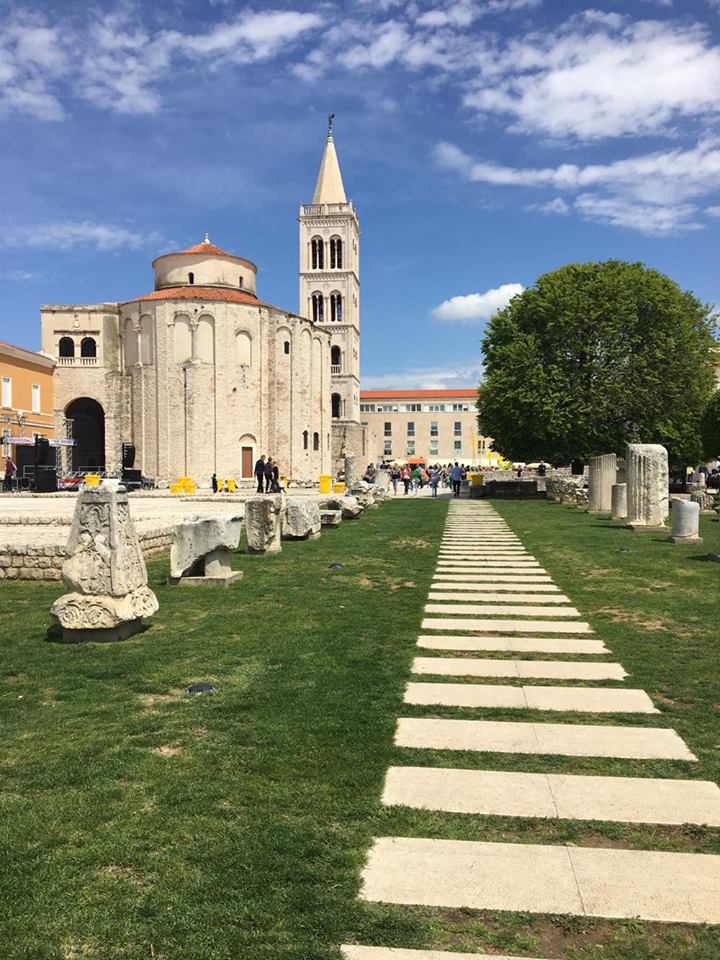 Driving Time: 4 hours
GPS Input: Zadar
Cost: $10+ for parking
A quick note: I had to go directly to Zadar from Rovinj because I was meeting someone there on a specific date. But since it's quite a bit of a drive, I would definitely suggest spacing it out and stopping in Opitija or an other little town along the way!
Zadar has a lot of nice islands right off its coast, and it also has a cute (but less cute than Rovinj) little town area on the bay. What's interesting about Zadar's little town is that there are ancient ruins right in the middle of it still. Aside from that, Zadar's other claim to fame is a famous set of steps that are actually an art installation.
It's called Steps by the Sea, and so as you can probably imagine…they are steps…by the sea…but these steps have holes in them that connect to tubes under water. When the current flows, the air shifts in the tubes under water, creating a natural "wind pipe" above ground on the steps.
Since I was supposed to get up early to catch the ferry to Hvar Island out of Split the next day, I left Zadar early and went to my hotel in Split.
Where to Stay: Le Meridien, Split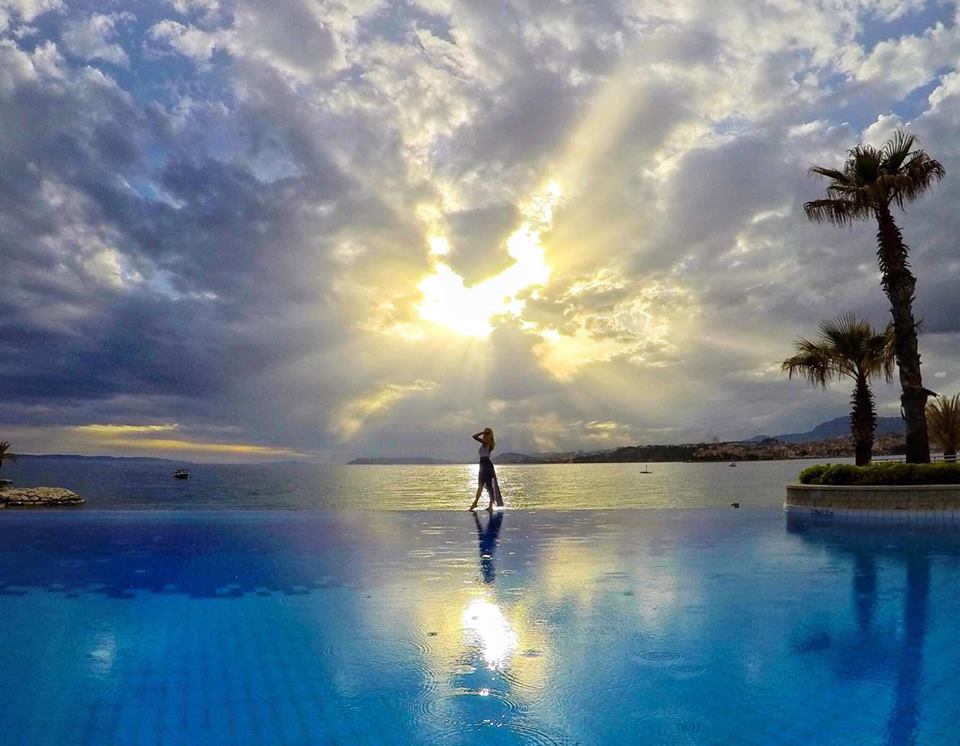 Full disclosure, I had a collaboration with Le Meridien Split, but I specifically asked for it because I always like staying at their properties! The one they have in Lav, which is right outside of Split, is MASSIVE, and has every amenity you could possibly need there. There's an infinity pool, plus an indoor heated pool, and an entire indoor Roman bath and spa area. I actually got my first facial ever there too and can now officially say I will be getting one at least once a month! (It somehow magically made my mini-wrinkles go away!)
Day 10: Hvar Island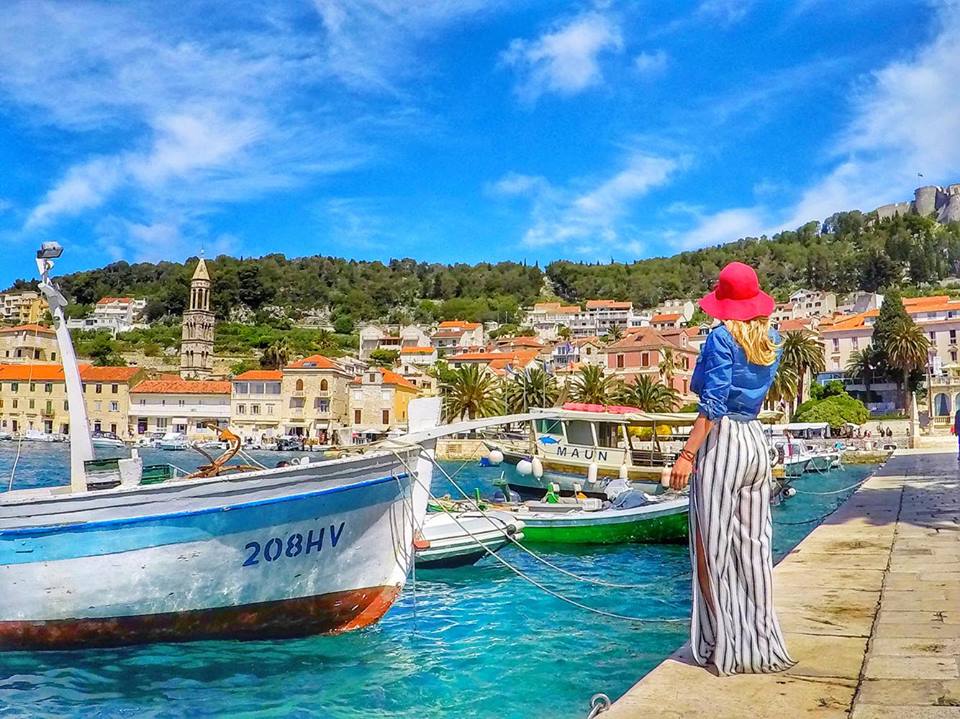 Driving Time: 10 mins (from Le Meridien)
GPS Input: Split harbor
Cost: $30+
Good news! You don't have to have a yacht or pay for an expensive catamaran tour to get to the islands off of Split! I went to one of the most popular ones; Hvar Island, and got there by ferry and bus! The ferry left pretty early, but it was super cheap, comfortable, and got there in about 2 hours! Below is the process for getting a ferry and then the bus to the main area of Hvar:
Step 0: Look up the ferry schedule for times (I took the 830am there and 530 back): Hvar Ferry Lines and Timetables
Step 1: Get to Split harbor – walk, Uber, or pay to park across from it.
Step 2: Buy a ticket at the kiosk for Jadrolinija (they're across the street from the bus kiosks, right next to the massive ferryy) Ferry costs 39 HRK ($5.75) each way
Step 3: Claim your territory in the passenger area of the ferry
Step 4: Get to the front of the crowd when getting ready to depart
Step 5: Look for the small white bus that says "Hvar Town" in the window…get on it. Make sure you have cash ready! It costs 27 HRK ($4) each way.
Step 6. Arrive in Hvar City…do stuff
Step 7: Be sure to get back on the bus an hour before ferry departure time (Costs another 27 HKR)
Step 8: Buy another ferry ticket, get back on ferry, go home, etc.
Sorry if that sounded a bit basic to some of you, but when I was researching the ferries I found it rather difficult, so decided to list exact steps and details!
Anyway. Once you get to Hvar Town and are done being mind blown at how adorbs it is, get to strolling! You can go up to the giant fort, or you can start peeking at the menus of the many restaurants along the walkway. If you keep walking around the small bay area and around the corner, you'll find all the "beaches" (aka mostly concrete platforms next to the water), and a couple of beach bars.
There's also a really amazing view from a hotel bar/restaurant called Adriana Hotel, and during warm season, Hula Hula Beach Bar is really popular!
Where to Stay: You can stay on the island if you want, but I took the 5:30pm ferry back to Split and stayed at Le Meridien again.
Day 11: Dubrovnik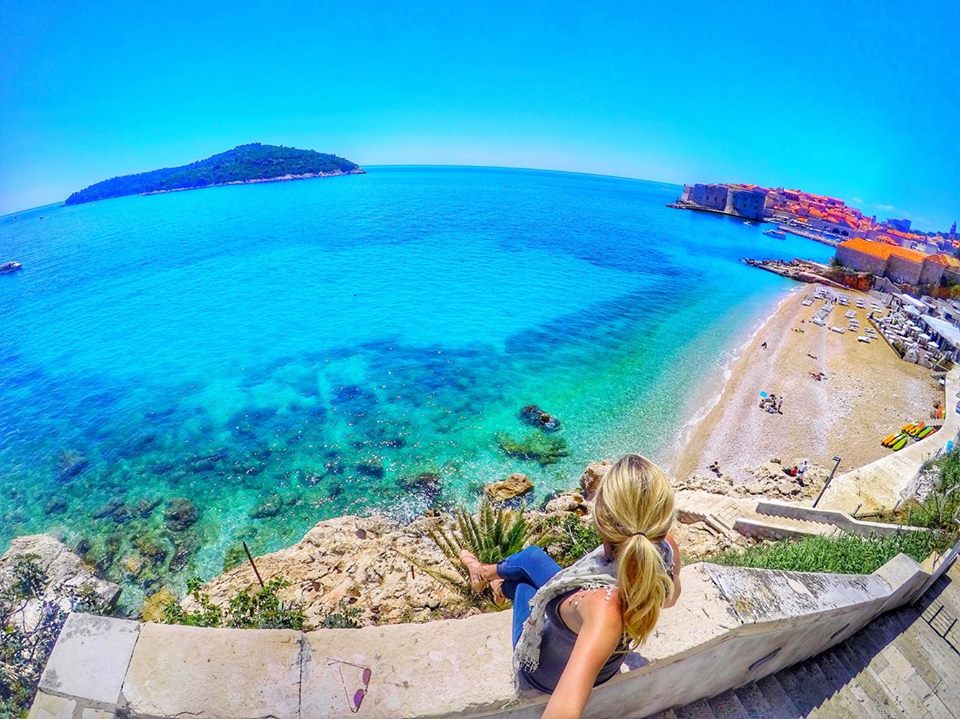 Driving Time: 3 hours
GPS Input: Dubrovnik
Ah, Dubrovnik. Possibly even more popular than Split right now. If you're a Game of Thrones fan…that's probably why. I am not one, nor have I seen the show, but after seeing Dubrovnik, I can say that I'm definitely a fan of that town! It's unlike anything else that I saw in Croatia, seriously. A medieval city set atop the crystal clear waters and sheer cliffs of the Adriatic Sea?! Oh HELL YES.
It's like you're in a medieval themed amusement park…but in real life. Yes it's tourist, yes it's crowded, yes it will be hard AF for you to get a photo on the "Shame" steps (spoiler alert, that was a body double), but it's all TOTALLY worth it!
I actually even did a "Game of Thrones and Dubrovnik History Tour" with Dubrovnik Tourist Guides (which someone from Instagram put me in contact with!!) to learn more about the area (and show I've never seen), and found it absolutely fascinating. The tour guide, Ivan (@dubrovnik_tourist_guides) actually LIVES inside the walls of the city (super rare), so not only grew up there and knows everything about it, but also has special access to certain areas!
Where to Stay: The place I stayed in wasn't the best, so I can't recommend it, but if you have your car still, I'd recommend staying just outside of Old Town, since it's cheaper. Just maybe check the photos of places beforehand.
Day 12: Depart or Keep Going!
I flew out of Dubrovnik on my 12th day in Croatia because I was speaking at the Experience Bucharest conference in Romania, but if I had more time, I probably would have kept going! Montenegro is super close to Dubrovnik, and you can cross the border by car with your green card, and is definitely something I think would be worth seeing!
You can also take a detour on the way to Dubrovnik (or after it) and visit Mostar in Bosnia, as well as some of the awesome waterfalls they have nearby!
If you have any tips for this itinerary (or questions!) please comment them below!
**Croatia Group Trip September 2017 Information will be available JUNE 10!**