30 Most Epic Adventures Before 30 – My Bucketlist
I have a bit of an obsession with chasing after and checking off my bucketlist items…so much so that I recently decided to get my greatest bucketlist checks tattooed on my forearm! It's probably the most meaningful thing I've ever done for myself other than sending "Future Alyssa" postcards from Antarctica and Kilimanjaro saying how proud I am of myself for chasing my dreams.
That's exactly what these all were initially by the way…dreams. Four years ago I never truly believed that I'd check off multiple bucketlists by the time I was 30, but I did, and I'm so damn proud about it!
So I'll start this post explaining my new tattoo, and then you'll next find my "Top 30 Most Epic Adventures Before 30" series that I did earlier this year right after I turned 30!
Oh! And if you're curious about how I started my dream career as a full time travel blogger and social media influencer, please read my full story on the About section of my blog!
Alyssa's Badass Bucketlist Tattoo: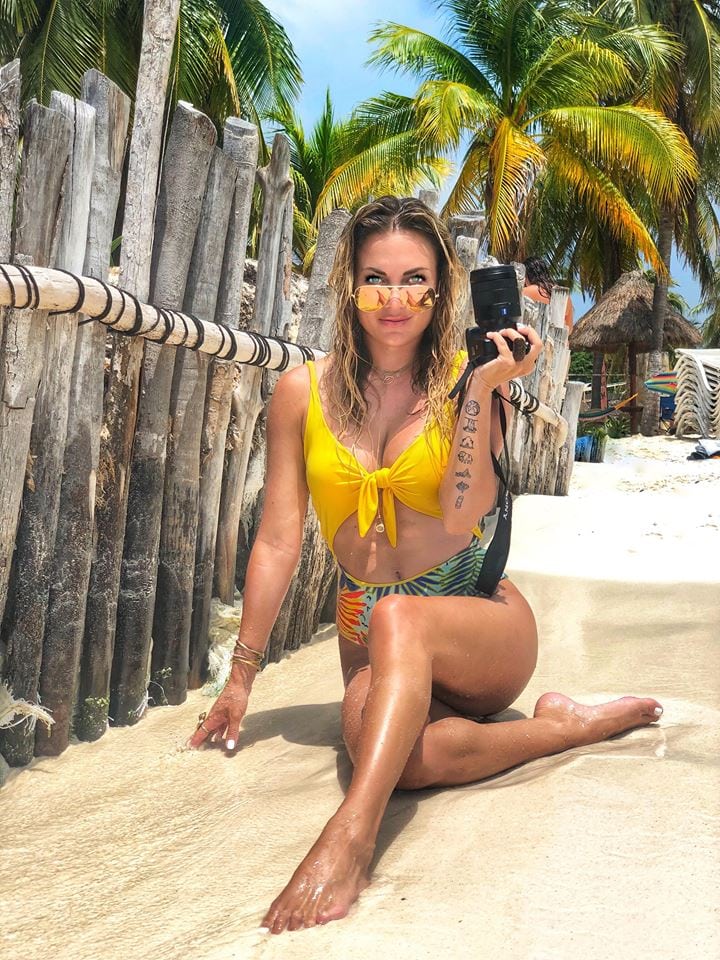 After checking off my most recent bucketlist check: swimming with Whale Sharks while I was in Mexico, I decided it was a good time to finally pay tribute to all of the awesome things I've done and goals I've accomplished. So I went home, drew some rough sketches, then headed to a tattoo artist named Cesar in Playa del Carmen who helped me make my visions come true!
I had considered getting just a map, but I thought that wouldn't do justice to all of the experiences I've had. So instead I decided on a "list" of icons that represent my biggest bucketlist checks of my travel life. Here they are!
1. Globe with the number 7: Represents my success in traveling to all 7 continents, with Antarctica being my number one bucketlist checkmark since I first started traveling.
2. Waterfall with the number 7: The waterfall represents Iguazu Falls; my favorite of the 7 New Wonders of Nature, all of which I have been to.
3. Taj Mahal with the number 7: My favorite of the 7 New World Wonders, all of which I have been to…and have photos with no people in them at all of them!
4. Elephant with the number 5: Represents when I saw the Big 5 animals of Africa while on safari, and also my love for those (and all) animals, as well as my love for Africa.
5. Kilimanjaro: Self explanatory 😉 I actually drew the outline of the mountain, and more importantly, was the first person in my group to summit…without any prior training or preparation.
6. Piece of coral: Represents when I checked off diving the Great Barrier Reef in Australia…as well as the Belize Barrier Reef, Red Sea reefs, Maldives reefs, and even to a sunken Moai statue in Easter Island…which brings me to…
7. Easter Island Moai Head: A place and thing I had always dreamt of seeing ever since I was a child. One of the harder trips to plan (mostly because it's expensive to get to), but one of the most culturally mind-blowing experiences I've ever had. Plus I may or may not have briefly fallen in love with a local there.
So those are my top 7 bucketlist tick marks that would fit on my forearm…I'll likely get a few more of the ones below as well though!
Here's my official top 30 Most Epic Adventures Before 30! …Plus 3 More I Just Did 😉
But first…a few epic ones I did in the first few months that I turned 30 lol…
0. Kilimanjaro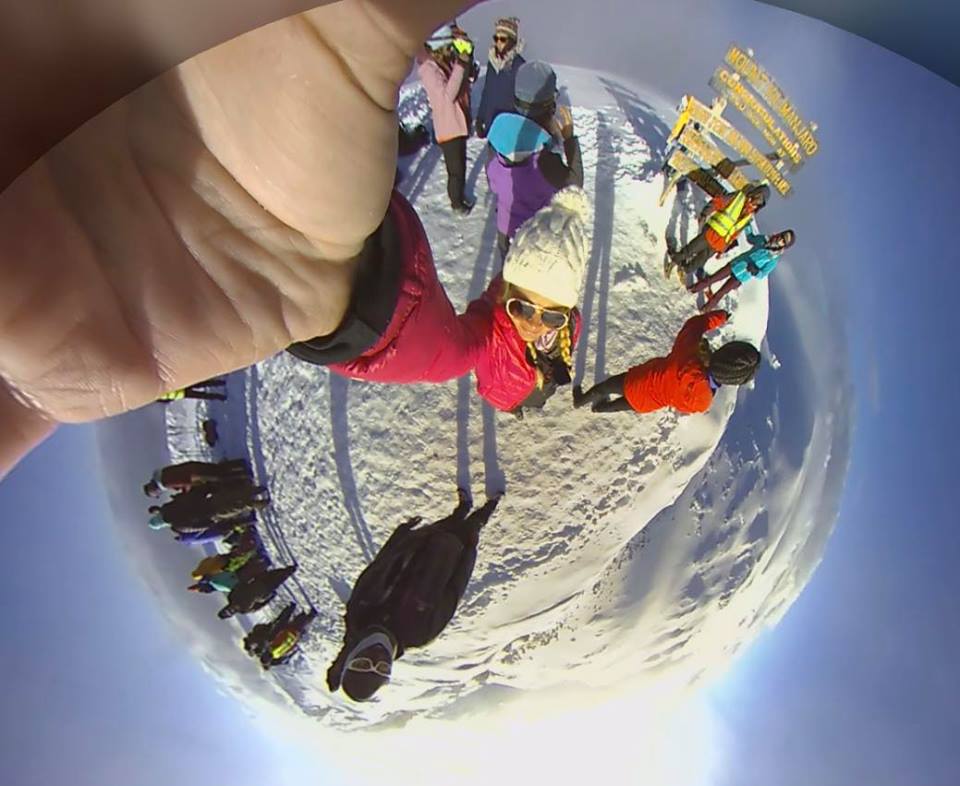 Completed Kilimanjaro two months after turning 30….randomly…as in…I didn't train for it or know I was even doing it until a couple weeks before. All good though! The guides and tour company were beyond on point, and not only did I have a lot of fun, but I was even the first to summit! Plus I did it on International Women's Day!
0.5 Great Barrier Reef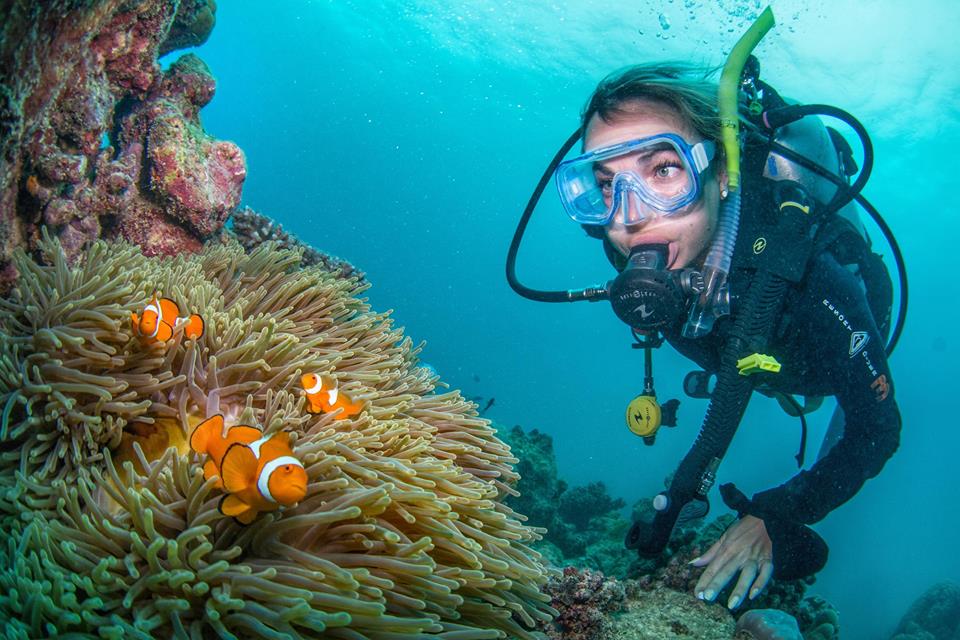 Since I had just completed one major bucketlist tick (Kilimanjaro) and was headed to Sydney afterwards, I thought, "Why not just go all out and tick off another one while I'm at it?" So I booked a ticked from Sydney to Cairns, and dove the Great Barrier Reef the next day.
Contrary to what most people think it may look like, the reef was actually very much alive and not damaged. Since it's the largest reef in the World, it would take a really long time to damage, but the effects of global warming on the colors and wildlife are very much real! So go see it now!
0.75 Swimming with Whale Sharks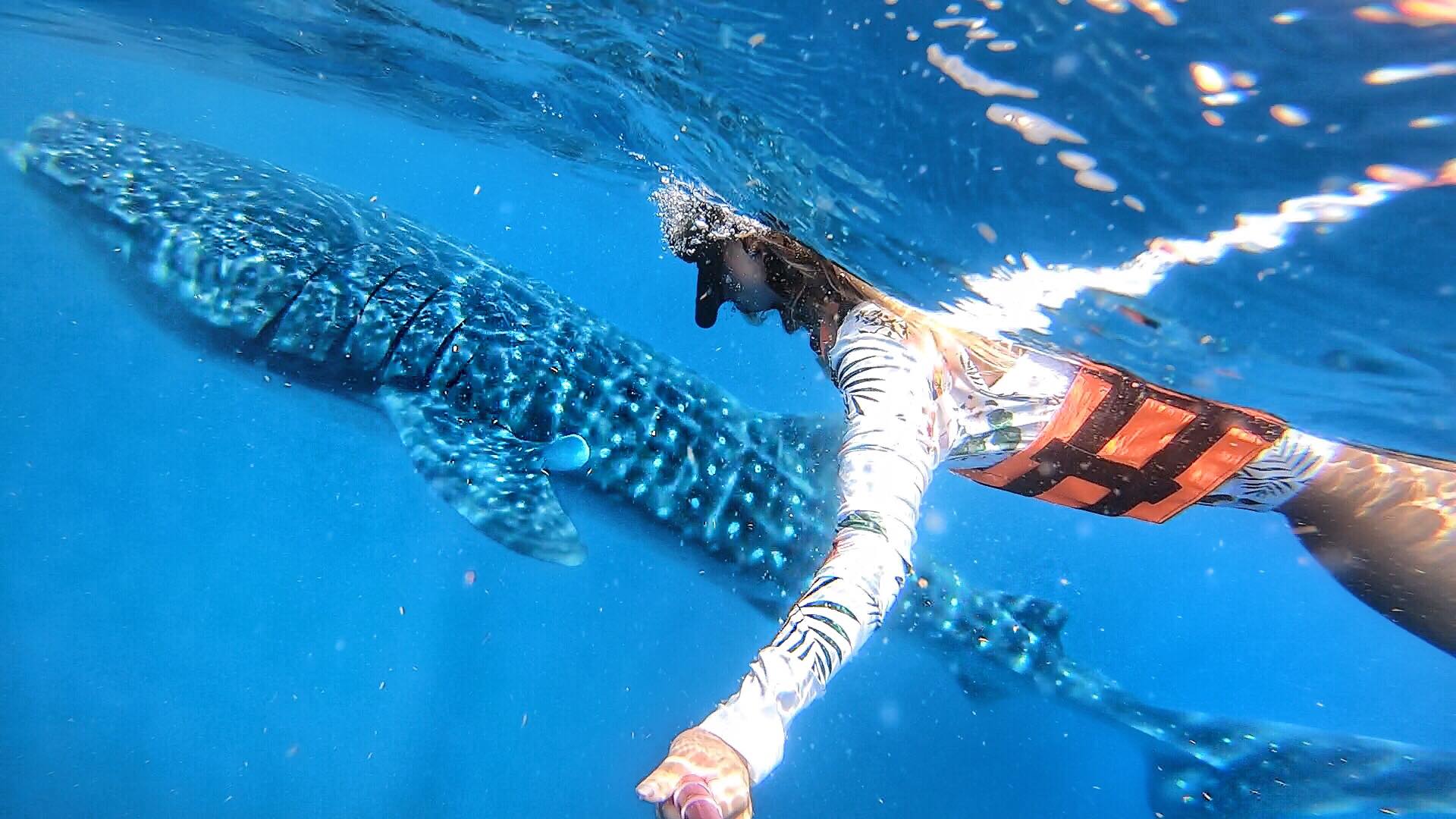 I literally just ticked this one off a few days ago, and it's what prompted me to get my new bucketlist tattoo, so I had to throw a photo in here! I'll probably end up getting this guy tattooed on my arm when I continue the bucketlist up the back of my arm, so stay tuned for a tat-update!
For info on this amazing tour and other epic things to do in Riviera Maya, Mexico, check out this post.
1. Antarctica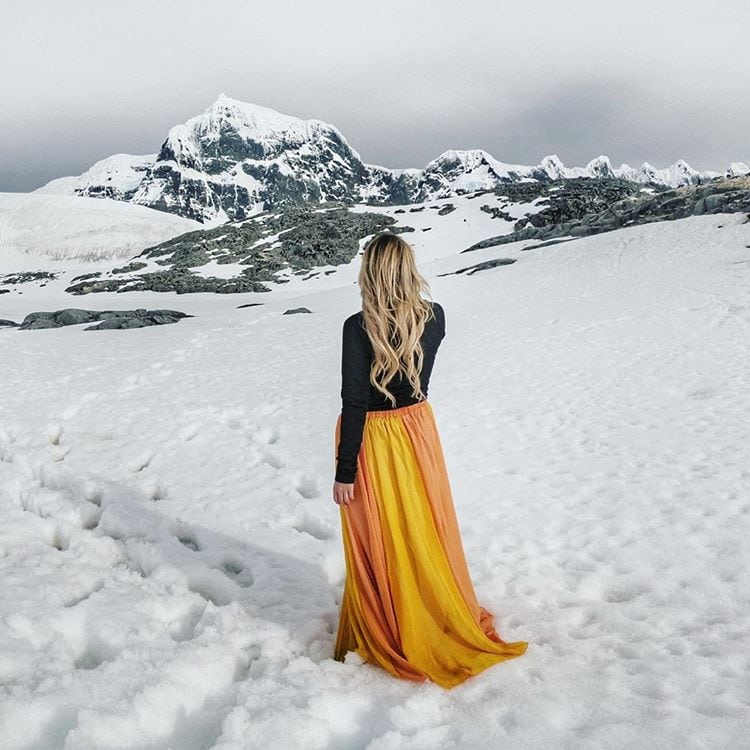 Since Antarctica was number one on my bucketlist when I first started traveling, it obv gets the first spot! 1️⃣????????????????????
Antarctica was one of the most epic adventures because of how difficult it was to go both financially and because it takes 2 days each way crossing a beast of a sea to get there! But once you arrive, it's pure magic! Who has Antarctica on their bucketlist?!
2. Antelope Canyon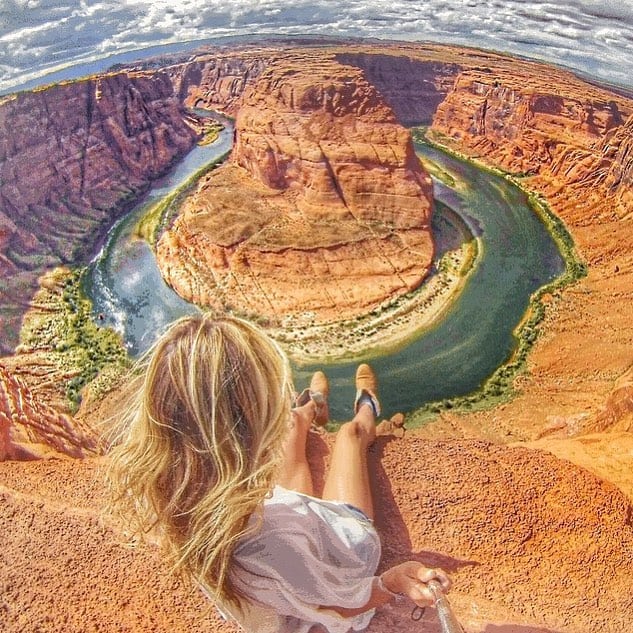 The adventure that sparked my love for breaking out of comfort zones (because I didn't have a choice) – Arizona/Utah roadtrip and camping solo on Antelope Island!
There's a great story I've been meaning to write about this trip, but in a nutshell I did it when I was first trying to become a travel blogger, and it was partially because I was so broke that I needed to go camping just so I could rent my apartment out to pay rent! I drove solo and camped solo for the first time which was slightly terrifying, but the article and video are now my highest viewed ones! ????????‍♀️⛺️????
3. Sri Lanka Train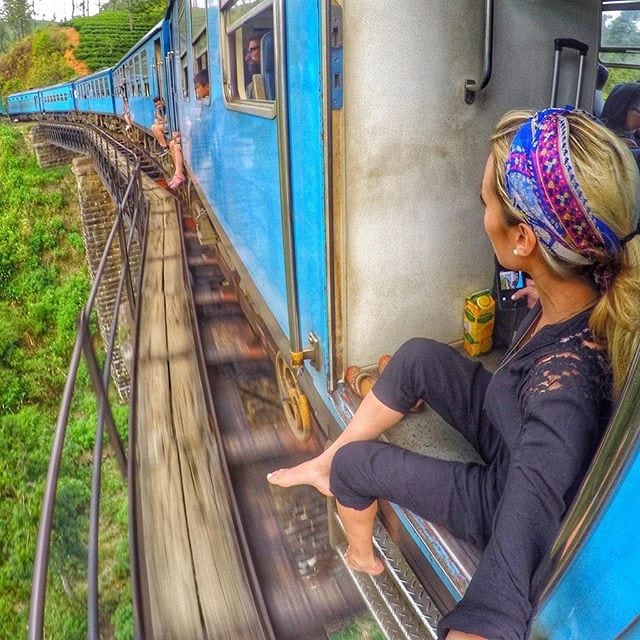 Taking the train all around Sri Lanka! On this random journey I somehow ended up waking up to elephants outside of my hotel, chasing 3 waterfalls, climbing a mountain, and knocking someone I had JUST started dating's iPhone off this moving train (on accident)…then going back and FINDING it!!!! ????????????????????‍♀️????????‍♀️
Sri Lanka is an enchanted adventurer's paradise that you really have to go see(I've also had people tell me they went just to replicate this photo lol)!
4. Patagonia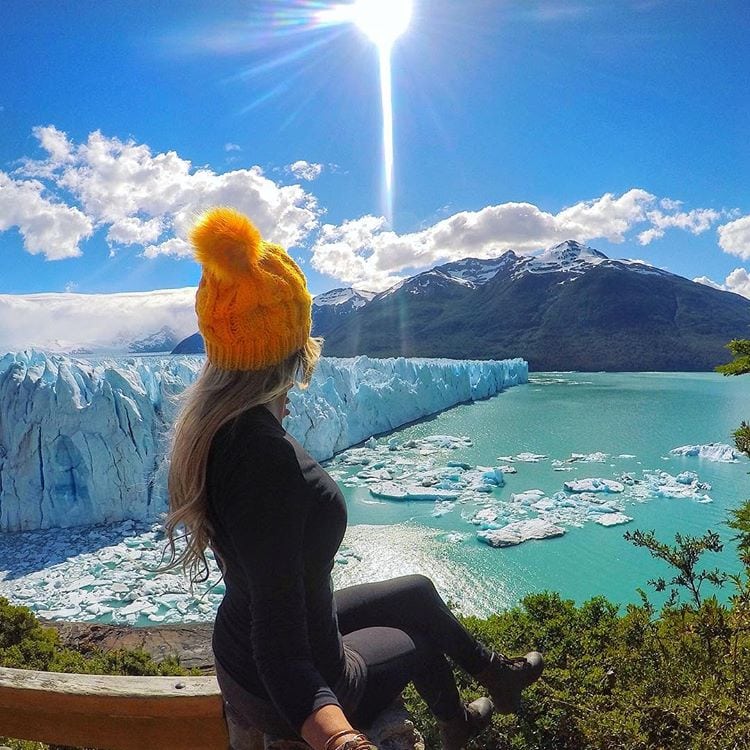 Patagonia is an obvious bucketlist check (and not just because I survived a car flip)! Patagonia is like a Queen; majestic, worshipped, but super hard to get to ????????????! It's an adventure that really forces you out of your comfort zone, and once you're out of it, you can pretty much conquer anything!
It's also a place I have yet to write a blog post/itinerary about because it still gives me the chills thinking about the seconds when my life flashed before my eyeballs as the car rolled over next to a cliff.
5. Petra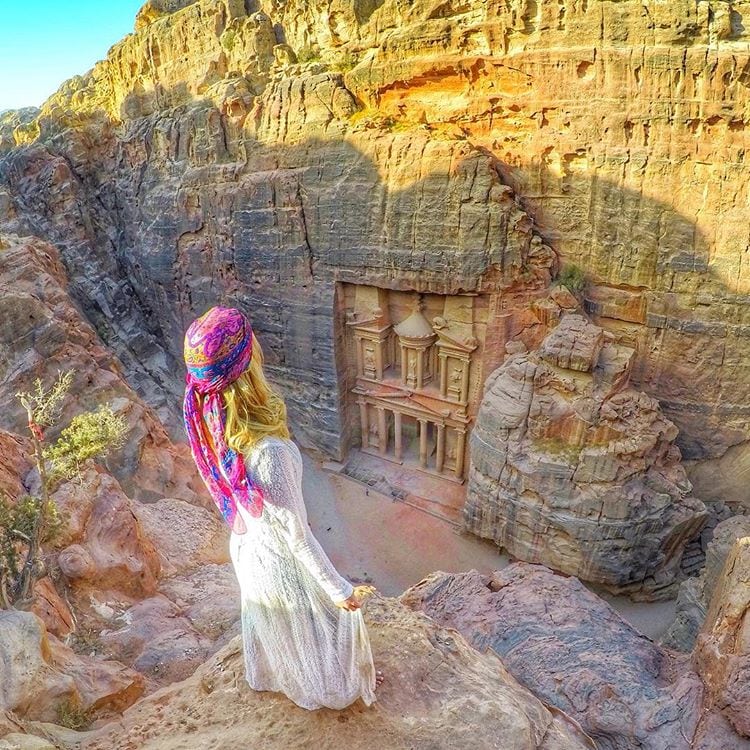 PETRA, because who doesn't want to feel like Indiana Jones?! ????????????????‍♀️☄️(or more importantly, learn about a rouge tribe who built their towns by carving into massive rocks!) A lot of people take this same pic, but I'll bet not many are at sunrise and with 0 people down below! I had the whole place to myself *besides a friend I had made the day before while I was waiting in line for a ticket and heard, "Are you Alyssa?" from someone behind me (who had seen on my IG stories that I was there! #humblebrag) We became fast friends and plotted to meet at sunrise the next morning to do this slightly difficult hike before the heat and the crowds arrived! Yay for making friends on solo adventures!
Going to Jordan was an epic adventure in itself because it was the first Middle Eastern country I traveled solo in. I was a bit scared at first but quickly realized that everyone was very nice and respectful, and the guys wearing eyeliner to look like bedouins are really cute ???? Plus there's tons of travelers there, so you're bound to make a friend like I did!
6. Northern Lights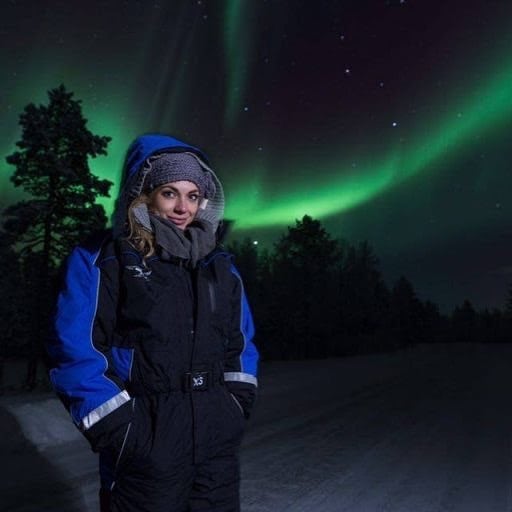 Chasing the Northern Lights ✨???? Aside from being one of the most mind-blowing things I've ever seen before in my life, my Northern Lights chase was also my second time ever seeing snow (I'm from FL then moved to CA), which of course I chose to do in the Arctic (hence my cute outfit). ????????????‍♀️☃️
I thought I was *just* going to northern Norway for this adventure, but it ended up being a chase across the top of Norway, Finland, and Sweden, and a few days later I even ended up on the Arctic Archipelago of Svalbard?! That gets its own post though…
Anyway! To describe the Northern Lights, I'd compare it to the movie Fantasia where you see the symphony of music being played. Yes, at one point I thought I was getting abducted by aliens, yes I thought I was going to get frostbite, and yes it was 100% worth it!
7. Inca Trail to Machu Picchu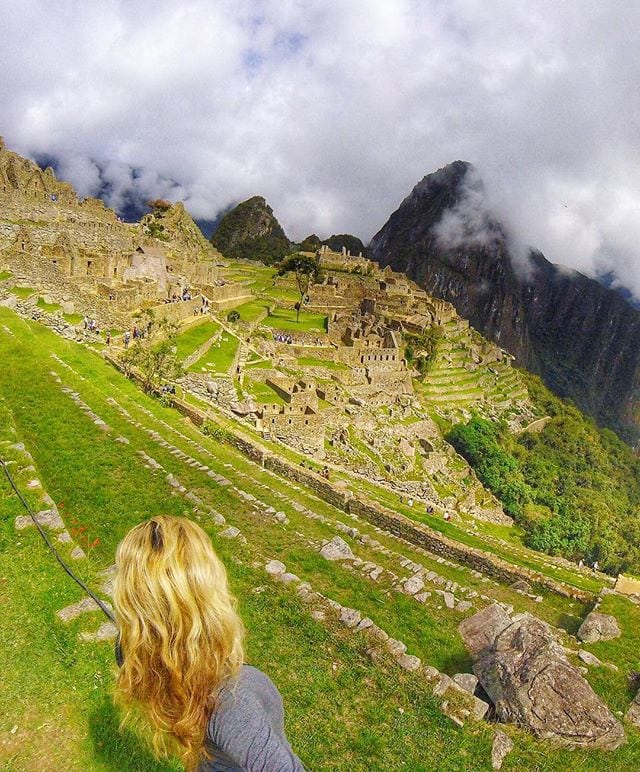 The 4 day Inca Trail Hike/Camp to Machu Picchu! I found out about it last minute and had never done a multi-day hike/camp before, nor did I know it involved climbing a fairly high summit, but I did it anyway, and it was one of the most incredible adventures of my life!
You see ruins that you can only get to if you do the trail, and you feel this eerie yet enchanting feeling from the past of the lost civilization of the Incas. There's shorter and longer hikes as well, or you can take the easy route and go straight to Machu Picchu..????????⛺️⛰????
8. Victoria Falls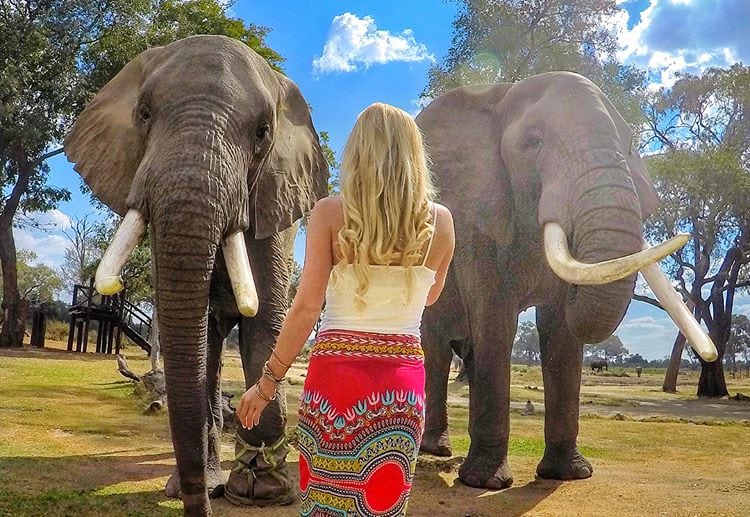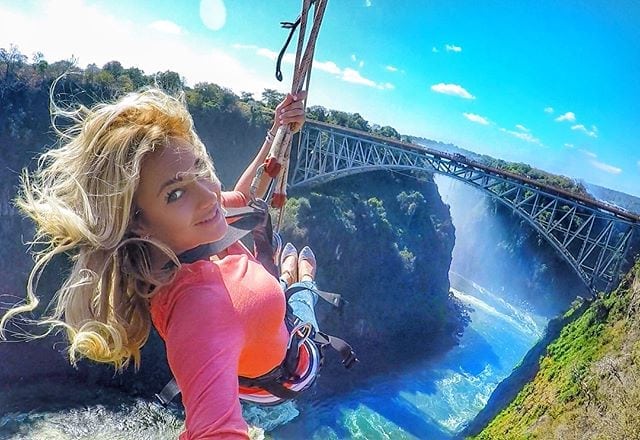 Victoria Falls and Livingstone (Zambia) in general! I don't think you guys understand how many crazy adventures I did here…like if I were a place, it would be Livingstone. For starters, it has one of the biggest waterfalls in the world (automatic win), and then the option to zipline, bungee jump and swing in front of it, all of which I did without dropping my GoPro. Then I decided to fly over it in a Microlight (funny little flying gokart) with no shoes on, and of course for the grand finale, I swam at the top of it in Devil's Pool. ????????⛰????
Once I was done chasing this waterfall in every way possible, I then proceeded to have lunch with elephants. Not joking. They are massive rescued Tuskers and the cafe that's built on their reserve raises the funds to keep them! ????????
This was such a big adventure that I included multiple pics! And I want to give a HUGE thank you and shout out to the people who knew my obsession with adventure and made this all possible including Put Foot Rally, Safpar Excellence, the David Livingstone Safari Lodge & Spa, and the Elephant Cafe. ????????????
9. Cappadoccia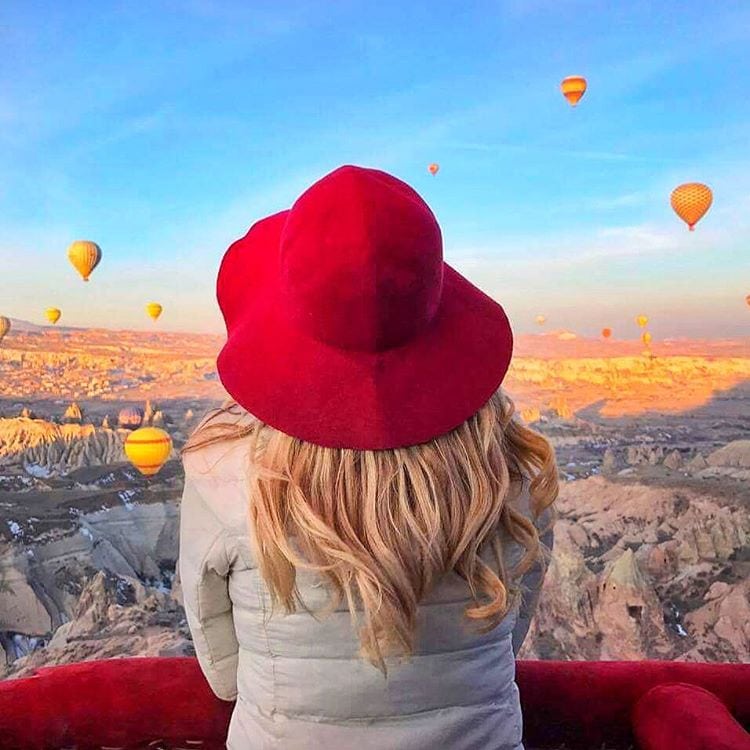 Hot Air Balloon Ride over Cappadocia, Turkey! ???????????????? Enough said.
In all honesty, I wish I knew how to use photoshop so I could make the balloons look as big as they did in real life. ????????‍♀️???? It was such an amazing sight to see not just the balloons, but these crazy cave structures topped with snow! When I make my own World Wonders list, Cappadocia will 100% be on it because of the cave-homes here and also the underground cities that make you feel like you're in Fraggle Rock (any late 80's kids out there??)
This morning I did my belated birthday Hot Air Balloon ride in Temecula, and felt like an asshole gushing about the time I did it in Turkey (and Egypt), so decided to shut up in real life and gush about it here ????
10. Egypt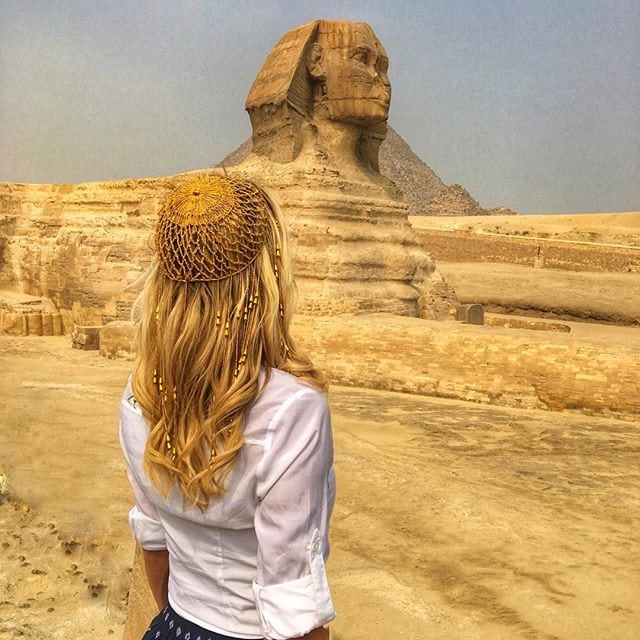 EGYPT!!!! Everyone said it was too dangerous to go, so I went anyway and enjoyed seeing all of the sites mostly to myself! It was like my childhood (and adult) dream come true and I felt like I had seriously time traveled to another era! ????????????
I took a tour to see everything since I was solo, and it was great way to safely see all of the most popular sites like the Sphinx, Great Pyramids, Luxor, Abu Symbel and Hurghada! I even slept on a Felucca on the Nile River and went scuba diving with Whale Sharks in the Red Sea!! For more info check out this post.
11. Komodo Island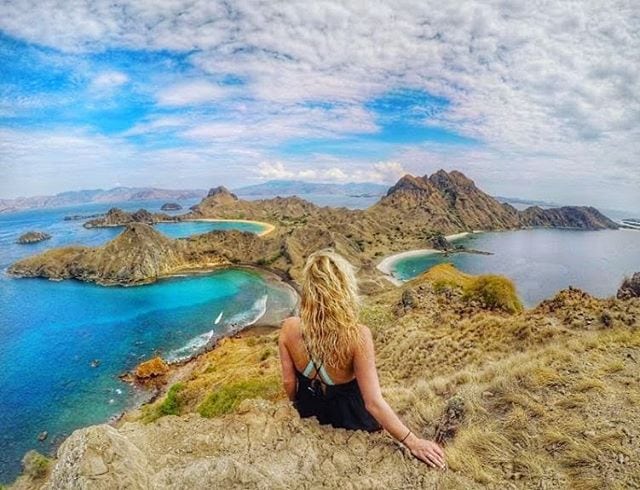 Komodo Island, Indonesia! That's right, there's more than just Bali, Lombok, and the Gilis in Indo, and this place is actually one of the 7 Wonders of Nature because it has the only island in the world that's native to Komodo Dragons! ????????⛰
To get there you first stop at this epic hike called Padar Island where you can see 3 beaches each with different colored sand from the top! My hair is wet in the pic bc on the way there I saw Manta Rays, and the man driving the boat told me to jump in and go see them, so I did! It was one of the most incredible, slightly terrifying experiences of my life! Same thing goes for taking a selfie with a Komodo Dragon…all of that on my stories later! ????????????
12. Maldives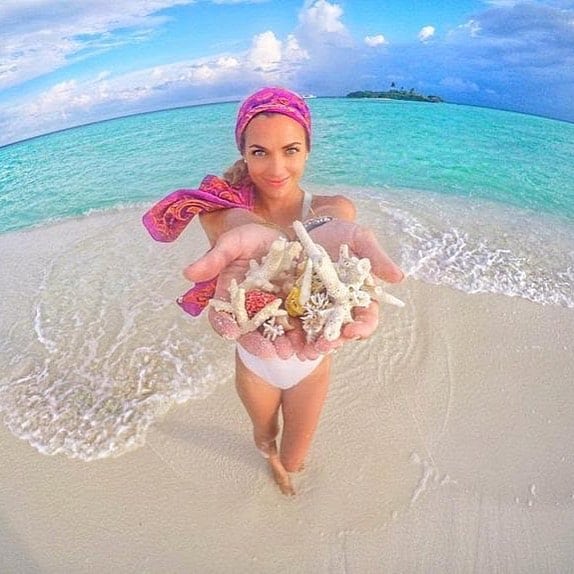 Figuring out how to do the MALDIVES on a budget and island hopping is definitely bucketlist worthy! (Yes, it's possible!)????????????????
And actually, this was something more on my list to do as a couple, and as fate would have it, I happened to be dating someone when I went! We basically went to the top honeymoon destinations in the World all in the four months we dated, plus did India and Sri Lanka…after that we were pretty sick of each other. That being said, maybe consider traveling with someone before marrying them HA!
13. New Zealand Roadtrip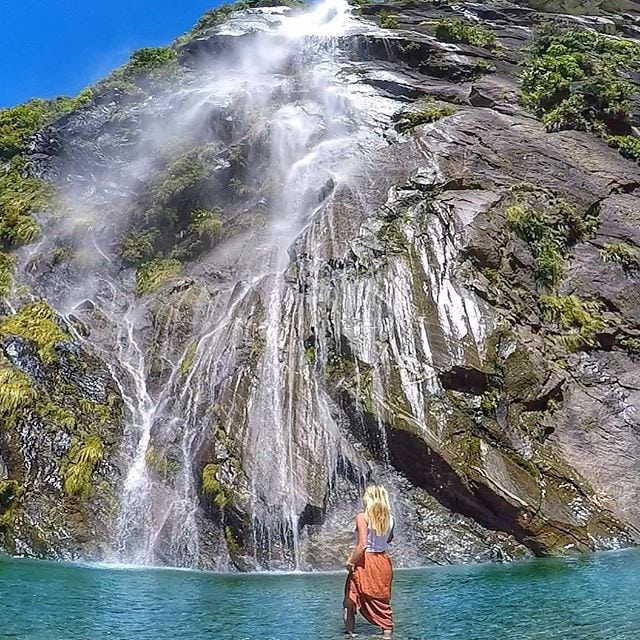 Exploring NEW ZEALAND! I'd compare it to a mixture of a mini Patagonia and a warmer Iceland…but easier to get around since it's smaller. I also loved that you can just drive up to random waterfalls on the side of the road like this one!
PS I roadtripped solo around the entire South Island and half the North Island! ????⛰????
14. Taj Mahal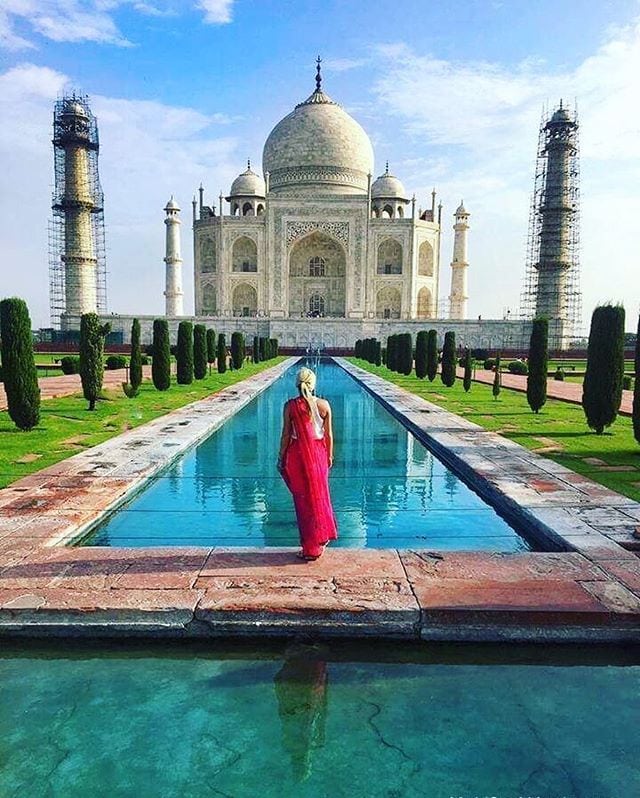 The Taj Mahal in India…at opening time! ????????????????????
That's how I got this awesome photo (shot on an iPhone) with no people in it at one of the most popular landmarks in the World! It was quite the adventure taking the local train to Agra, then figuring out how to find the closest hotel to the Taj Mahal plus negotiating with a tuktuk the night before to get picked up at sunrise, but it definitely worked! It was also fun finding a local market where they sell sarees, and learning how to wrap them, which I failed at in this photo but luckily watched enough YouTube tutorials later to become a pro.
I traveled in India for a whole month, and while it definitely has a lot of budget accommodations, it also has some epic PALACE hotels you can stay at!
15. Bolivia Salt Flats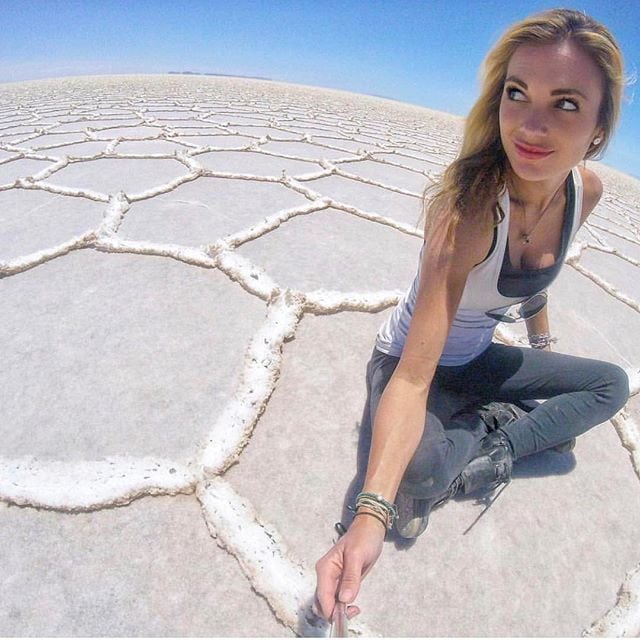 Bolivia Salt Flats & Biking Down Death Road! ????‍♀️ ????????‍♀️
This was one of my first solo travel adventures that I did AFTER hiking the Inca Trail for four days…I took my first overnight bus to Bolivia where I luckily made friends who helped me get everything I needed to cross the border. I then proceeded to mountain bike for the first time…down the deadliest road in the World (OUCH), then I was off to the Uyuni Salt Flats for some serious perspective!
OH. And I found out a few weeks later when I got back to LA that there's a mini Salt Flats a few hours away near Death Valley!
16. Zanzibar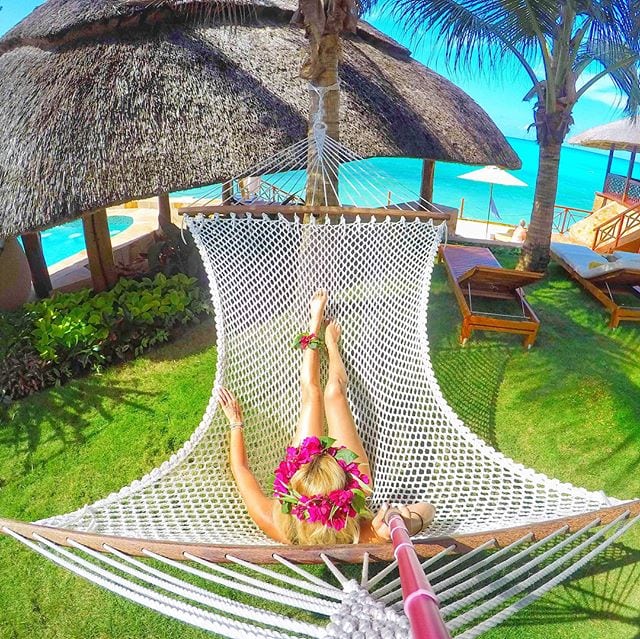 Solo Vacation in ZANZIBAR!!! One of the most culturally unique islands I've ever seen, not to mention a tropical paradise that's teeming with life! And let's not forget…resorts with jungle waterslides. ????????????☀️????‍♀️
I still need to make the itinerary post for this, but I'll just throw it out there now that it's possible to do on a budget…but really nice to do it with luxury stays like the boutique resort in the photo. Not pictured: the palm tree leaf that I accidentally chopped up when my drone flew into it.
17. Easter Island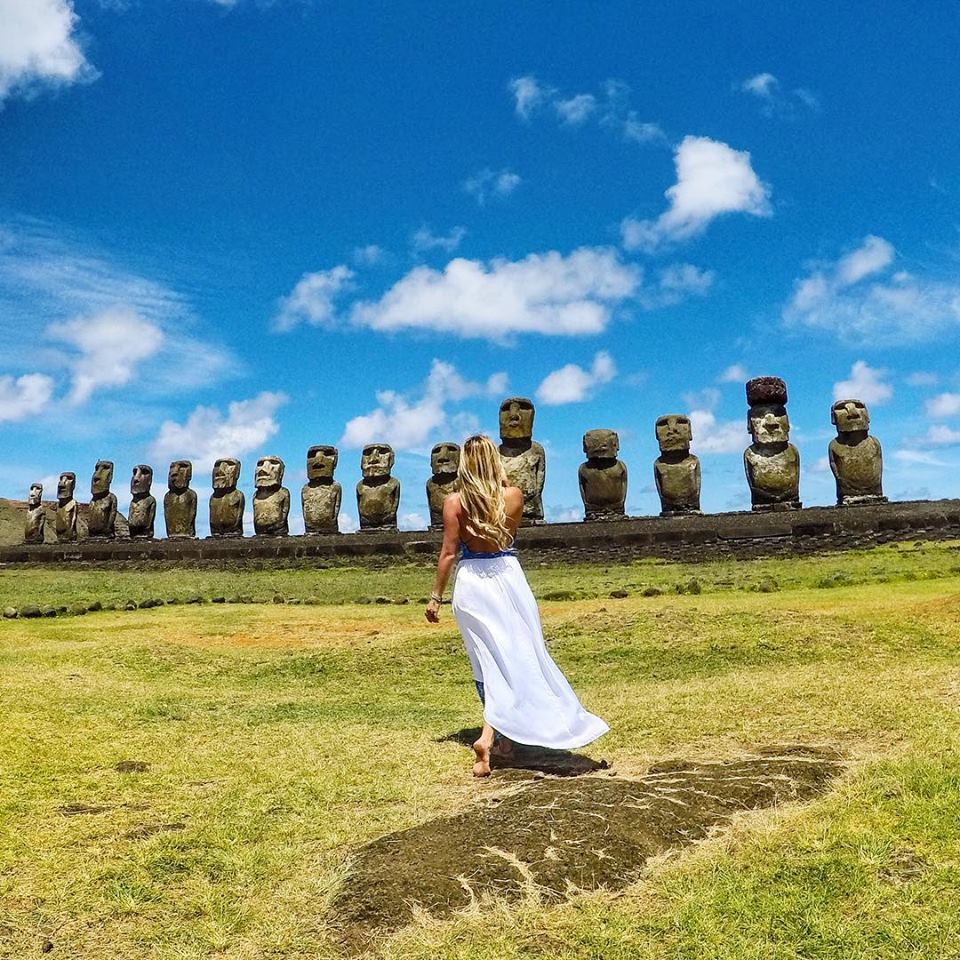 Roadtripping Solo Around Easter Island!????????????‍♀️ Such an epic bucketlist tick that it earned a spot as a tattoo on my arm!!! I was just so eager to go here, and when I finally did, was so mind blown that now I'm obsessed with it and want to go back!
Driving the island and learning the history is one thing, but meeting and hanging out with local Rapa Nui's is another! Hearing the history of a soon to be extinct culture is just another level of fascinating, and I'd highly recommend everyone to go there before it's too late!
18. Japan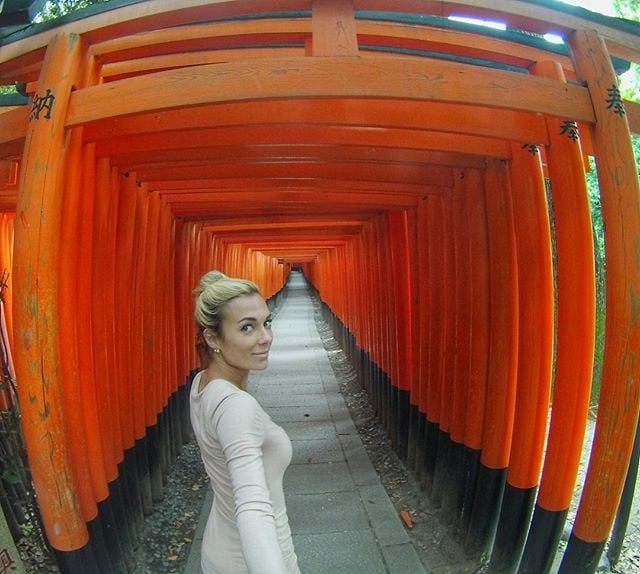 Solo traveling all over JAPAN! Japan is actually one of my top recommendations for solo travel, especially for women…they even have women-only overnight buses! I took one to Kyoto which got me there at 6am, and since I had time to kill, I walked to the closest shrine, which I later found out was the most popular one (Fushimi Inari), and since I was there accidentally so early, I had the entire place to myself! ….and accidentally got in for free because there was no one there to buy tickets from.????‍♀️ ????????⛩⛩⛩
19. Great Wall of China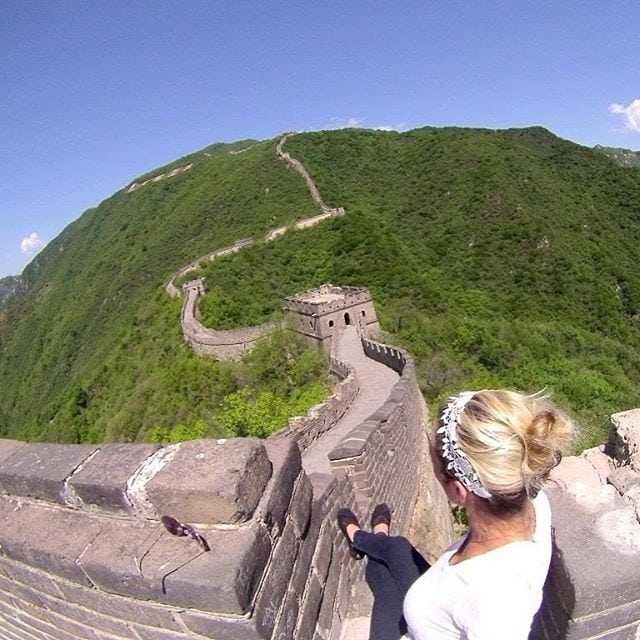 The Great Wall of China! …but making the effort to go to the areas without crowds! This section is called Mutianyu, and it's pretty easy to get to from the airport, which means you'll have plenty of time to see it using the free 72 hour visa you can get in Beijing! I went super early per usual and got extremely lucky with weather (seriously though how does this always happen?!), so ended up getting tons of photos with a vacant area of the Great Wall! ????????????????
Unlike Japan though, Beijing was not one of my favorite places to travel solo…in fact I felt like people didn't like me and like I was constantly being scolded. I can definitely understand though, as I do with many countries when I consider how fortunate I am to be a U.S. citizen. I used to take it for granted but traveling has taught me to really appreciate my passport, and what other countries have to go through just to travel!
20. Svalbard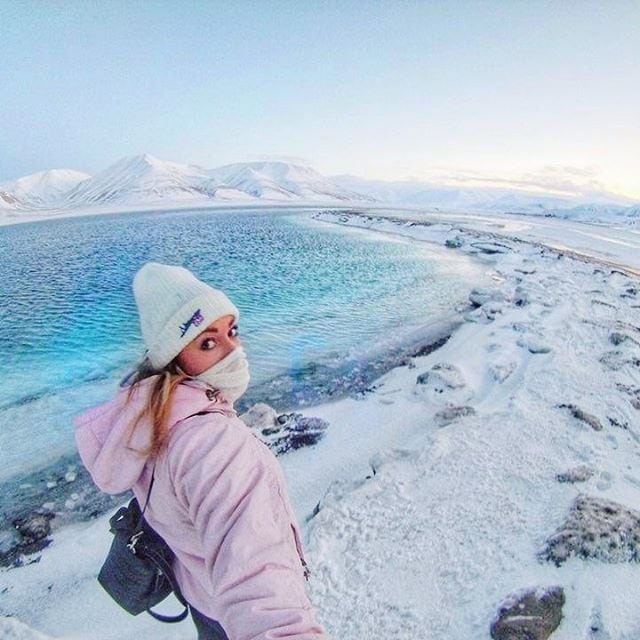 SVALBARD, AKA the Arctic archipelago in between Norway and the North Pole that's super rare to go to! (That means I've been to both the Arctic AND Antarctic!) ❄️
The world's greatest explorers posted up here before making their expeditions to the North Pole, so it was a privilege for me to be there even though I seriously thought I got frostbite while taking this photo, and almost lost my phone. ????????????❄️
Other fun facts about Svalbard: there are more Polar Bears than people, but no official "locals" since you're not allowed to give birth (or die) there. An American bought the main city from a miner which is where its name "Longyear-byen " comes from, and it's considered the Northernmost town in the world unless you want to argue that Russian research stations count as a town ???? Also where the World Seed Vault is.
21. Riviera Maya
Riviera Maya/Tulum Roadtrip, especially to see this glorious Ik Kil Cenote and one of the New 7 World Wonders, Chichen Itza! This photo is extra epic because there's not a single person in the usually-packed cenote! I've seen a lot of photos of it but not empty like this! It's because I drove myself there and to Chichen Itza at around 6am to be the first one there! ????‍♀️????????
22. Croatia Roadtrip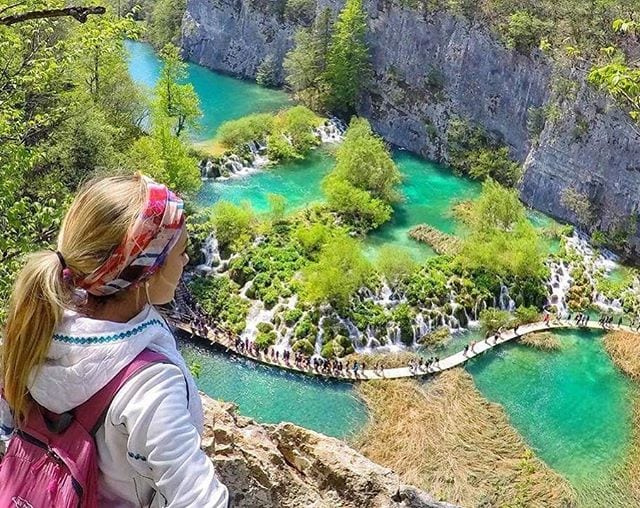 Croatia and Bosnia Waterfall Chasing! This was another one of my favorite road trips, and a place I know a lot of you are eager to go to!
It was actually pretty easy to do this roadtrip solo (even though my rental car ended up getting rear-ended), and there's just so much to see in this small area! I went all the way up to Slovenia, and was really pushing for Montenegro but the weather went bad.
23. French Polynesia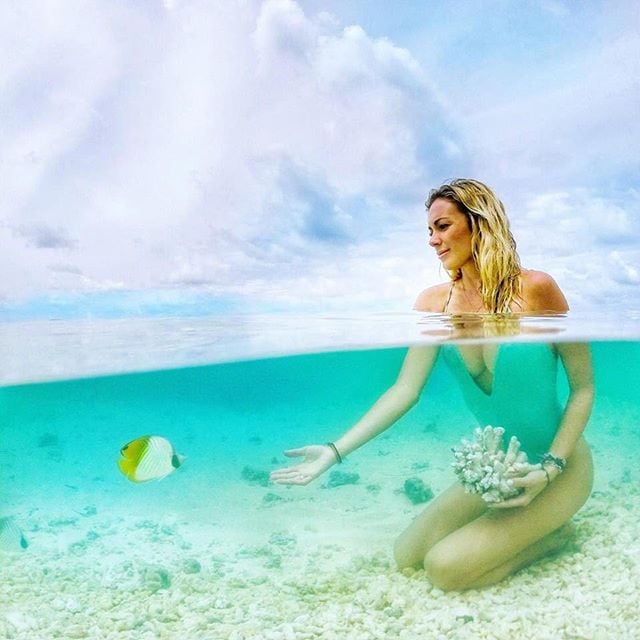 Island hopping in French Polynesia! There's so many amazing islands other than Tahiti and Bora Bora (though they are obv gorgeous)! I personally loved the chill, culturally rich island of Mo'orea where I got to do every water sport possible! ????????‍♀️????????‍♀️☀️????
NOTE: The coral I'm holding is from the GIFT SHOP, not from the water or beach! I don't encourage touching or taking coral, but if a fish wants to give me a high five that's a different story!
24. Iceland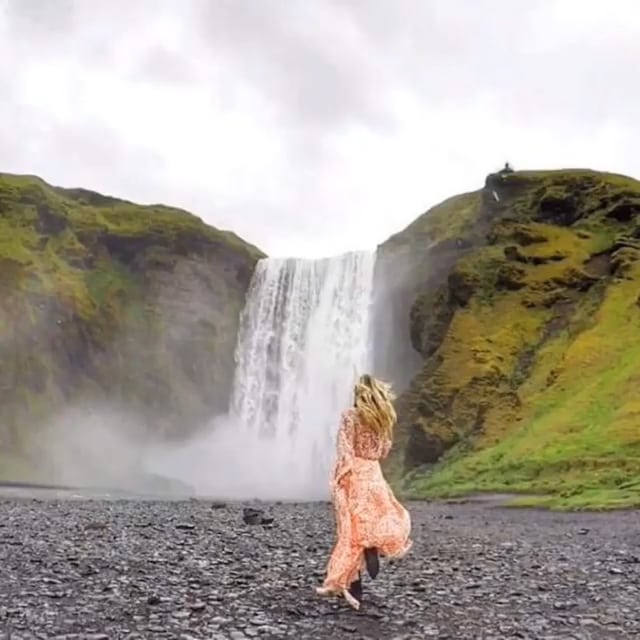 Chasing Waterfalls in ICELAND!!! Did you know Iceland was one of my very first solo trips and also the first time I saw a waterfall?? I drove by myself for hours in every direction, finding every possible waterfall, developing a severe addiction to adventures, despite the many tourists who whispered about me for being alone (this was before solo female travel became popular, and actually what sparked me to write my viral Huff Post article about the stereotypes and stigma of a woman traveling on her own!)…now look how popular it (and Iceland) is! ????????????????
25. Namibia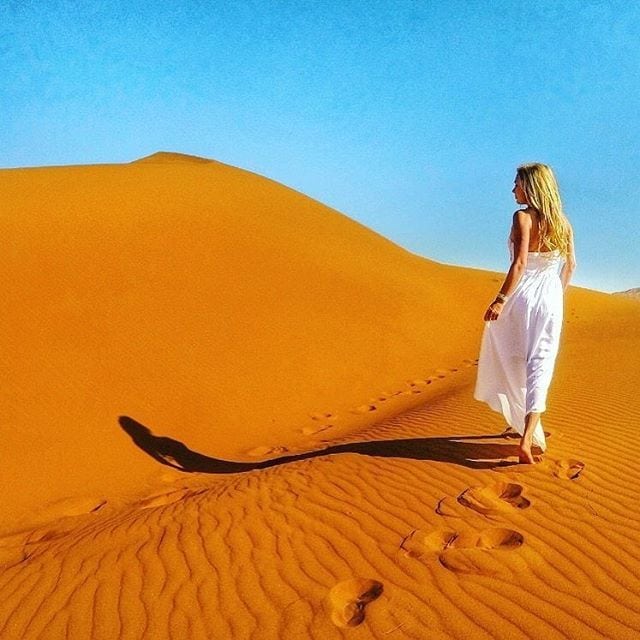 Road tripping NAMIBIA! Before I did this epic 5-country road trip, I had no idea how safe, easy to travel, affordable, and BEAUTIFUL Africa was! Especially Namibia with its orange sand dunes and amazing National Parks! ????????????
I camped most of the time on my 3 week road trip, but definitely had to try out some of the nice lodges along
26. Singapore Bionic Garden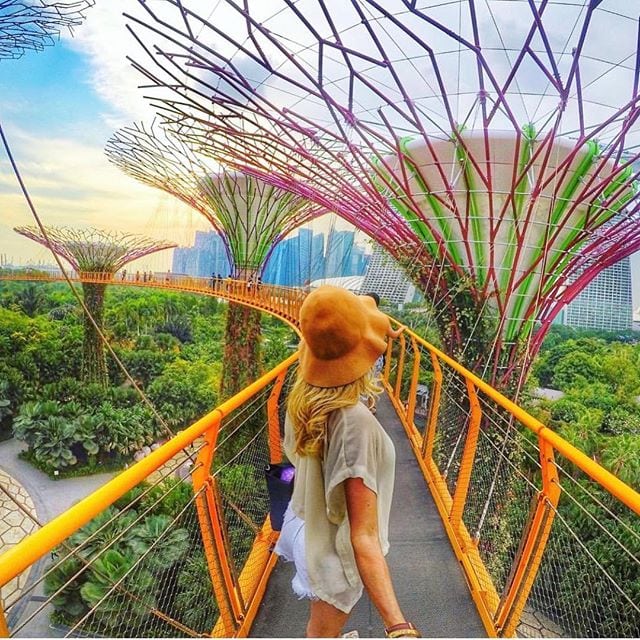 Feel like Avatar in Singapore! This small country is a melting pot of cultures and innovations! It's where these famous half-bionic trees live in Gardens by the Bay (they're built to grow like real trees), and where one of the most IG-able rooftop infinity pools is in the world! A short bus ride will also bring you to Sentosa island where you can go to the beach! ????????????????
A little fun fact: these bionic trees are engineered to grow as real ones (minus everything real about trees), so in a couple more years, their branches will look like fully grown trees!
27. Halong Bay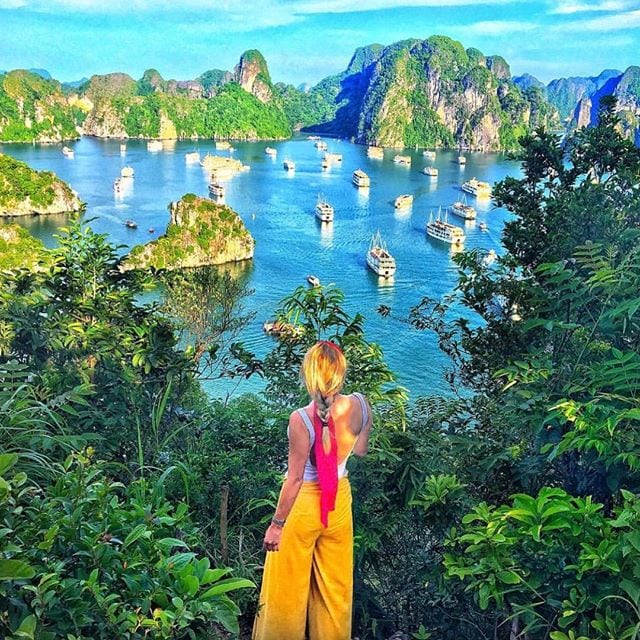 HALONG BAY, Vietnam! I took the 3 day, 2 night boat tour, which I did on a self-made long layover! Somehow I got freakishly good weather (for those who know me and my weather luck: shocker, I know), and got to complete my bucket list of seeing all 7 Wonders of Nature!
Although my visit was short and hectic AF (anyone remember me forgetting to get a visa?), I absolutely LOVED Vietnam, especially since I met so many other travelers there! Highly recommend it and can't wait to go back!
28. Budapest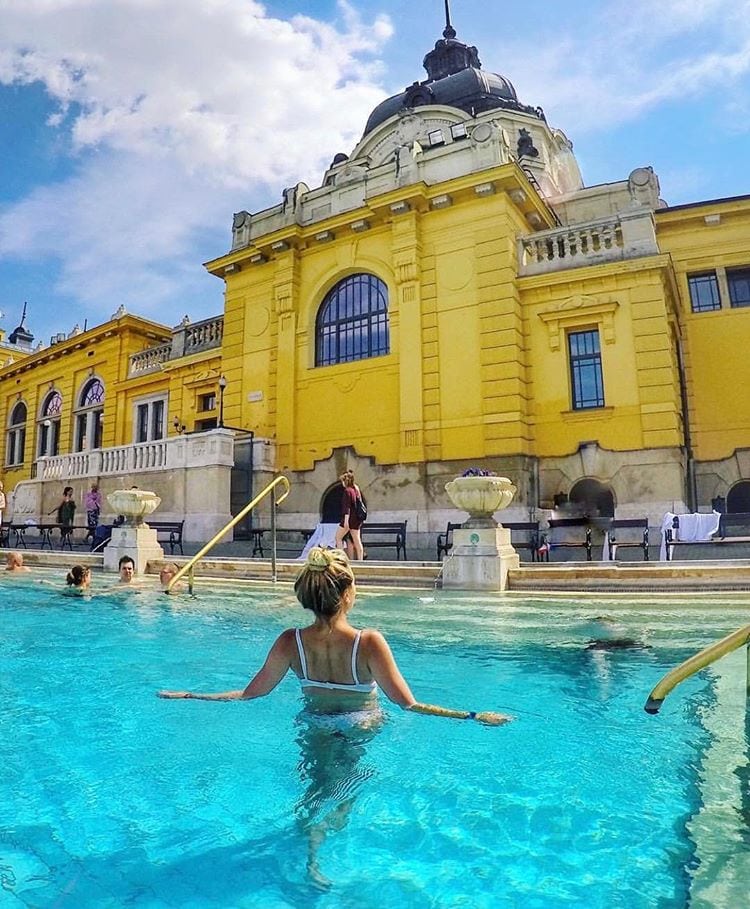 BUDAPEST, and yes, partially because I got my drone taken away at the airport there and had to fly back a few weeks later to rescue it. Other than that epic fail, Budapest was really beautiful and fun!
It was actually pretty cold when I took this photo, but this famous public bath was just lukewarm enough and not crowded enough for me to get in. Needless to say though, I did not stay very long. ????????
29. Iguazu Falls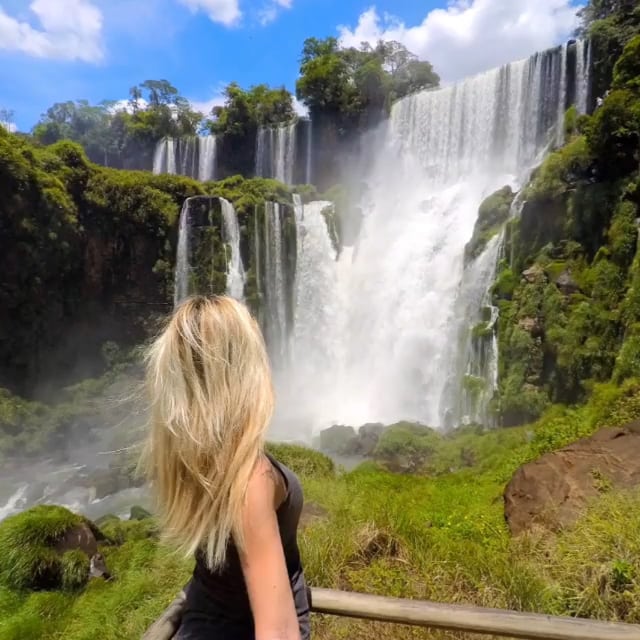 Iguazu Falls and the Amazon Jungle in Brazil! ???? Hands down one of the riskiest, intense, mind blowing solo adventures I've ever done! I wasn't sure if I'd even get a visa at the border for Brazil, got my debit card shut off, and well…yeah, traveled solo to the Amazon Jungle!!! ????‍♀️????????
Iguazu Falls has so far been my favorite waterfall in the World, but this year my goal is to find the Top 10, so if you have any suggestions, comment below!
30. Los Angeles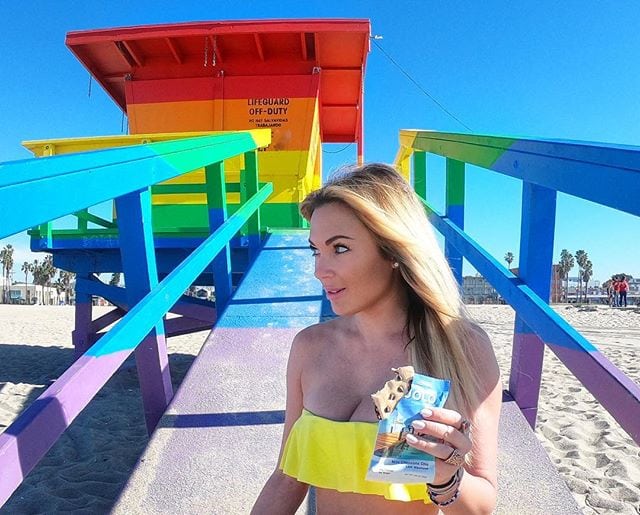 For those of you who don't know my story – I came to LA for a weekend 7 years ago and never went home. I discovered my true passion for entrepreneurship and learned to work multiple jobs from a laptop. With little money, I then traveled for the first time solo 3 years ago and fell in love with that too. I had the crazy idea to combine the two and worked endlessly to make it happen. And voila. Here I am. 84 countries and 7 continents later, and still loving this beautiful place I claim as my home.

Hero 6 (Waterproof)
iPhone X (Water resistant)
Dome (for over-under water shots)