6 Tokyo Nightlife Experiences to Try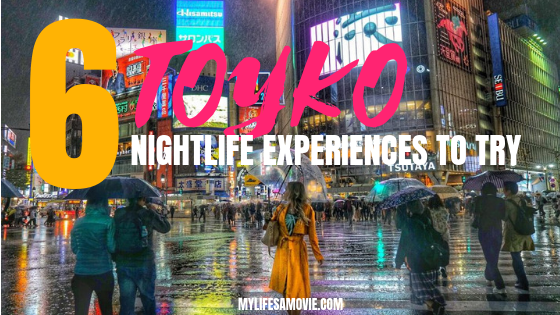 Tokyo is one of my favorite cities in the World, with so many reasons that it takes multiple blog posts to explain! The first two times I went to Tokyo solo, so I mostly did things during the day, but this time I got to go experience a major part of the culture; Tokyo nightlife!
Tokyo nightlife plays a major role both in the local life and the tourism aspect, and it definitely helps if you have someone who lives there showing you around! Not only did I have local guides to take me to the cultural and city highlights at night, but a fellow writer to hang out with who is from the U.S. but has lived in Tokyo for ten years!
By the way, I just want to clarify that by "Tokyo nightlife", I don't just mean nightclubs and parties! Tokyo comes alive at night since of course; most people are working during the day!
I'll have a separate post with the nightclubs and sushi places I went to, but this one will give you some ideas to experience City Life and Cultural Experiences at night in Tokyo!
Tokyo Nightlife: City Life
1. Eat Izakaya on Akabane Road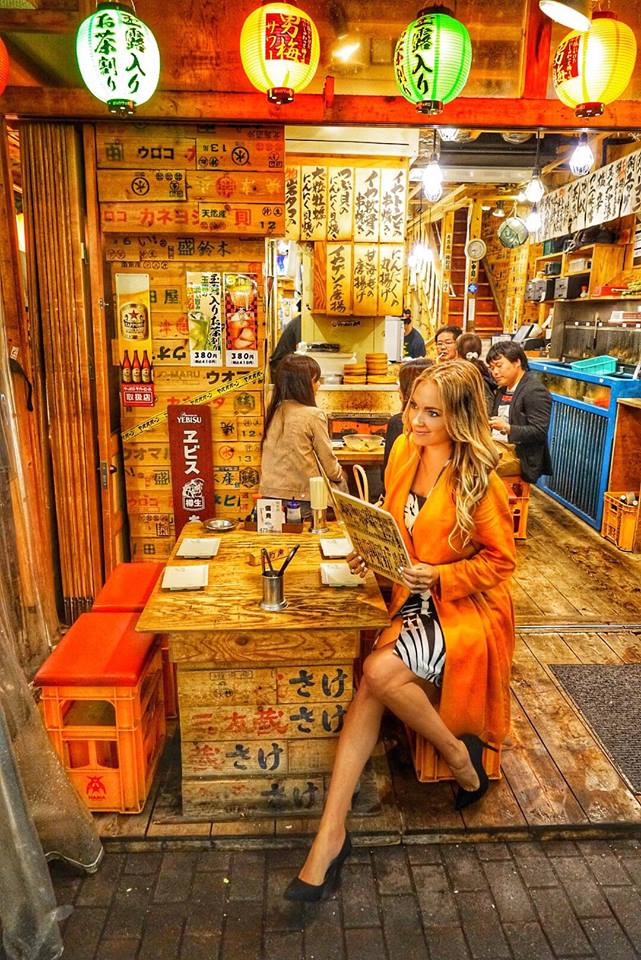 There's a street called Akabane, which is famous for its many Izakaya restaurants. Of course, there's plenty of Izakaya restaurants all over Tokyo, but this street in particular is where the locals go, so you'll get a real cultural vibe of the Japanese atmosphere.
You'll see orange crates turned into seats, and most places packed with people either at tables or sitting at the bar. The one we went to was called Akabane Tuna Restaurant, and it was absolutely delicious!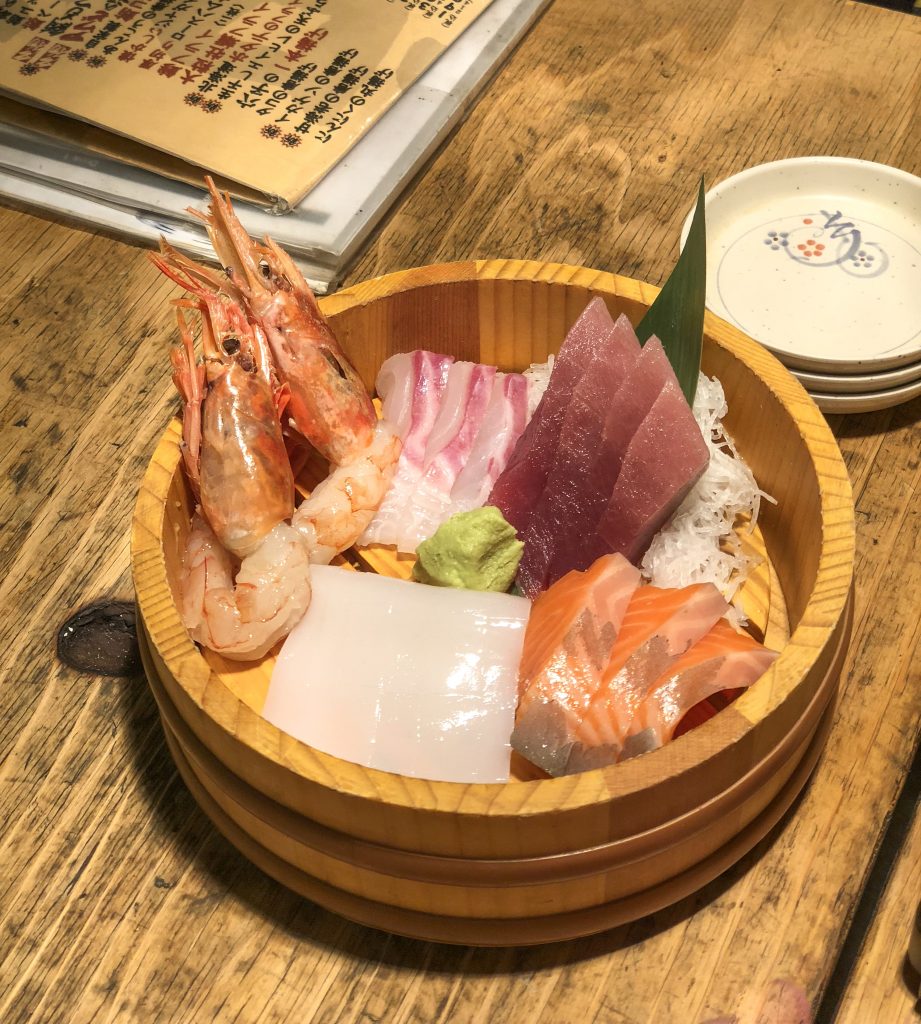 We had some sashimi since that's my favorite Japanese dish, then ordered some things that resulted in a miniature grill being placed on our table! First came giant oysters on the grill, followed by squid, and scallops!
Everything was so good, and even better accompanied by our plum wine and sake!
2. Cross the Shibuya Crossing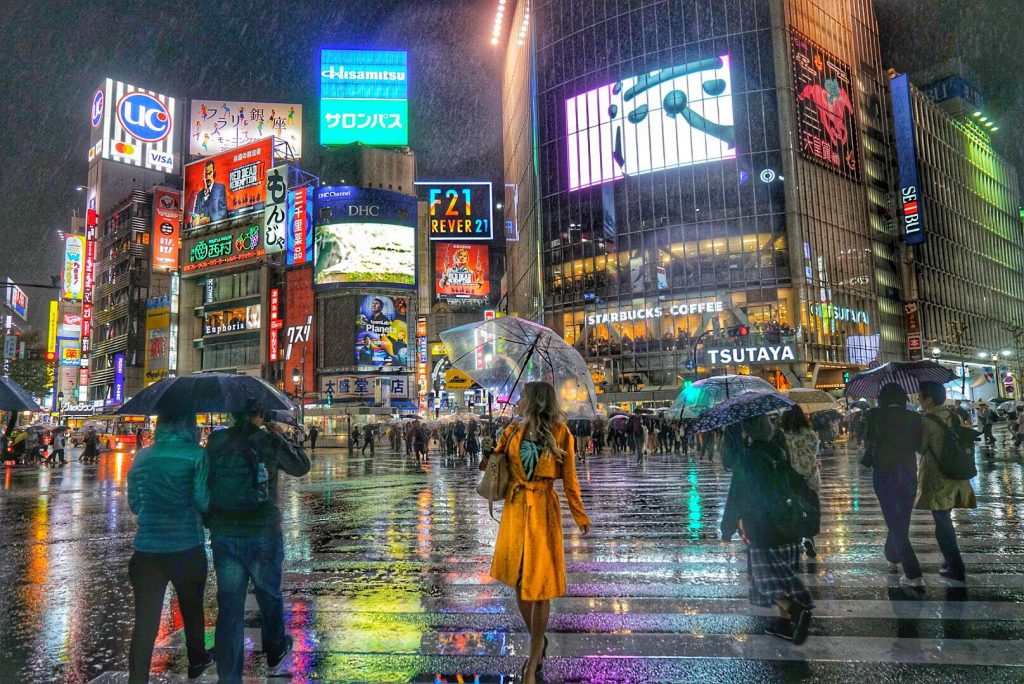 Once you've filled up on authentic Japanese food, take the train over to Shibuya Station! Shibuya is a popular and trendy area, especially for shopping, but most would recognize it because of the famous Shibuya Crossing!
Essentially, instead of cross-streets taking turns letting pedestrians cross, the traffic is stopped at all lights, and all the pedestrian crossings go at once! The result is a crazy cluster of tons of people heading in all different directions, which makes for quite the scene!
You'll see tons of people taking photos of the Shibuya Crossing so feel free to get a snap, just be careful of on-coming traffic!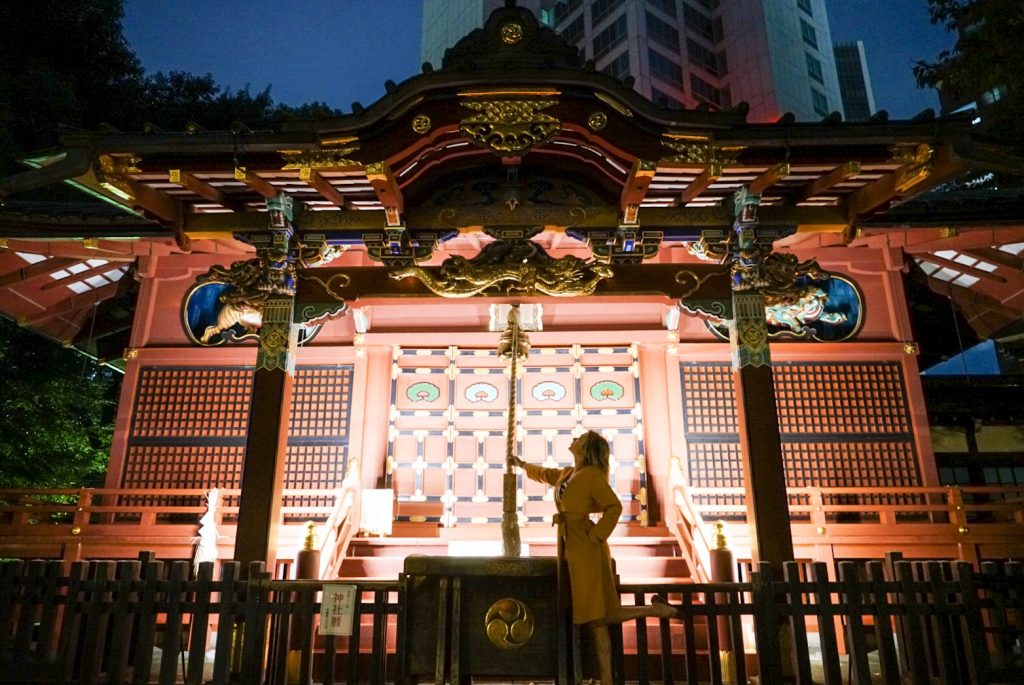 If the crowds overwhelm you, head to Konnoh Hachimangu Shrine for a breath of fresh air. It's just a couple of blocks from Shibuya Station, and located on a quiet street where you'll likely only see school kids passing by. Make sure you bow upon entering and exiting the shrine!
3. Hit Up a Lounge Bar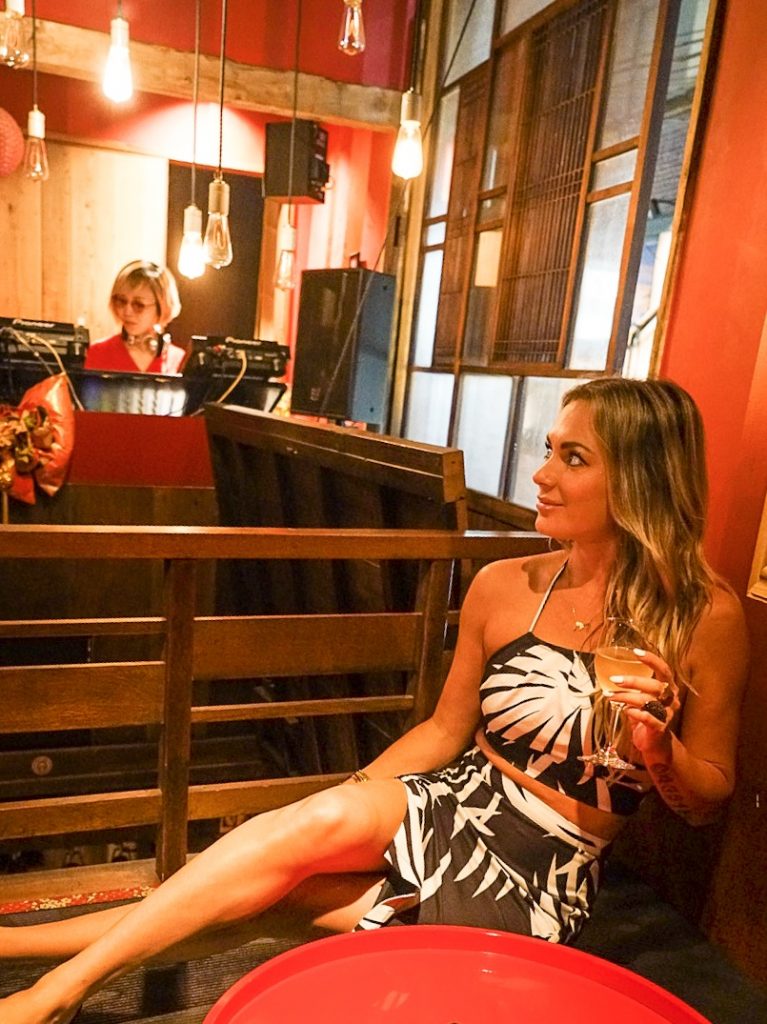 The clubbing culture varies in Tokyo depending on who defines it. According to my guides, the Shibuya Oiran is typical of the Tokyo clubbing culture, however to me it seemed more of a bar and lounge. If that's your vibe (it's definitely mine over nightclubs!), definitely check it out!
Shibuya Oiran is a cozy little spot with a live DJ playing trendy music, with a small bar area downstairs, and four tables in the lounge upstairs. It's also in an area with many other little bars and restaurants in case you want to hop around!
Tokyo Nightlife: Cultural Experiences
1. Create Traditional Japanese Pottery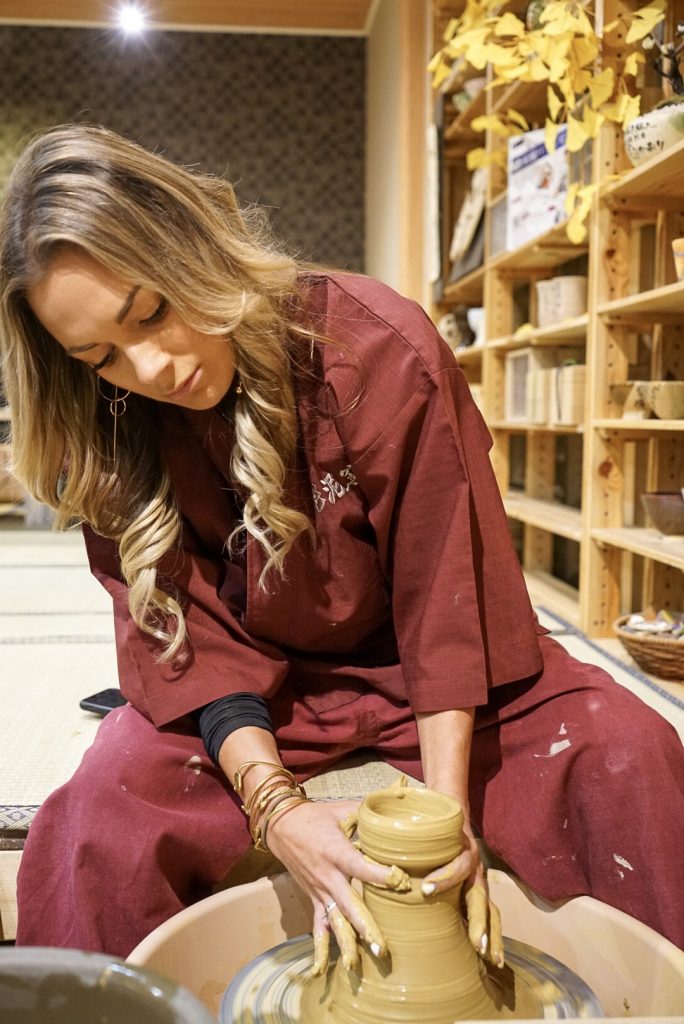 Who knew that pottery plays a big role in Japanese culture? Visit Saideigama for the potter's wheel experience and you'll find out why! Plus, it's a really fun thing to do, especially for a date night!
Make sure you make a reservation in advance because this place is usually fully booked! Once your time comes though, you'll be given some super cute Japanese frocks to put on over your clothes before you're seated at your very own pottery wheel.
You'll have a brief tutorial by an expert, then it's time to get your hands dirty to create your own masterpiece! Pottery takes a long time to dry, fire, and glaze, so if you're not staying in Tokyo for a while, you'll be able to have it shipped to you back home!
2. Stroll Through a Japanese Garden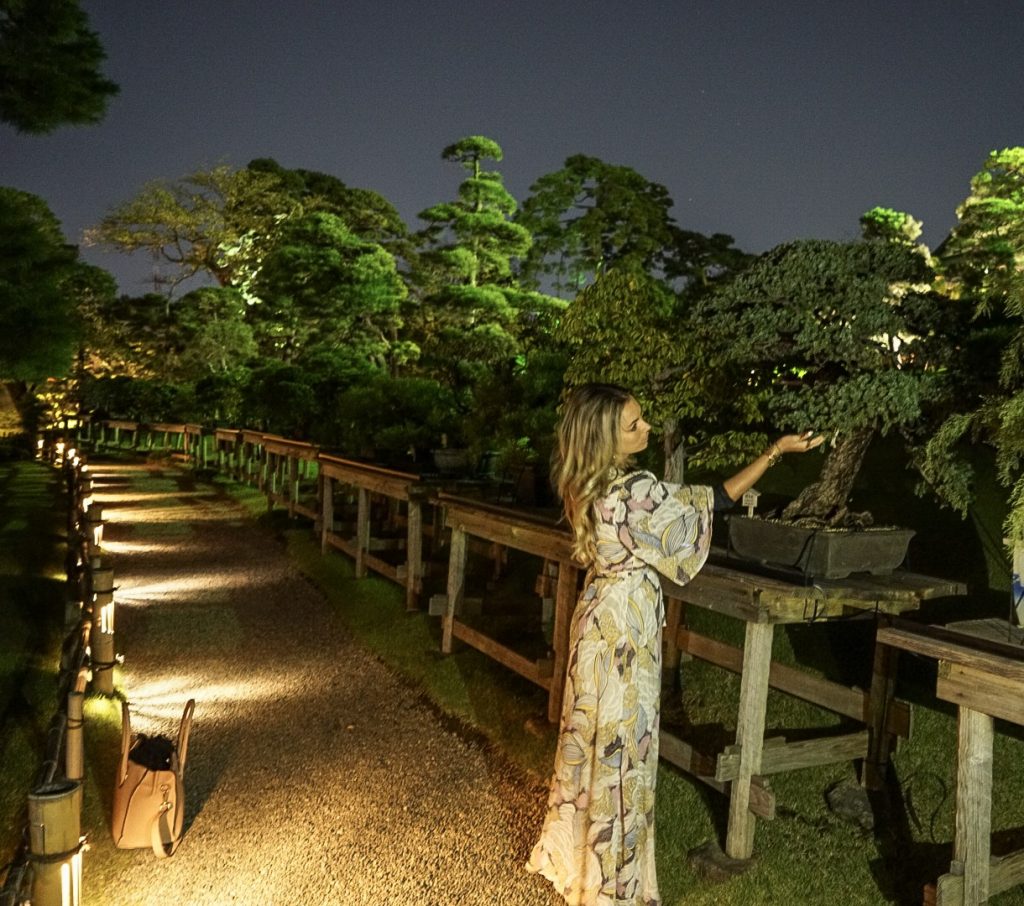 Doesn't that just sound enchanting? Try to get there around sunset so you can still enjoy the colors and beauty of this fabulous sprawling garden, complete with giant Koi pond and mini waterfall! And by giant Koi, I also am referring to the fish!
You can find this beauty at Happo-en, which is also extremely well-known as a wedding and event venue. It's also well known for having one of the best Bonsai Tree collections, with some of the tiny trees aging hundreds of years old!
Enjoy a drink or meal inside at the restaurant if you'd like, and marvel at the locals dressed up for events!
3. Eat a Local Meal in a Real Japanese Home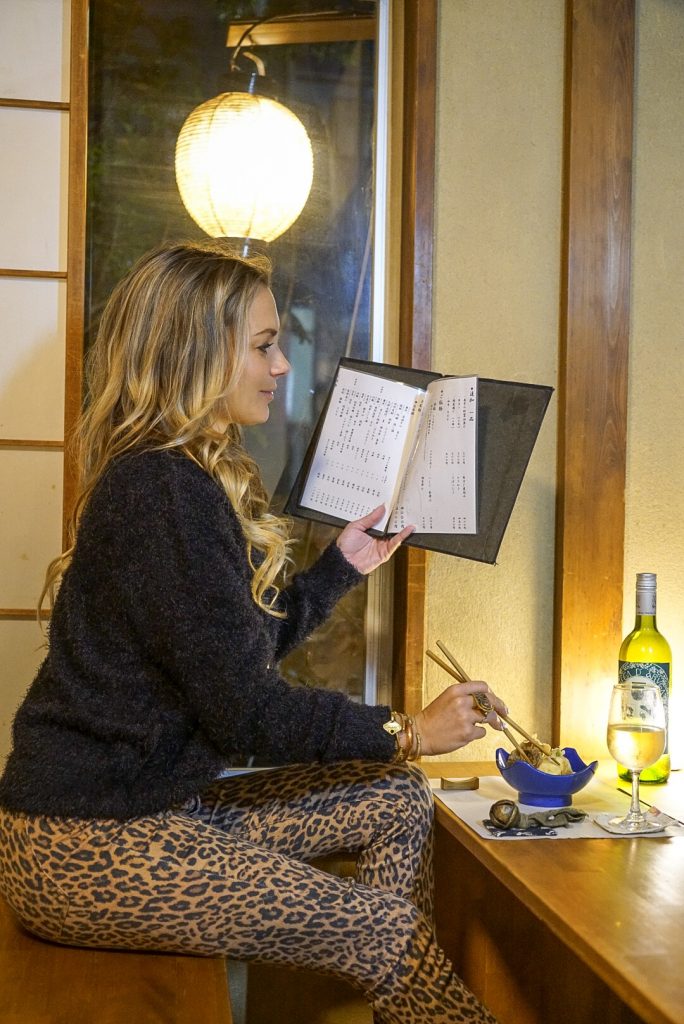 This experience is as authentic and cultural as it gets! If you've already tried the regular Izakaya restaurants, and are sushi-ed out, why not see what it's like to eat something truly local?
Take the train to a residential area called Kagurazaka, and head to a tiny restaurant called Kagurazaka Kado, which is a redecorated old private house. You'll get a feel for dining on the floor (or there's a room with proper tables), and a fresh breeze from the traditional garden along the side of it.
You'll have a choice of meat or fish for the main dish, but that's it, after that the Izakaya chef choses and prepares the courses. It's a great way to step out of your comfort zone and try some local traditional dishes you may never have ordered on your own!
I tried everything from egg pudding with fish roe on top of it, to a platter of traditional appetizers that kept me guessing the ingredients. This was also the first place I tried a local Japanese white wine!
Disclaimer: This post is in collaboration with Tokyo Metropolitan Government, however all experiences and opinions are my own!