8 NEW Bali Photo Spots You Didn't Know Existed
When you think of Bali, you probably envision swimwear clad bodies next to bright blue villa pools, surrounded by white and yellow frangipani flowers, possibly some fruit, and give or take a few rad pool floaties. Or, maybe your mind automatically wanders to the iconic rice terraces of Tengalalang, or the equally popular Tegenungan waterfall, or super exclusive Hanging Gardens in Ubud.
Bonus points if you're up to date on the most recent Bali photo trend; the Bali Swing, and all the variations of whimsical photos people have been posting from it! But while all of those places are admittedly epic to see, I have to say…they're a bit overdone.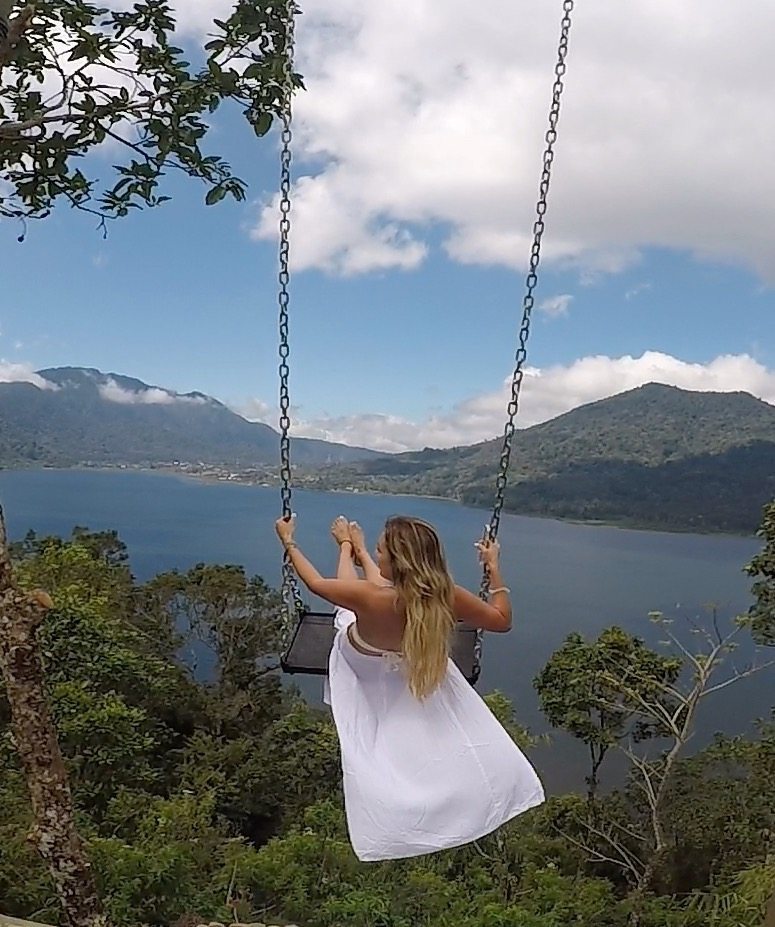 That's why on my recent trip to Bali, I decided to venture past the typical Instagram photo spots, to do the one thing I love doing the most; chase waterfalls, and take photos of them. The best waterfalls I had seen in Indonesia prior to my recent escapades were all on other islands like Lombok and Flores, but I knew there had to be more on Bali, so I did some research, and set off to the northern region of Bali to find them.
Spoiler Alert: northern Bali is waterfall heaven.
Yes, it takes a little longer to get there than the usual popular destinations, but it's so worth it when you see how many incredible adventures and photo spots there are. That being said…if you're going for the photos, please be sure to enjoy the journey along the way!
So enough of the suspense, here's my favorite 8 new Bali photo spots you didn't know existed, including the Airbnb treehouse I stayed in up there!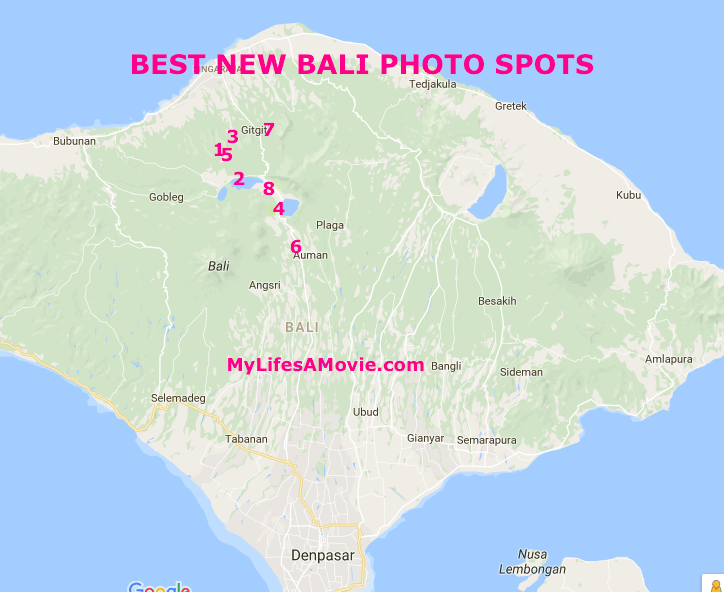 Note: Exchange rate is around 10,000 IDR = $0.75
1. Banyumala Twin Waterfall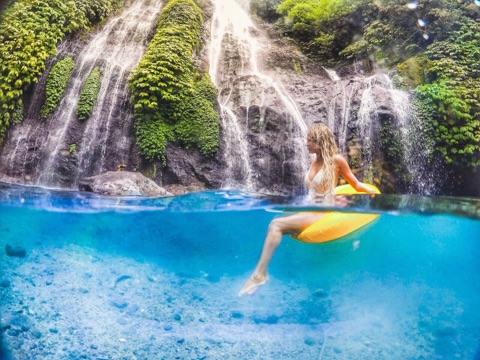 Google Maps: Banyumala Waterfall
This beauty is very similar to the beast of a waterfall that I saw in Lombok, except it doesn't require a 5 hour ferry plus 2 hour taxi and 1 hour hike to get to! Located in the Buleleng regency of northern Bali, just north of the Danau Buyan lake, is this cascading waterfall with a clear, cool, pool to swim in at its base!
It's called "twin waterfall" because it appears to be separated by a row of lush green waterfall-plants (made that term up), which grows on the side of the black jagged cliff side. Or it could be because there's multiple waterfalls in the vicinity…but since neither of them looked quite like Banyumala, I'm going to go ahead and assume the name comes from the first reason.
I'm also going to assume that one of the reasons why it's not super well-visited is because the road to get to it is narrow and rocky. Your best bet is to take a motorbike, as long as you…ya know…wear a helmet and whatnot.
Entry fee: 10,000 IDR
2. Danau Buyan Lake "Selfie Park"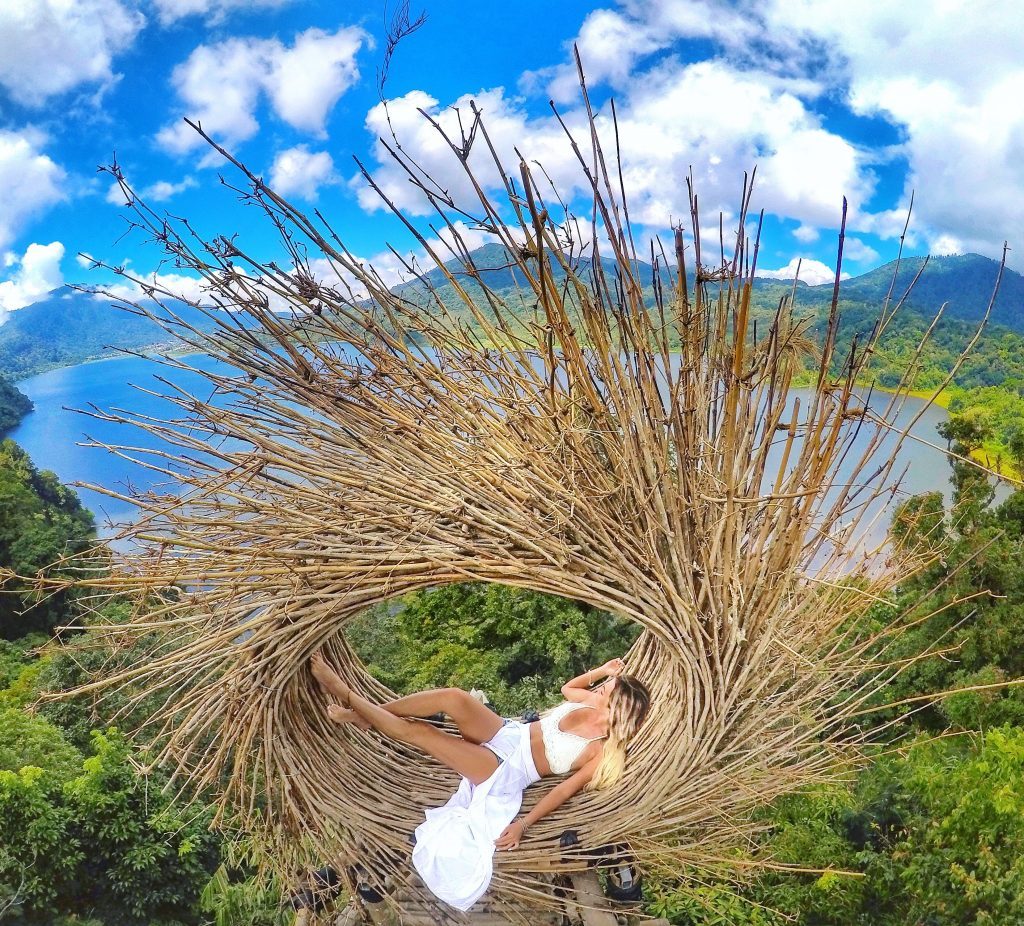 Google Maps: Danau Buyan Selfie Park (Note: this is a rough estimate of the location since it's just a set up on the side of the road! There's about 3 different selfie parks, just look for the swings!)
Now THIS is something that I literally thought of months ago, and was shocked and amused to see it in real life! The super smart local Indonesians clearly took note of how popular the Bali Swing became due for photos, so opened several small "Selfie Parks" along the Danau Buyan Lake in northern Bali!
For just a mere 10,000 IDR you can take all the selfies you want on swings, nests, even wooden pirate ships, and they'll help you take the photos too! Admittedly, it's a little bit tacky to pay to take set up photos…but they come out REALLY good, and it's a super safe alternative to taking your chances on un-monitored jungle swings!
3. Pucak Manik Waterfall & Treehouse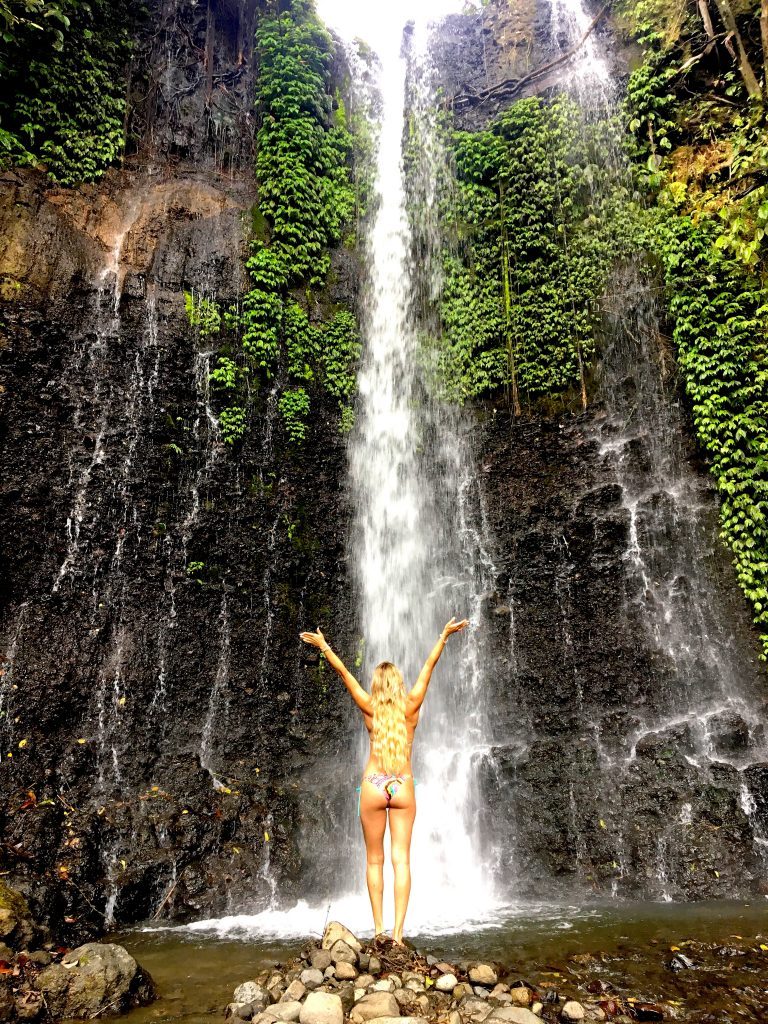 Google Maps: Pucak Manik Waterfall
I'm predicting that Pucak Manik waterfall is going to become very popular soon, and I'm not just saying that because I'm planning on posting a ton of photos of it. The road to get to it is fairly easy to drive down, and they've started working on building an epic four story treehouse that overlooks the falls.
What I liked the most was that there was not a single person there when I went, aside from the local woman who collected the 10,000 IDR fee at the beginning of the hike. It's only about a 10 minute hike to get to the waterfall, and it has a small pool at the base that you can swim in.
4. Pura Ulun Danu Temple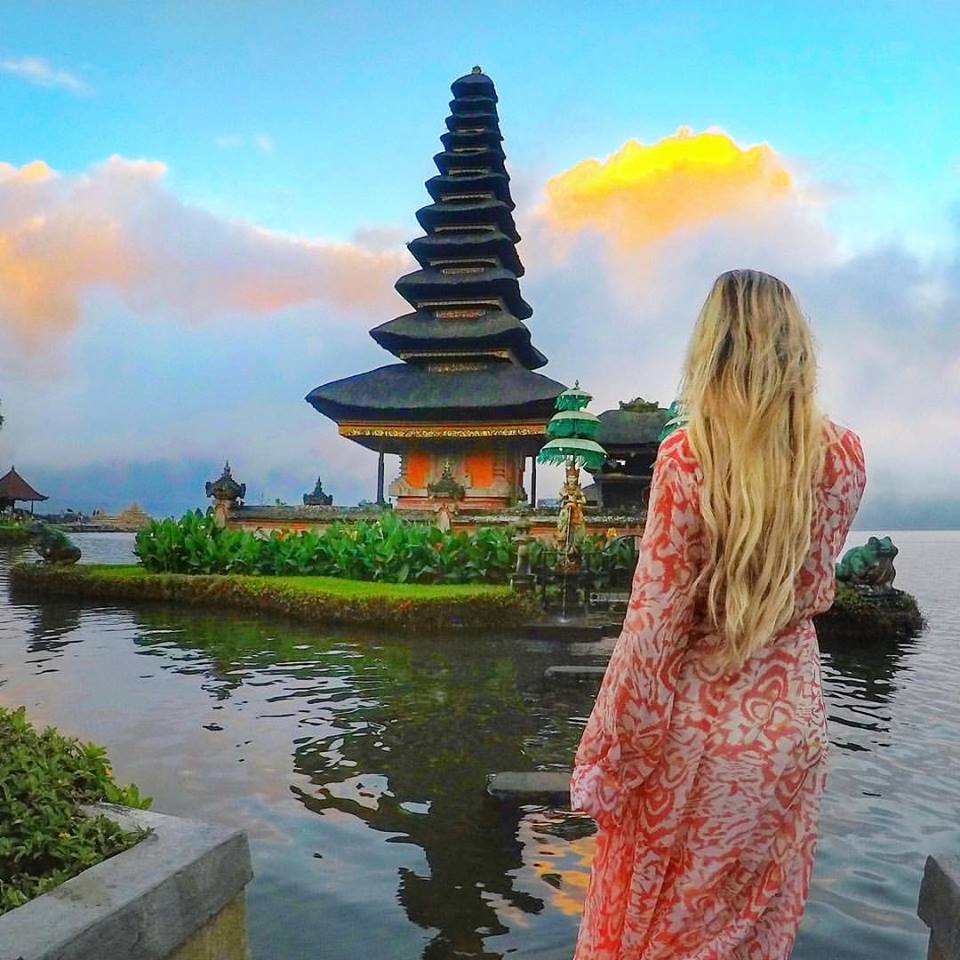 Google Maps: Pura Ulun Danu Temple
Address: Danau Buyan, Pancasari, Sukasada, Kabupaten Buleleng, Bali 81161
Entrance Fee: 20,000 IDR
There's a good chance you may have seen photos of this temple before, but since it's in the same area of northern Bali as the waterfalls, I decided to include it anyway. Don't let the photos deceive you though, it's a lot smaller in real life than it looks in the pics!
But it's still really cool to see this floating temple on the lake, and you can even rent little canoes to paddle around it! The main area of the temple on land is for locals only, but if you peak over the walls or through the gates, it's really neat to see!
Entry fee for the temple is 20,000 IDR. There's also a lot of good places to eat nearby, like a restaurant called Saras which has an open patio that looks over rice terraces!
5. Banyumala Baby Waterfall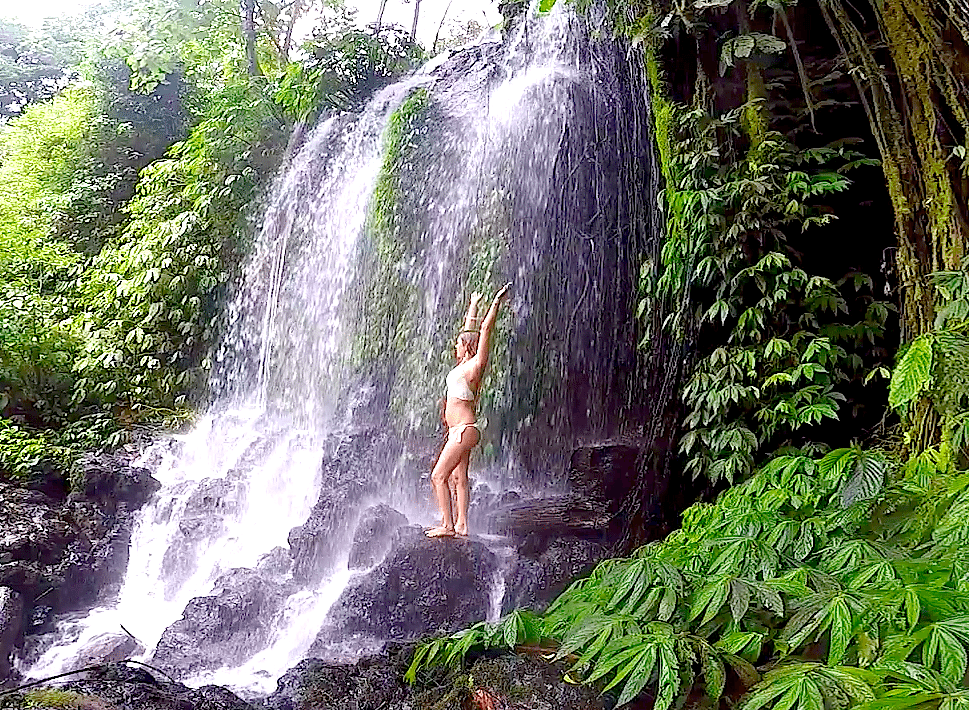 (Same location and entry info as Banyumala Twin Waterfalls)
I made the name up for this waterfall because I couldn't find one associated with it…but judging by the pathway to get to it, I don't think it was meant to have a name anyway! I personally really liked it because it was surrounded by these epic vines and granite-black rocks, and the water showered down into a pool that then formed a second waterfall that continued down the cliff.
This was actually the only waterfall I could stand under without feeling like the water was going to punch me in the head and throw me under, so for that, and the above reasons, it makes the list of awesome new Bali photo spots you didn't know existed!
OH! So to get to it, take the pathway down towards Banymala, but when you get to the mud path where you can see the big waterfall to the left, turn right instead and follow a slender, muddier path to the right. You can't miss it!
6. Baturiti Treehouse AirBnB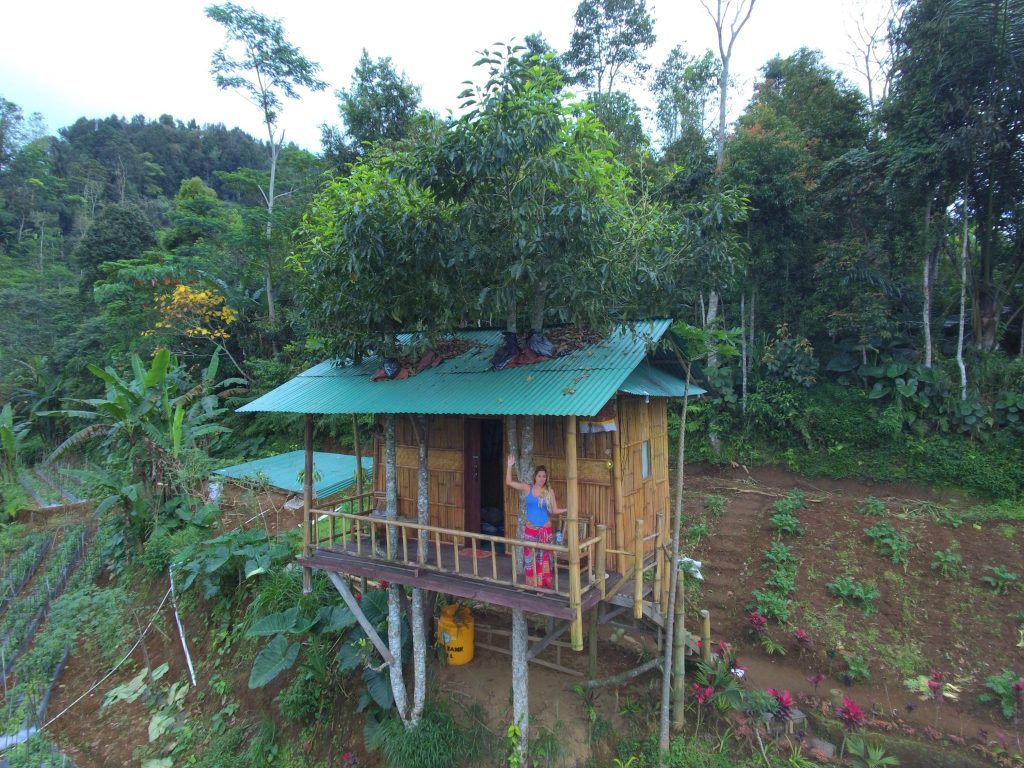 Yes, I found a freaking treehouse for rent on AirBnB, and it was freaking AWESOME! In a little area called Baturiti, a little south of all the waterfalls and the lake, is a farm property with four little treehouses, each with a bed, TV, and wooden deck that has real trees growing through it!
The guy in charge was super nice and helped us rent a scooter and whatnot, and each morning we had a traditional Balinese breakfast (feast) with all local foods! There was even wifi on the property which I was honestly surprised to see considering it's in the middle of all farmlands! You can even see all of the local farmers working all day long on their crops!
If you haven't already signed up for AirBnB, or if you want to sign up under a different email address to get $20 off, PLEASE use my code so that I get credit too…it's the only way I can benefit from promoting their properties 🙂 My code is: Alyssa Needs AirBnB Credits
The link to the treehouse AirBnB is: Bali Treehouse and it's only $27/night!
7. GitGit Waterfall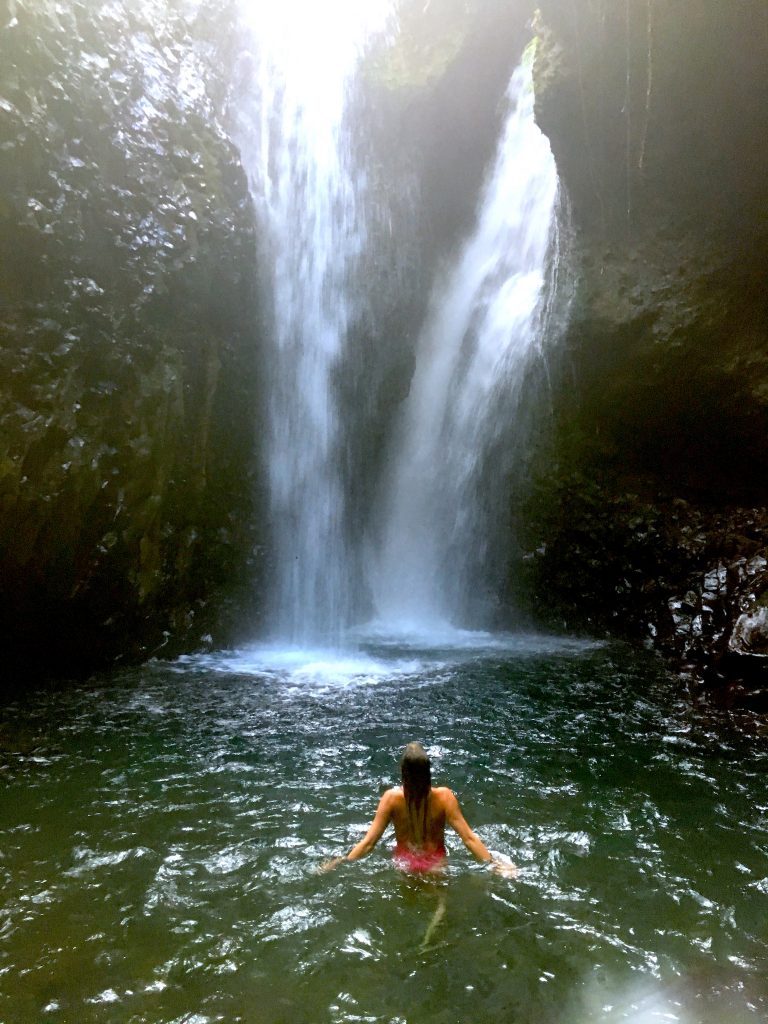 Google Maps: GitGit Waterfall
Entrance Fee: 20,000 IDR
Git Git is the best-known waterfall in the northern Bali area, but I wouldn't really say it's the best one. Don't get me wrong, it's beautiful, and definitely worth seeing; but it's in a half-cave which makes it a little more uh, mysterious, than the enchanting jungle ones.
Git Git waterfall is however super easy to get to, since it's just off the main road and not much of a hike to get to. It has a deep pool that it thunders down into, which you can climb up the rock wall and jump into if you're brave (and careful).
Since it's the best-known waterfall, it costs double the amount of the lesser-known ones, which is a whopping 20,000 IDR…which is about $1.50, so not bad for a waterfall.
8. Handara Golf Resort Entrance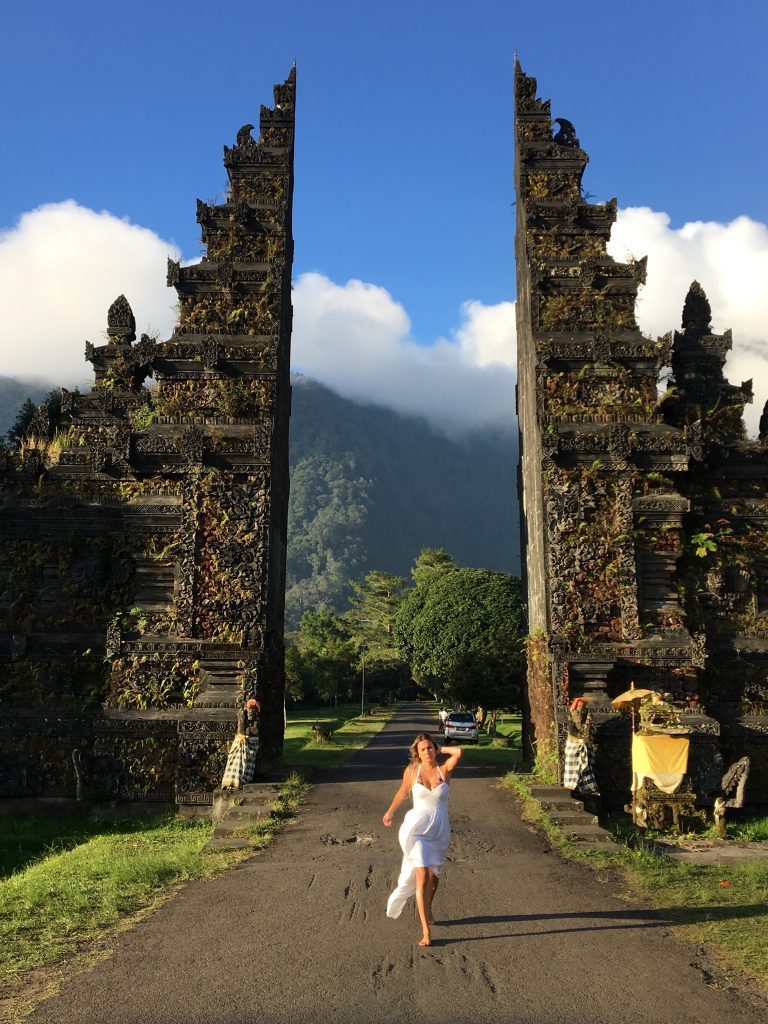 Google Maps: Handara Temple Entrance
Here's another location you probably have seen on Instagram before, but since a lot of people want to know exactly where it is, I've included it. This is literally the entrance to the Handara Golf Resort, but since Jack from DoYouTravel made it famous by posting a photo of himself skateboarding through it, people now constantly stop there to take photos (now that's influence!).
To be fair, it makes a really stunning photo with the mountains in the background…plus it's free to take a photo there so why not!
Do you have any other awesome locations in northern Bali to add to this list? Tell me in the comments below!