Find the Best Wheeled Backpack for Travel
As you're waiting in this long queue at the immigration, you take a quick look around – there are two types of people in this world – the backpacker kind-of-person and the suitcase-one. Sometimes so convenient, sometimes painful and heavy, it's so easy to develop a weird kind of relationship with your dear and – oh lovely – backpack. I had never considered having a wheeled backpack… until I got one. How did this happen? Well – I'm not quite sure, but now I can tell you – wow. I love my wheeled backpack.
If you're considering making a transition from the backpack to the wheeled backpack, I'm here for you, mate! Let's talk about the things to consider when buying a backpack, as well as the pros and cons of a wheeled backpack.
If you're after a quick answer here – here's my favorite pick (this one isn't a carry-on size though).
I've been doing research – I'm happy to share the best-wheeled backpacks for travel with you.
PSST. I recently discovered
Roll-Up Travel Bag
which is such a cool way to organize your backpack/suitcase. This roll-up bag features different compartments where you can organize your clothes easily. Basically, you don't even have to unpack anymore! (WINNING!) Get a 15% discount using this code: FIXEDBACKPACK (Haha, good joke – but, it's true, it will fix your backpack!)
How to Choose the Best Rolling Backpack?
Finding the perfect backpack can be a fun task when it comes to planning your upcoming trip. Although, with so many options to pick from – it won't be a quick decision. To make it easier for you, I've put a list together with the things you should keep in mind when buying a backpack.
Here are the things to keep in mind when picking your dream rolling backpack:
Size

: People tend to go with a big – enormous – backpack when they go on a long trip. I've been there and done the same myself on my first few trips abroad. Of course, I quickly realized that having a bigger bag means I'll fill it up. That also means the backpack will be super heavy – not convenient – and I might have to pay extra money to bring it along with me in low-cost airlines. I've been traveling with a piece of carry-on luggage only for the past 3 years. My previous backpack was a small 33 litres. My current backpack is a 37 litres.

Comfort

: Ideally, you want your backpack to be as comfy as possible. It has to fit right especially if you're going to walk with your backpack. If you're planning to go on long treks during your trip, you need to make sure your backpack won't destroy your beautiful back. If some backpacks are unisex, some others are fitting better for women or for men. As we are made differently, it totally makes sense.

Material and durability

: It's always convenient to have a bag that comes with waterproof protection. If your backpack doesn't come with one, you can always buy one (LINK). You want to buy a backpack that will last you for years and a material which won't require you any washing, etc.

Price

: The price is also a factor when it comes to buying your luggage. I personally paid anything between $100 and $300 for a backpack. All my previous backpacks lasted me for years. The only reason why I changed them over the years was that my needs changed in terms of size and comfort.
Still Feeling Unsure About the Wheeling Part?
I totally get it. The transition was hard for me too. I've weighed the pros and cons for you.
Backpack with Wheels – Pros and Cons
Why You Should Buy a Backpack with Wheels
As you can see the pros and cons are even, which makes it even more difficult. Although, here's how I came to the conclusion that a backpack with wheels was better for me:
Convenience is the most important factor for me.

I'm getting older and I like how swappable the wheeled backpack is. At the airport, I can easily use the wheels and if I'm walking in the street, I can then, put the straps on and walk with a backpack. If I get tired, then, I can simply put it back on the ground.

As I don't like packing, unpacking, the wheeled backpack is also better for me.

I truly hated these moments when I was "fishing" in my backpack to try to find my clean underwears. Now I can simply unzip the backpack and find everything I need easily. No more backpack fishing, yay!

It might not be as comfortable and I might be losing space, but it turns out

I use the wheels more than I expected

anyway. As I don't mind minimizing my possessions, it was an easy pick for me.
Which Backpack with Wheels Should You Pick?
My Pick | Travel Backpack with Wheels: Eagle Creek Gear Warrior Convertible Carry-On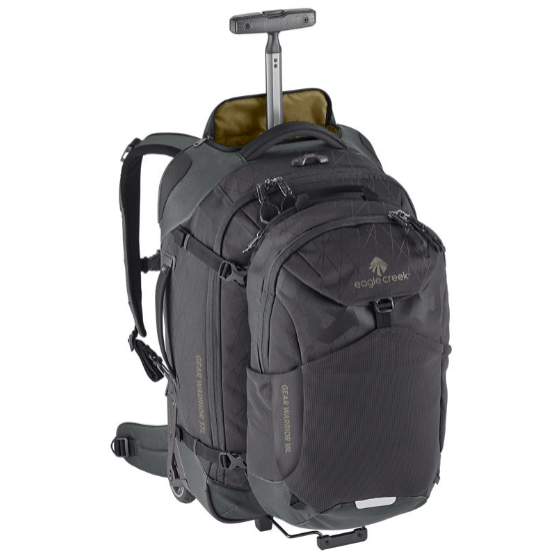 This one is my top pick but is also the current backpack I travel with. It's a great choice when it comes to long-term travel. Eagle Creek is a great brand when it comes to luggage, especially for adventurers. This one can't be bought on Amazon and let's be honest, it's not the cheapest.
This bag can be carried like a backpack or wheeled for your convenience. The size of the bag (37L) makes it one of the best-wheeled backpack for long-term travelers. As you can combine it with the day pack part too, it gives you a total of 55L.
Eagle Creek Gear Warrior Convertible Carry-On Features:
Dimensions:

25 x 40 x 15 in

Capacity:

55L

100% made of recycled materials
Lockable exterior zippers
Buy this bag
Carry On Backpack with Wheels: High Sierra Ultimate Access 2.0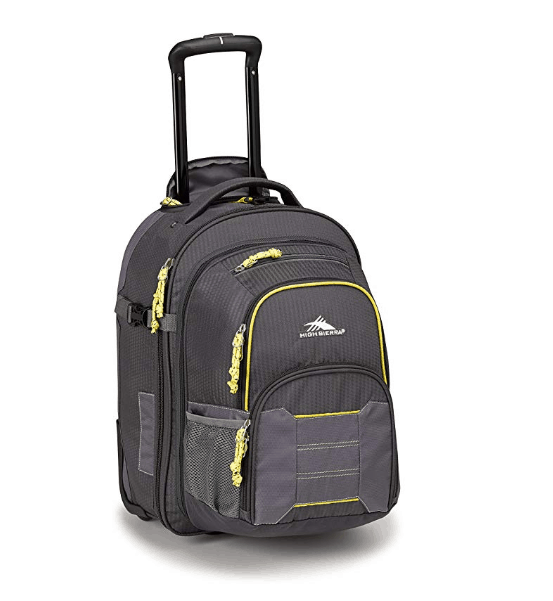 Three backpacks for the price of one! This excellent rolling travel backpack is carry on size perfect for any minimalist packer or busy traveler on-the-go.
Simply carry as a backpack or wheel the bag along for one of the best rolling backpacks on the market. Once you arrive at your destination, you can unzip the front of the backpack and turn it into a day bag!
High Sierra Ultimate Access 2.0 Features:
Dimensions:

Main Bag: 22 x 13.5 x 9 in, Daypack: 16.5 x 12 x 5.75 in

Capacity:

51 L

Zip-off Day Pack
Carry-on friendly
Oversize, Skate-style wheels
Buy this bag on Amazon
Travel Backpack with Wheels: Eagle Creek Cargo Hauler Rolling Duffel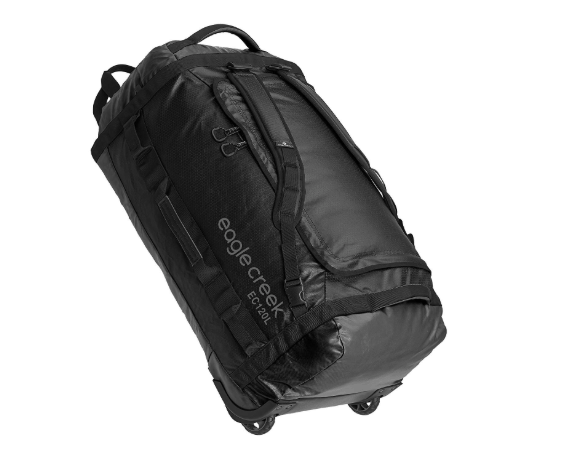 An excellent long-term travel backpack choice is the Eagle Creek Cargo Hauler. A trusted company in the travel gear sector, Eagle Creek knows what's best when it comes to carrying around your gear (or in this case, rolling it along the ground).
This bag can be carried like a duffel, an over-the-shoulder backpack or wheeled for your convenience. The size of the bag (120 L) makes it one of the best-wheeled backpack for long-term travelers.
Eagle Creek Cargo Hauler Features:
Dimensions:

32 x 13.5 x 15.75 in

Capacity:

120L

Water-repellent
Lockable exterior zippers
Buy this bag on Amazon
Hypath 2-in-1 Convertible Travel Bag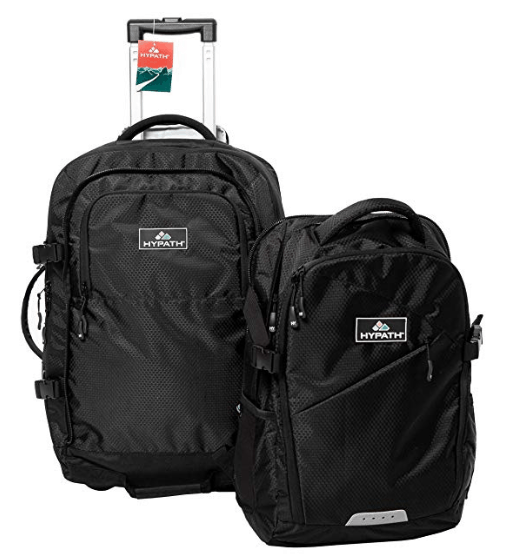 This rucksack with wheels can be carried in 8 very impressive ways. The Hypath 2-1 Convertible Travel bag consists of two backpacks, with one operating as a larger rolling backpack with the smaller one being a zip-off daypack.
This stackable luggage is the best-wheeled backpack for travel due to its size and versatility.
Hypath 2-in-1 Convertible Travel Bag Features:
Dimensions: Main bag, 22in x 14in x 9in — Small bag, 18in x 12in x 7in — Combined 22in x 14in x 16in
Capacity: Total = 65L
Rigid wheelbase (won't tip over when stacked)
Carry-on friendly
Detachable day-pack
Buy this bag on Amazon
WEISHENGDA Waterproof Rolling Travel Backpack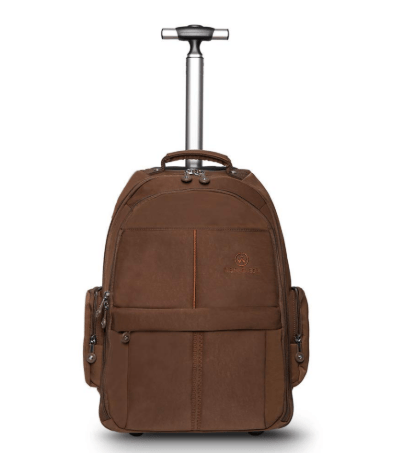 This stylish and on-the-go rolling travel backpack is perfect for business-savvy or fashion-forward travelers. The beautiful design and the interior compartments make this travel backpack a statement piece as well as an extremely practical piece of luggage.
Complete with a 14-inch laptop compartment, this rolling backpack has an easy-to-clean surface and plenty of pockets for all your goodies.
WEISHENGDA Waterproof Rolling Travel Backpack Features:
Dimensions: 19in x 13in x 8in
Capacity: 45L
Carry-on friendly
400D Waterproof Nylon Fabric
Buy this bag on Amazon
Best Backpack for Long-term Travel: Osprey Sojourn Wheeled Luggage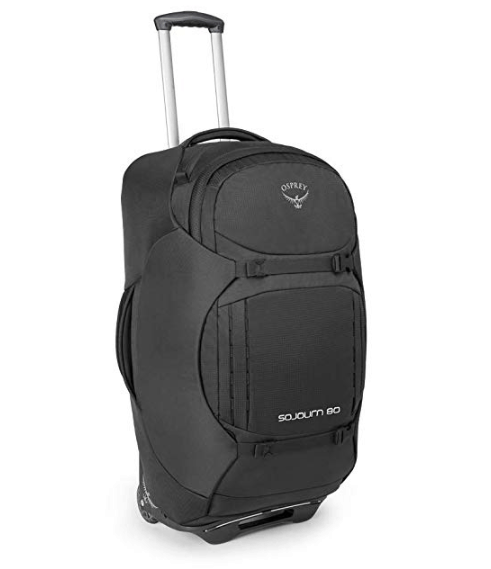 Lightweight, easy to carry and coming from a trusted brand — what more do you want in a long-term travel backpack?
The Osprey Sojourn Wheeled Luggage offers back-suspension technology that allows it to be carried comfortably on your back. But when you're wanting to give your back some rest, simply pop up the extended handle to smoothly roll your luggage across all surfaces.
Osprey Sojourn Wheeled Luggage Features:
Dimensions: 28in x 14in x 14in
Capacity: 80L (they also offer other smaller models)
Lightweight, high-rolling wheels
Straightjacket compression straps to secure load
Buy this bag on Amazon
Best Travel Backpack Carry-on Size: Olympia Cascade 20″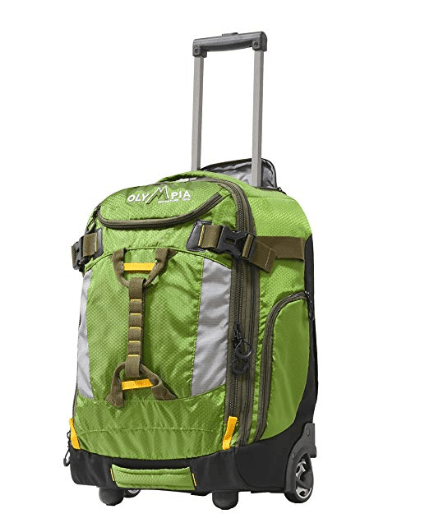 With a selection of two fun colors, this carry-on friendly rolling backpack is perfect for any weekend adventure getaway.
The shoulder straps hide away nicely if you decide to wheel the bag to your destination or push down the handle to reveal an easy-to-carry backpack! The compact size makes it an excellent option for those who travel light and love moving quickly through the airport lines!
Olympia Cascade Features:
Dimensions: 8.5in x 15in x 20in
Carry-on friendly
Expandable for additional packing capacity
Buy this bag on Amazon
Now that you might have found your perfect backpack, you might want to learn how to pack!
Here are a few things you might find helpful while packing:
Need some guidance on what to pack?
Read about my essential travel items or check this packing list for Southeast Asia.
Looking for the ideal bag for nomads? Check out the Nomatic Bag.
Get your monthly (and funny) dose of adventures!
Subscribe now

! #YesPlease

Are you enjoying this website? If your answer is yes, you should use my affiliate links to book your accommodation for your next adventure: Booking.com, Agoda and Hostelworld!

Disclaimer: this post may include affiliate links. Happy travels! Photo credits go to Amazon and EagleCreek.