Is it safe to travel? Are you afraid of traveling?
Our perspectives towards other countries always fascinate me. Depending on where we are from, our own backgrounds and our generation, the way we perceive a destination can change dramatically. In a world of turbulence and global warming, a lot of stuff is going on around the world.
Headlines, the media and the lack of knowledge can truly change our perspectives too. I'll give you an example.
In September 2018, many earthquakes hit Indonesia. These earthquakes were followed by a tsunami which killed 1400 people if it's not more. Sadly, a volcano located on the same island erupted a few days later. When the tsunami hit Palu, it made the news in Canada. My little sister was watching the news, scared and anxious about the whole situation. She had no idea where Palu was. The guy on the news had no idea either. To make it easier for people, he said something like: "Palu, Indonesia, which is very close to the popular island: Bali". Of course, my sister started to panic. She knows that I live in Bali. She didn't doubt what he said, and she thought I was possibly dead. I woke up the next morning without even knowing that there was a tsunami in Indonesia. I just had a bunch of messages from my sister who was wondering if I was okay. I called her, checked the news, called her again and sent her a map of Indonesia to show her how far I was from Palu, Sulawesi.
The thing is: even the first headlines regarding these terrible events were not accurate at the time. Back then, the news was saying that the tsunami waves were smaller, we actually didn't know a lot about the real damages, and later on, we learned some more accurate facts. The waves were bigger, the death count was higher and it could have been avoided. The other thing is: Indonesia has some kind of tools to predict tsunamis, but some of their apparels weren't working anymore or were not totally accurate. They sent a warning… that wasn't received because the power was out. They also expected a much smaller wave. That being said, there's nothing we can do about it now, apart from supporting the people affected by these natural disasters by giving donations and hope for the best.
Let's talk about other examples/situations I've been facing in these 4 years of traveling the world.
Australia is considered a safe country – apart from having all these dangerous animals. In December 2014, I was sitting in a café in Sydney when I got a message from my sister (again, poor thing). She was wondering if I was okay. I had no idea that a shooting just happened less than 3 kilometres away. Of course, my family was worried, but how could you predict this? When it comes to attacks such as a shooting, there's only so much you can do against it.
When I moved to the UK, there were also a bunch of attacks while I was there. (Yes, the world is gone mad.)
Then, in 2017, I decided to move to Indonesia, and between volcano threats, tsunamis and earthquakes, there's a lot of stuff that creates a major impact on the tourism over here. You can read more about the current situation in Bali and if it's safe to travel to Bali.
Do I pick these destinations on purpose? Of course not! There's only so much you can predict.
Does that mean I should stay at home in Canada? I don't think so. There were also things going down in Canada during these 4 past years, including a shooting only a few hours away from my hometown and natural disasters (floods in 2017 and series of tornadoes in 2018 (both in my hometown).
Is it safe to travel the world? Are you afraid of traveling?
A while ago, I really enjoyed this video that sums up perfectly how I feel about traveling. There's nowhere 100% safe, whether you stay at home or if you go out there. You could travel to a "dangerous" destination and be absolutely fine or you could travel to a "safe" destination and be trapped in the middle of a natural disaster. That's what I call "life". And this dear lovely "life" is filled with imperfect humans (and a bunch of crazy ones). Life is unpredictable. The truth is that danger is always omnipresent in our life. You could die anytime, anywhere.
While people seem to be searching for an answer wondering if it's safe to travel the world, some destinations seem to be more "dangerous" than others. Our perceptions and our level of resilience play a huge factor in what we perceive to be a danger. In fact, most of our perceptions are also based on irrational fears.
I shared a great example on my Facebook page the other day, so let's take a look at it!
Sharks are super scary. I just have to imagine a scenario in which a shark would attack me and I can even feel the fear… and the pain.
Coconuts, on the other hand, remind me of a beach, something peaceful, quiet. It reminds me of Bali. I feel relaxed.
Sharks might be super scary, but let's take a look at the facts. In 201, there were 88 shark attacks and we count 5-10 deaths per year due to shark attacks.
Coconuts are more unpredictable. Every year, around 150 people die because of falling coconuts.
Yet, we aren't scared of coconuts.
Our fear is irrational in this example.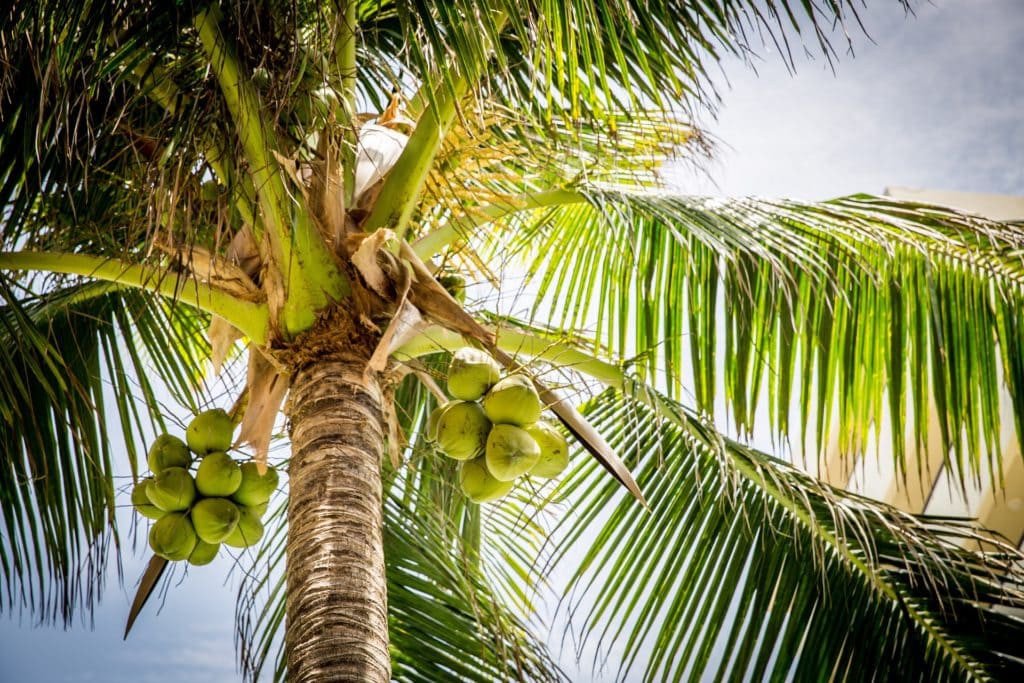 Thinking that it's safer to stay home than being abroad is also irrational. You aren't safe against terrorist attacks or natural disasters, because sadly we can't predict these kinds of events.
When it comes to destinations that have a bad reputation or a negative image, you should ask yourself what's the difference between what you see on the news and what it's like over there. Also, you should question your stereotypes and do some proper research.
Israel is an excellent example. When you take a look at the news, Israel seems pretty unsafe. In fact, the volume of research on Google with these keywords "is it safe in Israel" is enormous! Although, when you take a look on Instagram, you realize that locals and tourists are enjoying themselves. What does that mean? It means that unless you communicate with the locals or people traveling there, you won't know for a fact what it's really like. Honestly, I feel safer in Israel than in Indonesia. It still doesn't stop me though – I live in Indonesia.
If you dream of traveling the world, you should focus on the benefits. There are many benefits of traveling and I think having an optimistic mindset is better than a catastrophe one. To be fair, it's normal to feel anxiety when traveling in destinations where you can face some kind of discomfort. If the situation becomes tricky, dangerous or subject to a natural disaster, it might have an impact on you. Yes, I've been afraid of traveling before when I had some dodgy people following me in Turkey. Yes, I've been super scared of earthquakes or potential tsunamis in Indonesia, but I managed to rationalize my thoughts and calm my anxiety.
Is it safe to travel to XYZ? It might be. I might not be. If you only want to go to the safe places to travel in the world, it's quite relative. There's nowhere that is 100% safe. Until then, let's take a look at some basic travel safety tips to help you stay safe while traveling. There's no reason to be afraid of traveling.
Travel Safety Tips | How to Stay Safe Abroad
If you are wondering how to stay safe while traveling, I thought we should find ways to calm your anxiety and rationalize some thoughts. Some of these tips will be more of a security system towards your belongings, but some others could potentially help you physically and mentally in harder travel situations.
Be Aware of the News (International and Local), But Follow Your Intuition Too
Keeping an eye out on the news is a great way to be aware of what's going on. Although, the media provide information that isn't always accurate. Also, these pieces of information could be missing important facts and they might represent only one side of a story. That being said, I take everything with a pinch of salt. A great way to do this is to read the news from different outlets. You can also check out social media such as Twitter and Instagram to see what it's really like out there. The news is great at showing only one perception, one angle. The social media will likely show you a different side of the story.
If you find yourself in the middle of a crisis, dangerous situation or natural disaster follows your intuition and what seems right to you.
Example: after the many earthquakes that happened in Indonesia, my family was a bit worried about my safety. I wasn't scared enough to leave the country, so I decided to stay. The day I would feel too scared to stay, I will simply leave. And hopefully, it will be on time! Again, I can't predict the future.
Learn More about the Evacuation Plans OR Reflexes to Have in Case of a Natural Disaster
If you are in the middle of a natural disaster or in an area where a lot of natural disasters are happening, be aware of the evacuation plans the reflexes to have in case of emergency. I, myself, became an expert in terms of tsunamis and earthquakes as it was a way for me to become more relaxed and less anxious about the situation in Indonesia.
Take a Look at the Online Resources
Google is amazing when it comes to crisis, attacks or natural disasters. Google SOS alerts provide a lot of information to help you if something bad happens. It's a very quick way to get the answers you could possibly need.
I also get updates from an Earthquake App to know what's going on in Indonesia.
Use Tracking Apps/Devices
If you want to feel better about your traveling destinations and reassure your loved one at the same time, why not use a tracking app or devices such as CloseCircle or Magnus. These tools could save your life or help you in case of emergencies.
Self-Defense Course
Another cool possibility (great for solo female travelers) would be a self-defense course for these countries where you could feel unsafe. Having the skills to defend yourself might help you go further.
Here's a list of the top self-defense course offered on Udemy so you can learn self-defense online.
Learn How to Manage your Anxiety
Anxiety can be triggered by irrational fears. The best way to overcome it is to rationalize yourself and get back to the present. One of my friends offers great tips on Youtube. Check out her tips on how to ground yourself when you're feeling anxious and how to unhook from your anxious thoughts.
Safety Travel Items
If you want to protect your belongings and yourself abroad, you might want to check out these safety travel items.
Get a Travel Insurance | Better Be Safe Than Sorry
Finally, getting a travel insurance before your trip would be a pretty smart and wise idea. Every 11th travelers have to face crime or health issues abroad. After such a long time abroad, I've been sick many times. It's better to be safe than sorry.
You may also like:
Going on a Trip Solo
Travel Resources & Tips
Planning Your First Trip Abroad
Get your monthly (and funny) dose of adventures!
Subscribe now

! #YesPlease

Are you enjoying this website? If your answer is yes, you should use my affiliate links to book your accommodation for your next adventure: Booking.com, Agoda and Hostelworld!

Disclaimer: This post was written following my attendance at the International Tourism Security Summit that happened in Jerusalem in October 2018 where we discussed topics such as safety abroad in times of crisis and natural disasters. As always, all opinions are my own – let's make the world a better place and help destinations to recover following bad press, terrorism as well as natural disasters. This article may include affiliate links. Happy travels!